It's only 10pm and the night is still young, but the waitress has already called for the last order and you know just what that means – that in no time they'll be stacking chairs on the tables and be asking you to leave, not before settling your bill of course. And here you thought this place would be open after midnight!
There're always these moments that are a real buzz-killer, especially when your group of friends or colleagues had met late in the evening, and conversations are just beginning to get interesting. This is even more so if it's a Friday night. I mean, nothing kick starts a weekend better than a late night out with great company, tasty bites and rounds of drinks at a comfortable chill-out place.
Sounds like your predicament on Fridays? Then this list will definitely come in handy. Here are the Top 15 restaurants and bars open after midnight in Singapore.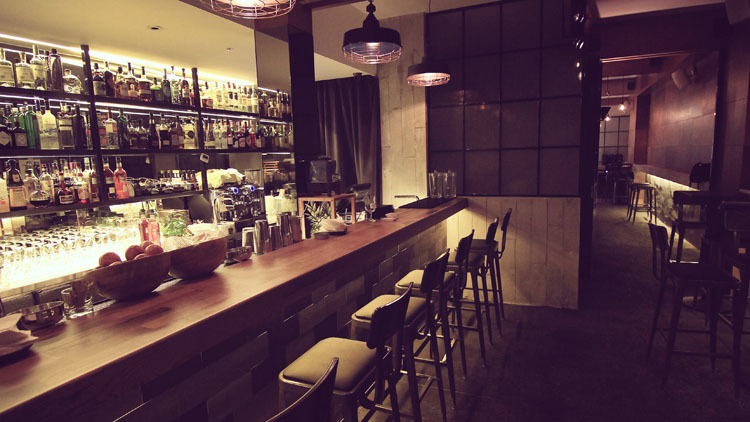 Run by the good people from Manicurious, this nail salon by day, bar by night has a 3 hour window (6 – 9pm) that the ladies can take advantage of when both are open. The cold concrete and metal elements compliment dark wood panels to exude a chic Scandinavian vibe. The bar is well stocked with rare, artisanal gin and tequilas. Adventurous ones can ask the bartender for a bespoke cocktail or try Mr Bean, their fusion drink consisting of tao huay, kaya and butterscotch liqueur enveloped in vodka and Frangelico.
Opens till 12am on Mondays to Thursdays, 1am on Fridays and Saturdays. Closed on Sundays
Address: 49 Tras Street, Singapore 078988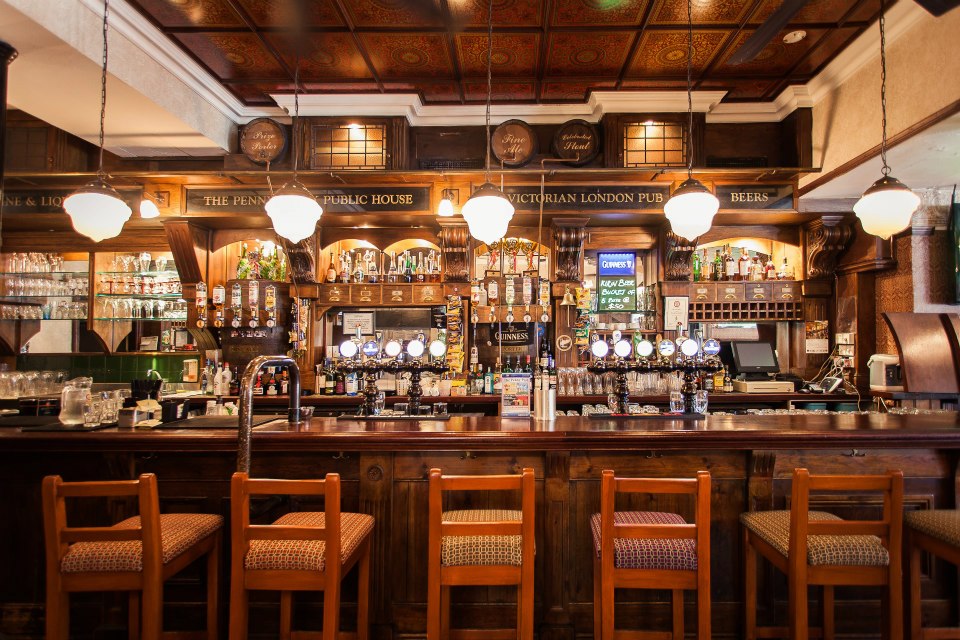 Named after the world's first self-adhesive stamp issued in May, 1840, The Penny Black is a Victorian London Pub facing boat quay. If you are a fan of cozy bars away from the dark hues and striking lights, we bet you'd love the old English setting and vintage vibes that this place exudes. A great place that's open after midnight for all party goers.
Opens from 11.30am to 2am on Fridays – Saturdays
Address: 26/27 Boat Quay, Singapore 049817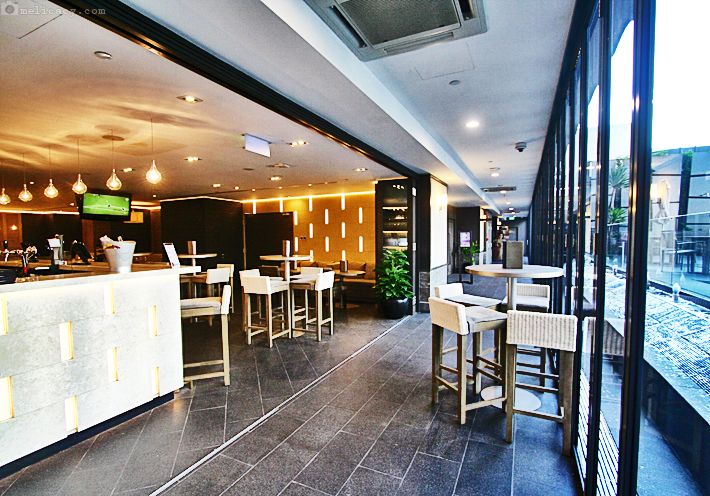 Located on Level 4 of Grand Mecure Roxy Singapore, Breez bistro.bar is a bar and restaurant that also caters to the Muslim community who can choose from the range of Halal cuisines prepared by the Halal certified kitchens. The bistro specializes in steaks and ribs from the grill, accompanied by an exquisite wine list. But apart from that, it is sheer indulgence to enjoy their wide selection of food and beverage with a refreshing poolside view!
Opens from 11am to 1am on Fridays, Saturdays, and Public Holiday Eves
Address: 50 East Coast Road Roxy Square Marine Parade Rd, Singapore 428769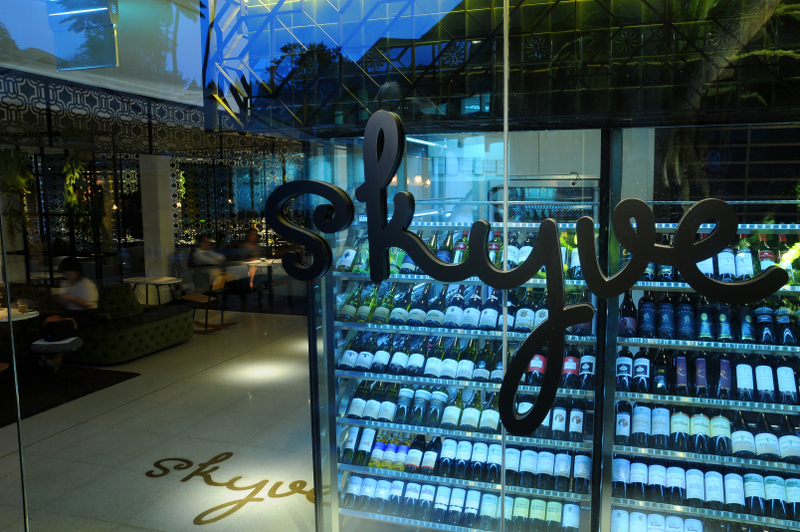 Previously featured in one of our very own reviews, Skyve Bistro and Bar is a place at Winstedt Road that identifies itself as a wine bistro specializing in modern European dining. With both outdoor and indoor seatings available, you get to pick if you would fancy an alfresco chilling experience for a drink, or to stay indoors and enjoy the air-con over a hearty and wholesome meal.
Opens from 10am to 1am daily
Address: 10 Winstedt Road Block E, #01-17 Singapore 227977
A versatile place for breakfast, brunch, lunch, and even a casual tea-break, this American Diner inspired place comes alive, and even more so at night as a bar. An establishment of the Lo & Behold Group along with its company cousins The White Rabbit and Loof, Overeasy is a chill spot at the waterfront that offers magnificent views of the Singapore Skyline from One Fullerton.
Opens till 1am from Mondays to Thursdays and 4am from Fridays to Saturdays
Address: 1 Fullerton Road #01-06 One Fullerton, Singapore 049213
Previously listed as one of the Top 5 Places for Party with a view, Ce La Vi (formerly Ku De Ta) is surely a place to check out after midnight. More known for its elegant design on a stunning rooftop setting, the restaurant serves modern Asian cuisine prepared by its Award Winning chefs. Along with these delicacies, one can also expect the company of a wine list to complement these flavors. The club lounge at night that's open after midnight (way past it in fact) is the perfect place to chill with their state-of-the-art lighting and sound system.
Opens from 6pm till late
Address: Level 57, Marina Bay Sands Skypark, Hotel Tower 3 Singapore, 018971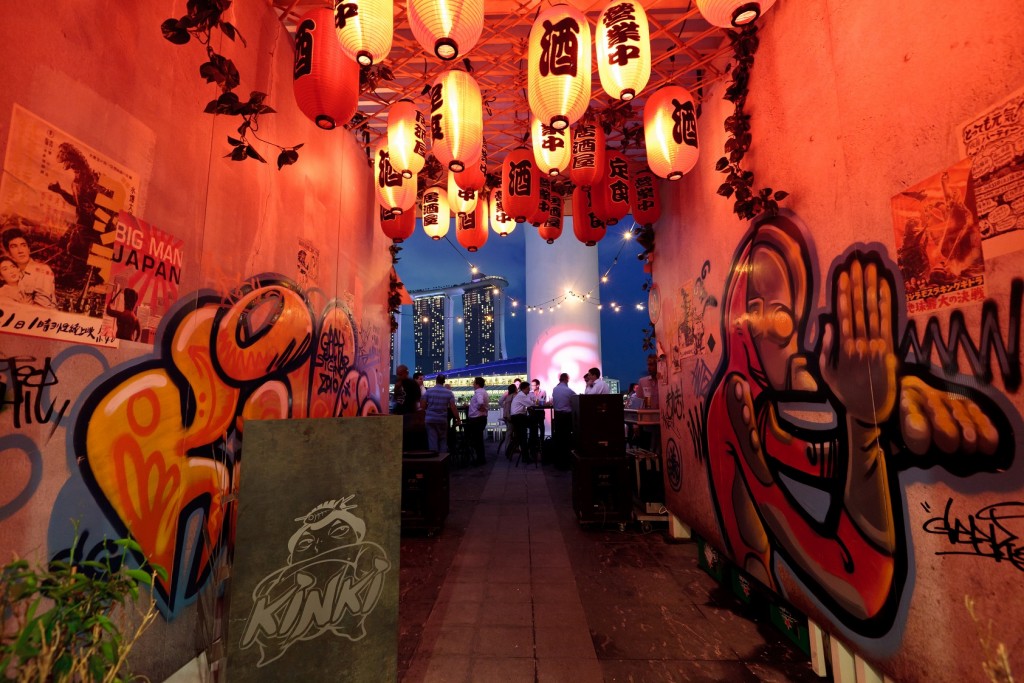 Located at the iconic Custom House along Raffles Place, Kinki is a sweet spot that oozes both local pride and global appeal. Get surrounded by an urban attitude, walls plastered with graffiti murals by respected urban artists ANTZ , and enjoy the rooftop CBD skyline.
Opens from 5pm to 1am on Monday to Thursdays (last order 11.30pm), 5pm to late on Fridays and Saturdays
Address: 70 Collyer Quay #02-02 Customs House, Singapore 049323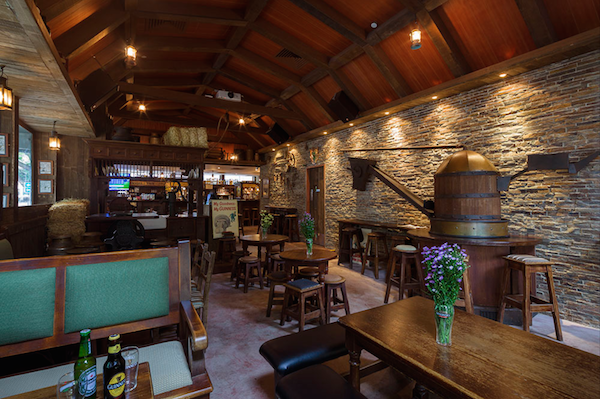 Muddy Murphy's is designed and styled to resemble a traditional Irish country pub that dates back to the 1840s. Its unique design is full of personality, standing out from the range of nondescript bars. It is also interesting to note that the pub was designed and built to scale in Dublin before being shipped over and installed in Singapore. The excellent selection of more than 15 beers goes well with their signature Beef and Guinness, and Irish stew. Widely known for great music and their pub food, the pub is always bustling with activity and a vibrant atmosphere, made even more welcoming by their hospitable and friendly staff.
Opens from 11.30 am till 1am on Mondays to Thursdays, till 2am on Fridays and Saturdays
Address: 442 Orchard Road, #01-02 to 05 Claymore Connect, 238879
If you had read our review of Bar Bar Black Sheep some time ago, it would not be too hard to recall that this establishment at Cluny Court is known for being a cosy and homely hangout that serves a variety of cuisines and even a couple of fusion dishes. But that's all during the day! At night, the tastefully decorated restaurant transforms into a bar of groovy tunes and affordable drink and dinner prices with great ambience. There's no wonder why this place is so popular.
Opens till 2am on Fridays and Saturdays
Address: 501 Bukit Timah, Cluny Court, #01-05C, Singapore 259760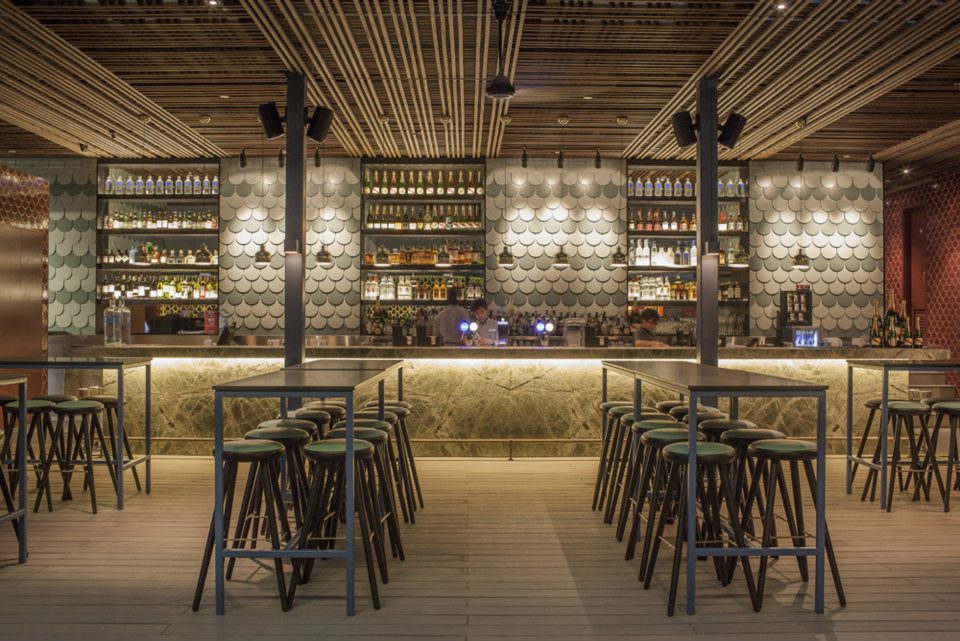 Loof is Singapore's first standalone rooftop bar, and it surely lives up to its reputation. With its spacious bar setting in an urban garden surrounded by shrubs, green walls, and tree-trunk tables – the place has managed to marry alfresco dining with vibes of nature and greenery. Apart from its decor, Loof also offers plenty of things for bar-goers to be entertained– like nostalgic toys and vintage comic books. The place serves a neat selection of cocktails with Asian-inspired ingredients such as calamansi juice, cucumber and even soya sauce!
Opens till 1am on Mondays to Thursdays, 3am on Fridays and Saturdays
Address: 331 North Bridge Road #03-07 Odeon Towers, Singapore 188720
11. Boulevard Restrobar
Update: This place is permanently closed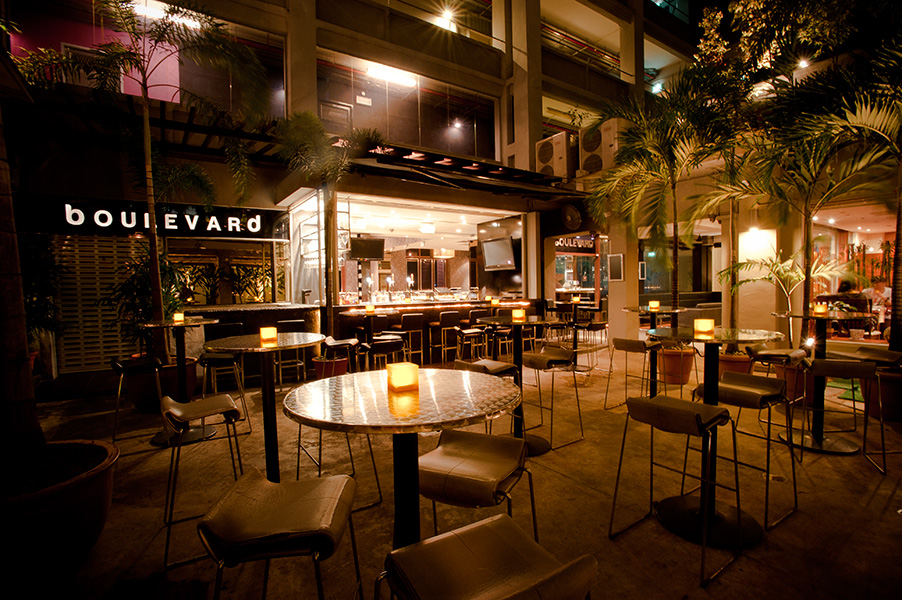 Boulevard Restrobar is located in the Red Dot Design Museum building, with most of her patrons being the corporate set around the area. It claims to be everything a foodie would look for – stylish decor, quality cuisine, comfortable setting, attentive service, and the fact that this gem stay open after midnight. The place specializes in European cuisine, refreshingly served in an outdoor alfresco courtyard or the outdoor island bar. Rumor also has it that they serve fantastic roasted crackling pork belly!
Opens till 12.30am on Mondays to Thursdays, 1.30 am on Fridays.
Address: 32 Maxwell Road, Singapore 069115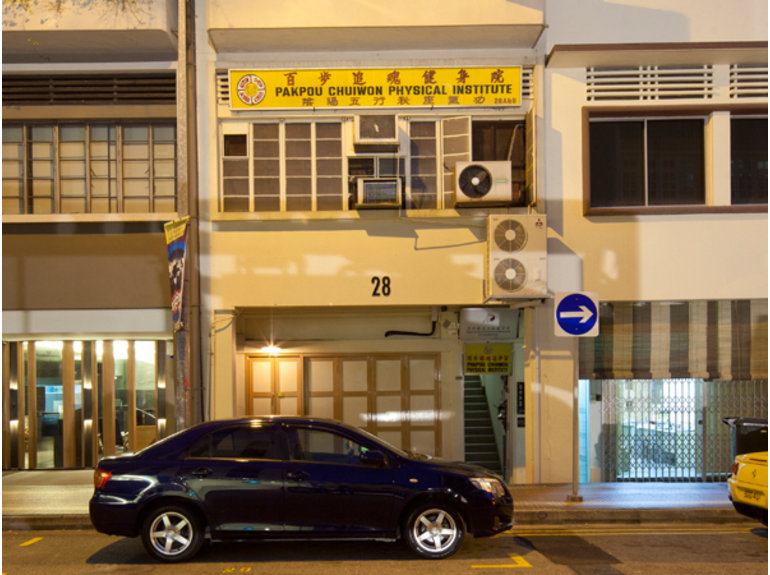 No longer a secret to many, 28's nondescript entrance, hidden among a row of shophouses along Hong Kong Street reminiscent of American style Speakeasy bars. They have recently remodeled the interior to foster a pleasant social atmosphere and relaxed vibe. Don't come expecting to be served run-of-the-mill alcohol! 28 offers an impressive liqueur selection ranging from 12 year old Zaya Rum to the perennial favourite- Laphroaig Single Malt. Pair their signature mac and cheese balls with your drinks for a memorable night out!
Opening hours Monday to Thursday – 5.30pm to 1am. Friday & Saturday – 5.30pm to 3am. Closed on Sundays.
Address: 28 Hong Kong Street, Singapore 059667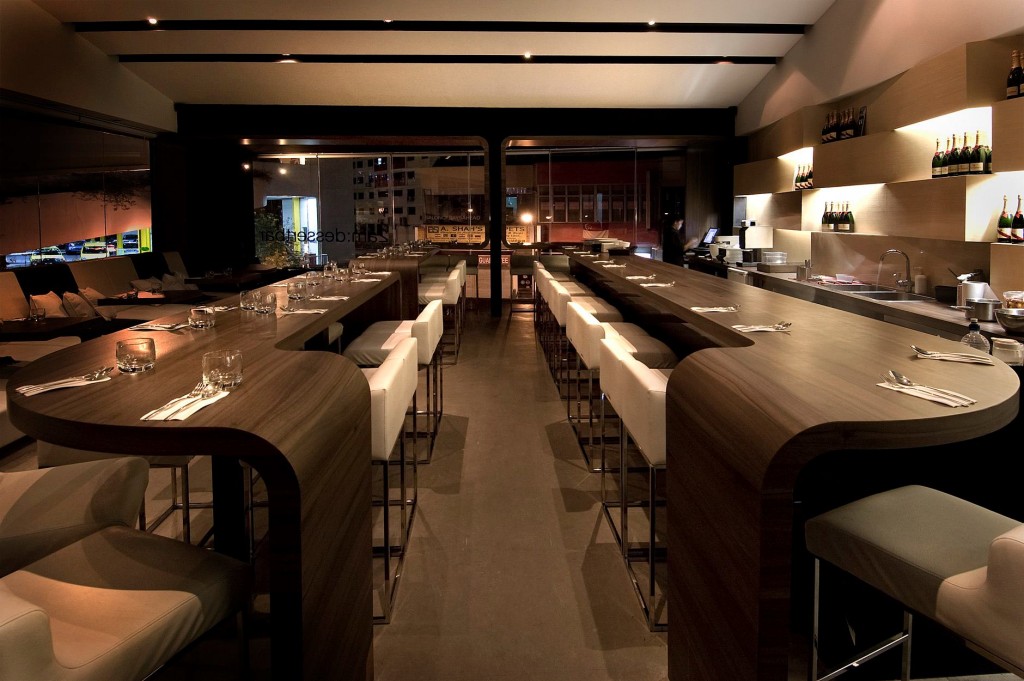 Known for founder, Chef Janice Wong's innovative take on desserts and her ever-evolving creations,  2am:dessertbar is also sone of Singapore's secret late night hangout. Indulge in creative sweet concotions while at a quiet cosy atmosphere. If you're looking for a nice wind-down vibe that's open after midnight, check this place out!
Open till 2 am everyday
Address: 21A Lor Liput, Singapore 277733
The last on the list of hangouts open after midnight is something that's a bit more localized. Positioning itself as a place of Singaporean charm, Hood Bar and Cafe is more than just a bar – it is a place where great local talents in the art scene congregate to entertain the guests. The interior design at Hood is full of character, with funky street art splashed across the walls and pillars, creating a laid back atmosphere in this unpretentious spot. Enjoy live performance every night alongside a dining menu rich in local flavors, serving delicacies like shrimp paste chicken wings and luncheon meat fries.
Opens till 1am on Sundays to Fridays, 2am on Saturdays.
Address: Bugis+, 201 Victoria Street, #05-07, Singapore 188067
Whew, that was quite a long one! Enjoy these fabulous venues in Singapore that are open after midnight, and show us some love by sharing this article with your friends if you liked it!
Did we miss out any other places open after midnight?
Let us know in the comments section below!
Editor's Note: This post was originally published in July 2015 and has been updated for accuracy and comprehensiveness.
Next Step: Find awesome event venues and spaces to rent in Singapore 
We are Spaces is a venue discovery platform for event planners. Browse from over 300 curated venues available for rent, filter spaces based on your specific requirements, and get quotes from multiple venues all from a single enquiry. Visit We Are Spaces to find your perfect venue today!
Also Check out how to choose the best conference venue in Singapore for your company here.