What: Skyve Wine Bistro
Where: 10 Winstedt Road, Block E, #01-17  Singapore 227977
Type: Bar, Café, Dining, Wedding, Corporate Function, Parties
Vibes: Elegant, Romantic, Family-Friendly, Corporate
Skive ("Skyve")
verb
1 [no obj.] Avoid work or a duty by staying or leaving early; shirk: I skived off school.
If you are a working adult who has had enough of hectic schedules and meetings, or a student with too much stress on your plate, how about heading over to Skyve Wine Bistro for what would be a whole new 'skyving' experience that may well give you the recharge you need? If you are looking for some peace to sort out your thoughts, visiting Skyve during its off peak hours will give you the tranquility you need. However, if you're looking to bask in some energy and vibrancy to re-energise yourself, do consider visiting Skyve on a Wednesday (7.30PM to 10.30PM) and Friday night (9PM to MIDNIGHT) where the live band will be performing.
Skyve prides itself as a Wine Bistro which offers all-day Modern European dining and an extended wine list over 70 labels of extremely affordable, good quality wines. Additionally, Skyve have an array of Other Promotions & Menus from extended 'Skyving' (Happy) Hours to Weekday Promotional Breakfast Menu and 'Snoozy' Weekend Brunch Menu. The wide range of promotions and good food definitely put a smile on customers faces and leave them coming back for more.
First opened in 2011, Skyve is the brainchild of owner Celine Tan. Celine was born into a family of foodies which explains her great appreciation for good food and wine. Joining Celine and Skyve in 2013 is her brother, Jachin Tan, who is appointed Executive Chef. Jachin has amassed over a decade of experience under his culinary belt in Singapore, Australia and the United States. Skyve was first conceptualised by Celine as a place for people to "skyve" off work and school, and ironically, now sits on land previously owned by a primary school.
After passing by an 'old school' gate, I was greeted by Skyve's spacious and cozy alfresco area. The minimal lighting coupled with natural light created just about the right ambience for a romantic dinner. Do not worry that your meal will be affected by noisy cars and honking as Skyve is located just right off the main road where you'll be able to have your meal in peace and comfortably.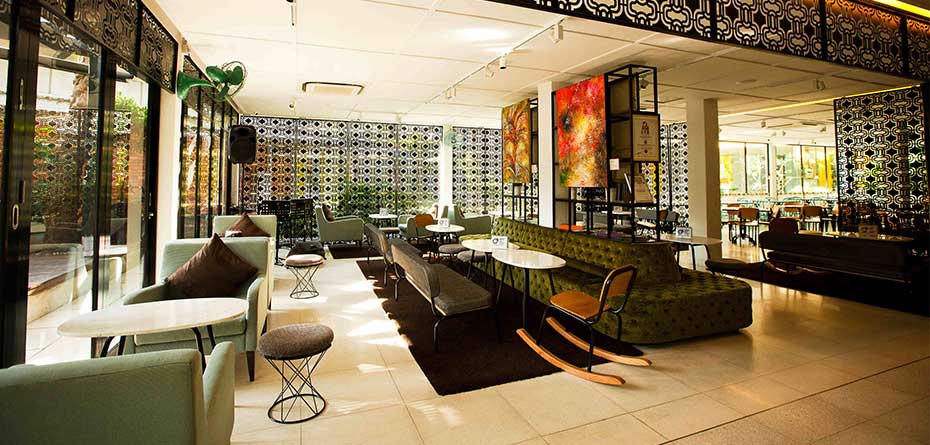 I was ushered into their main dining area, past their lounge, where my hosts for the night, Michelle and Maggie, were waiting. The designing concept behind their dining area was just 'wow'. Every detail, from fixtures to chattels, big to small, are well thought out. Their retro styled tables and chairs, which mimics the class room setting can be rearranged on any day to suit the needs of any event. Their dividers which separates the lounge and dining area can be collapsed if a wider space is needed for any event. On top of that, intricate details such as table lighting, design of table mat or even the colour of tiles to be used are decided with the aim of creating a cozy ambience for customers.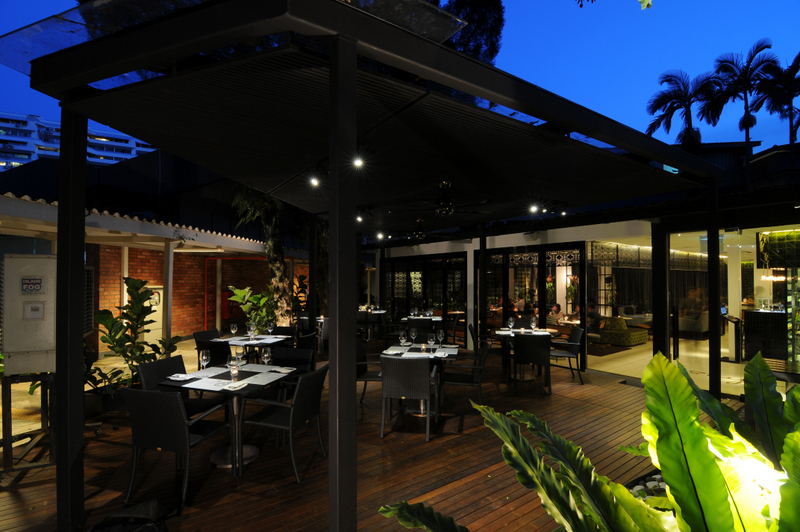 Skyve was totally generous with their food, which made me a very happy girl. I had the honour of first trying three of their "The Sleeping Oyster" – 'Mentaiyaki', 'Chilean', and 'Kilpatrick' (Half Dozen at $34). I particularly liked the third one. The combination of oyster and bacon, though both strong-flavoured on their own, did not overwhelm one another but achieved a satisfactory balance.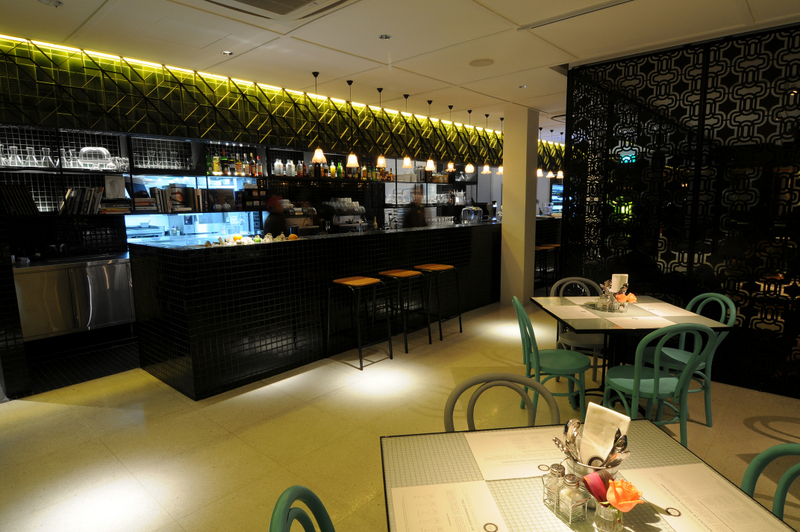 Two "Dilly Dally Appetizers" followed. I would think 'Petuna and Ume Somen' ($20) was good enough to make its way up Skyve's Main Course dish. Petuna, a sister species to Salmon, was much smoother and less fishy than Salmon. The cold Ume Somen mixed with sesame yuzu dressing was also extremely delicious.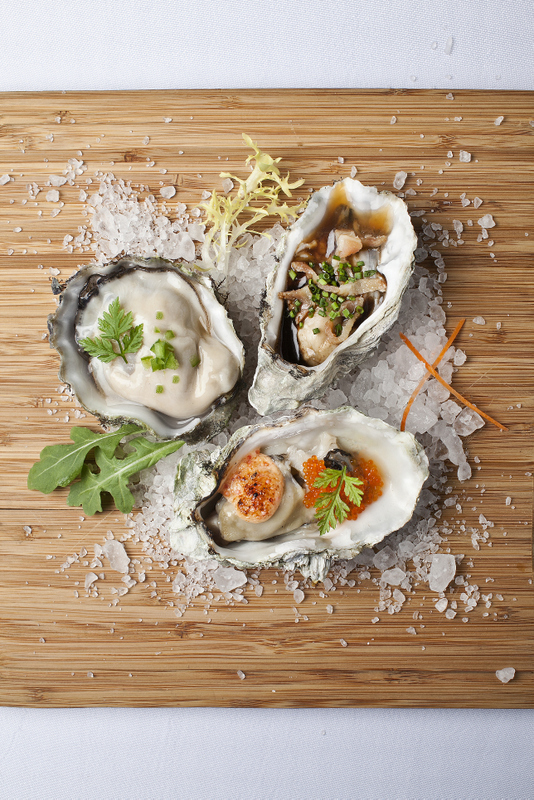 'Skyve Beef Tartare' ($22) was okay, but not fantastic. However, I think you should nonetheless order this dish just to see how it is eaten. I was taken aback initially, but very amazed, and I think you should see it for yourself.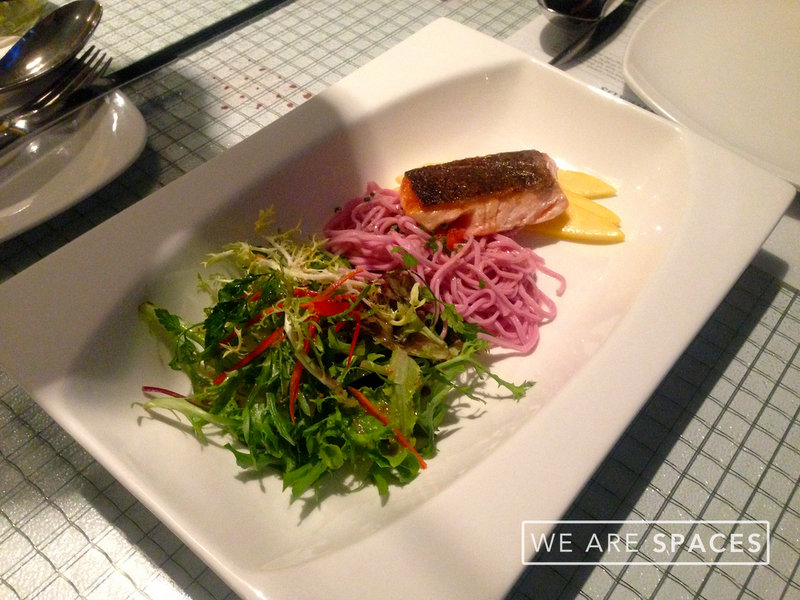 Having already reached 60% of my eating capacity, I was served three of Skyve's "Languid Main Courses". The first 'Polenta Mushroom Stack' ($34) is a vegetarian dish. The polenta cakes tasted like pancakes, but felt more powdery. Although a vegetarian dish, it is extremely filling and totally value for money.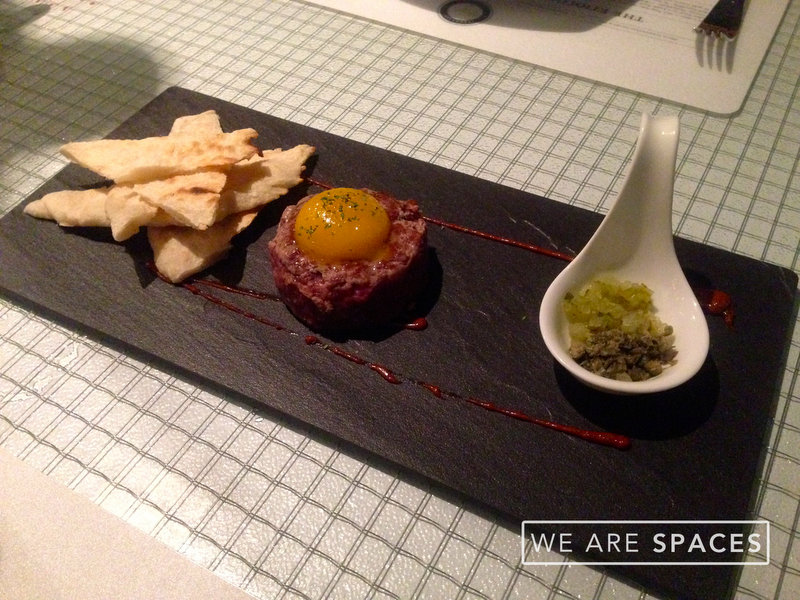 The second main course was 'Sous Vide Poulet' ($34). Sous Vide is a cooking method which cooks food sealed in airtight plastic bags in a water bath, not more than 100 degree celsius; while Poulet means chicken in French. The Poulet is apricot glazed and served with pommes (meaning potato, in French) puree. This in my opinion is the best dish among the three. The texture of Poulet was extremely smooth, nothing like what I've ever tried in my life. The apricot coating, which was of just the right sweetness, added the cherry to the dish.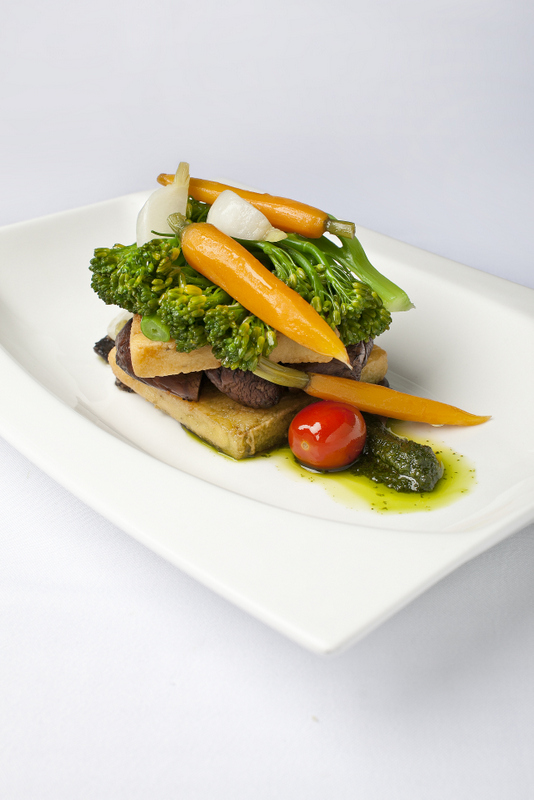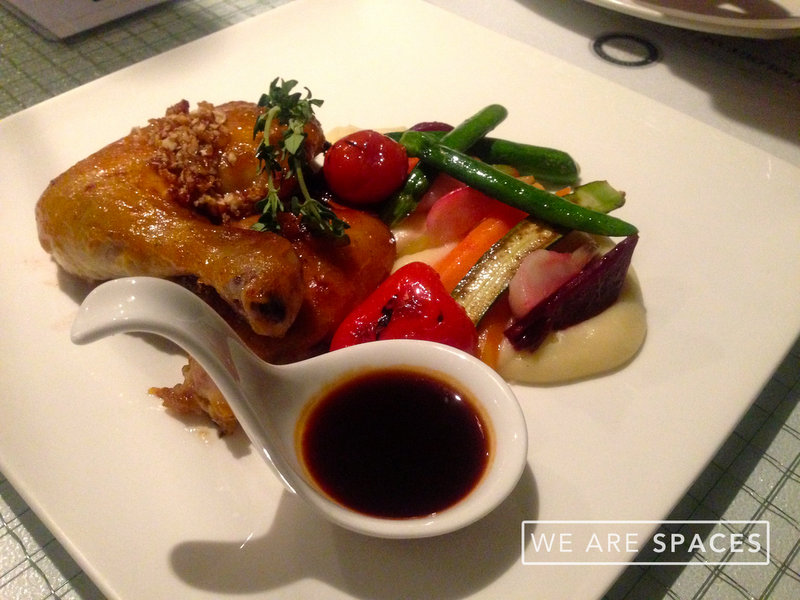 The last 'food' dish of my food tasting was 'Spicy Kalbi Beef Short Ribs' ($36). This dish was a little underwhelming as I thought the spice overwhelmed the richness of the beef. However, it was saved by the crispy root vegetable ribbons that accompanied the dish. The vegetable ribbons are something like 'chips', but the healthier and super addictive version. You should definitely try it!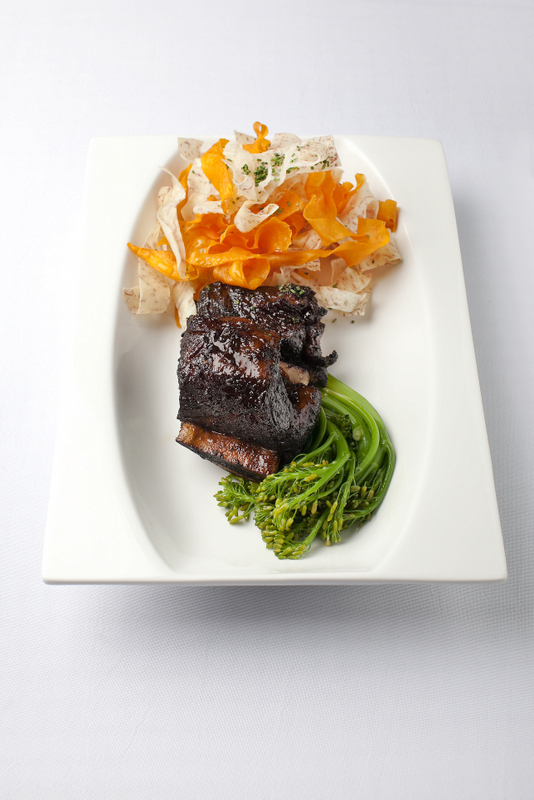 Some people claim 'there's always another stomach for dessert'. I'll have to agree to that. Despite already bursting my tummy, I gobbled up the dessert at the end.  The first dessert 'Mango & Cheese Semifreddo' ($12) is really very good. At the bottom of the stack is the sablee cookies, followed by Mango and Cheese semifreddo, topped off with frozen lime foam. Semifreddo taste something like cheese cake, but not as thick; feels something like ice cream, but is frozen and harder. The combination's really amazing. I loved it.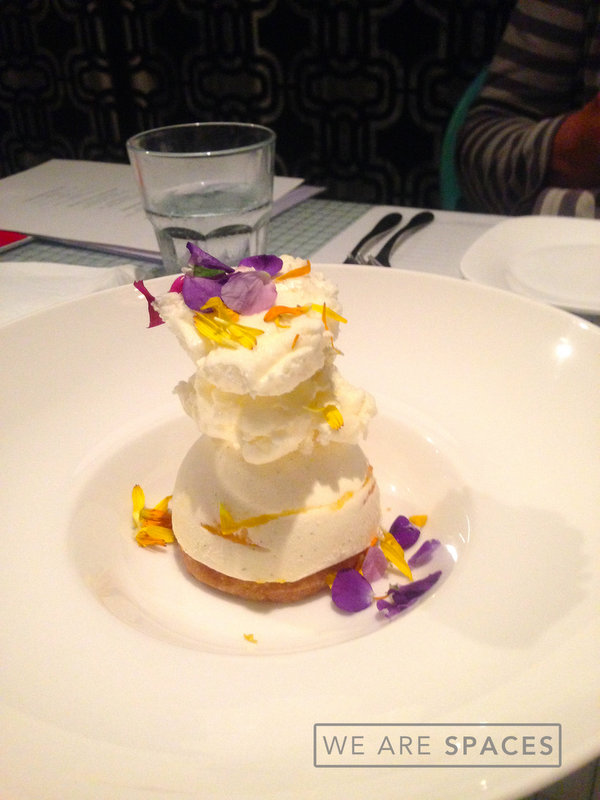 The second dessert 'Snicker Bar' ($12) featured a bar made from four layers – salted caramel pudding, peanut butter, chocolate ganache and feuilletine; topped off with vanilla gelato and flambed bananas. It was good, but I preferred the first, maybe because I needed something lighter to end off a heavy meal. Skyve's dinner dining is from 6PM to 10PM, daily.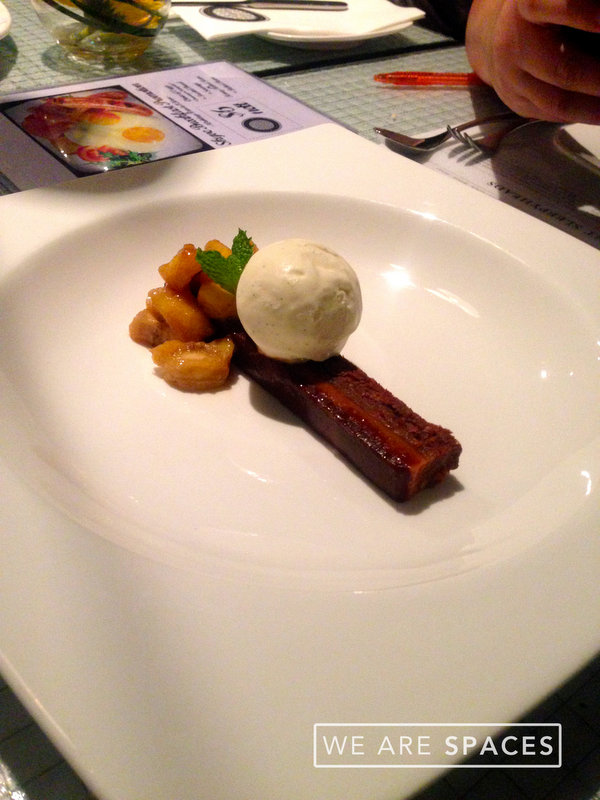 I had the chance to loiter around the lounge area after the food tasting. The lounge area was semi-brightly lit with cushioned sofas/chairs and low tables. At one corner of the lounge is the performing area for the band, where they will play live on Wednesday (7.30PM to 10.30PM) and Friday (9PM to MIDNIGHT) night. The lounge gave off a very relaxing mode and I would definitely have lazed around if not for the need to go off.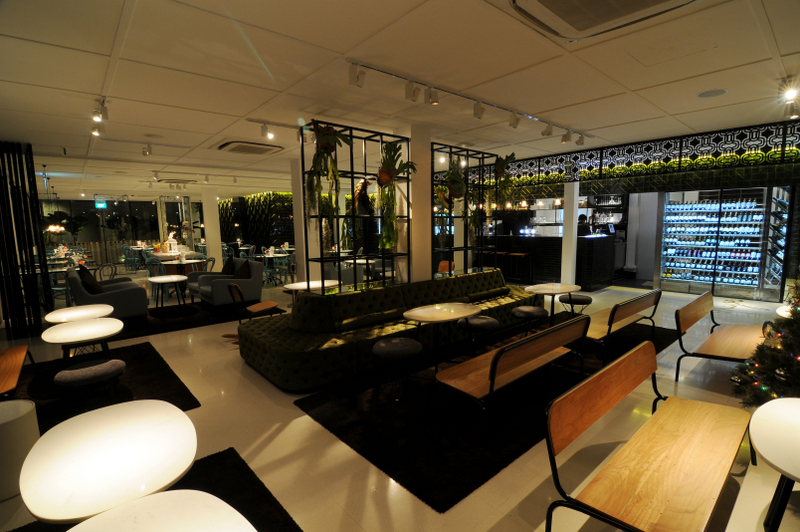 Good music goes with good drinks. Skyve offers extremely affordable, good quality wines with prices starting from $49++ for a bottle and selection spanning from both Old World and New World countries such as France, Italy, Australia and New Zealand, just to name a few. Skyve's 'Skyving hours' are from 4PM to 8PM Wednesday to Saturdays, and 4PM to 11PM Sundays to Tuesday (except on eve of Public Holidays).
To conclude my visit at Skyve Wine Bistro, I must commend and thank my hosts and the service staff for their excellent hospitality and service. My water was refilled once it was half empty and that really showed the dedication of Skyve's service team. Also, Maggie (from Marketing and Events) shared her experience with me on various events that Skyve have hosted and I was extremely impressed with their service, particularly when she mentioned that the service staff and herself would memorise each and every guest's seating and choice of food at a wedding event.
Interested in a venue space in Singapore that is perfect for weddings, corporate function, private events? Or maybe just a place to chill and spend a relaxing night away with good food, perfect ambience and excellent service? Check out Skyve's profile right here.
Next Step: Find awesome event venues and spaces to rent in Singapore 
We are Spaces is a venue discovery platform for event planners. Browse from over 300 curated venues available for rent, filter spaces based on your specific requirements, and get quotes from multiple venues all from a single enquiry. Visit We Are Spaces to find your perfect venue today!