Let's face it. Planning a party is A LOT of work. Deciding who makes it to the guest list and who doesn't, calling upon your closest girlfriends to perform the Best Friends Duties (aka miscellaneous and cumbersome tasks ranging from finding suitable party spaces, to invites and decor), brainstorming for a theme that isn't Hello Kitty or Star Wars… the list goes on and on.
Such are the pains and woes that you, as a birthday girl/boy would be (so fortunately) blessed with once a year. Because we feel you, and because we could all agree that nailing the right venue is half the battle won, we will help you with that half.
Why hotels make good party spaces
While there are many awesome private party spaces and venues to choose from, here are several reasons why you should hold your party in a hotel room:
Throwing your party at a hotel has got a certain fancy factor to it. If you do it well, it could be the talked-about party of the year.
Instead of finding another party spaces to go after the restaurant/bar closes, your guests can stay as late as you/they please at the hotel. (Just watch the volume!)
If your party is themed, you would like your guests to admire those expensive helium-pumped balloons rather than the embarrassing childhood photos hung up on your wall at home.
Most of us are also lazy people (well, at least I am) who wouldn't fancy a massive clean-up the morning after our birthdays. Think confetti strewn across the room, used cutlery and used paper napkins at unassuming places of your house. Hey! It is (was) my birthday! Why should I have to deal this aftermath?? Let house keeping clean up the mess.
Hotels typically have large function rooms and halls that can accommodate more guests. Note that hotel rooms or suites are good to invite anywhere from 10-20 guests (max!). Anything more than that and you're only going to run the risk of the hotel security shutting your party down.
Now that we have established what a great plan it is to hold your 21st, 42nd, or 60th birthday party at a hotel, let's move on to the list of party spaces we have so painstakingly consolidated to streamline your party venue hunt!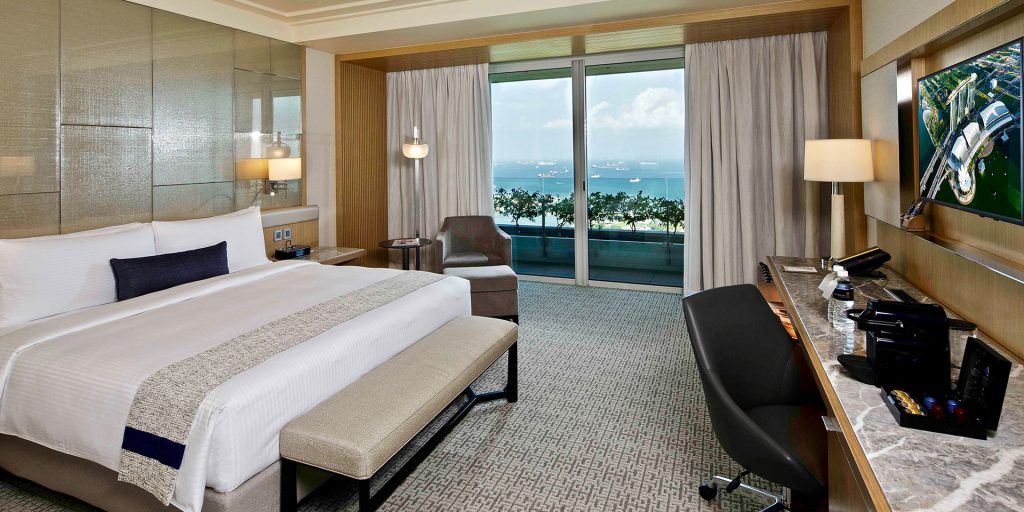 The Club Room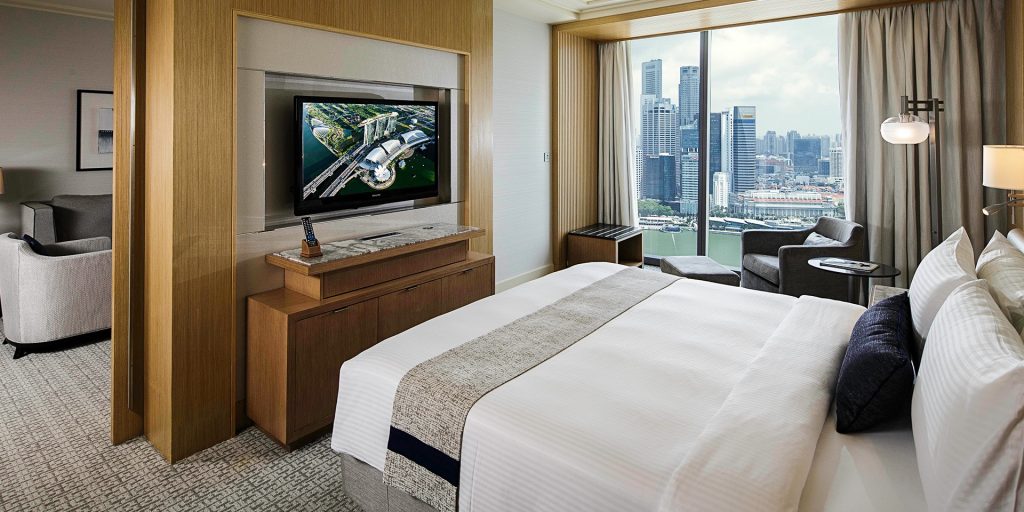 The Orchid Suite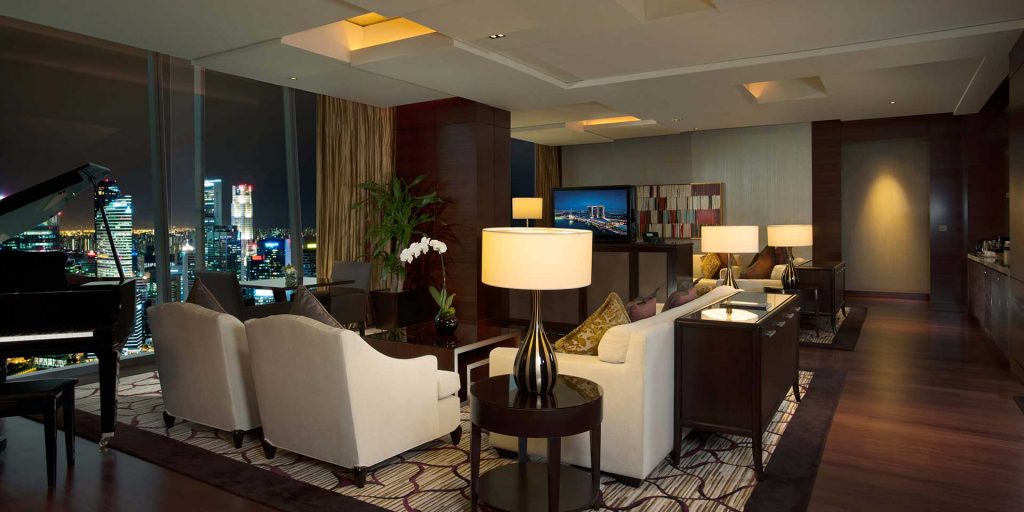 The Straits Suite
But of course, why should it come as a surprise that the "big guy" in the hotel scene will be on this list? Being a top notch hotel in Singapore, this is definitely a venue that makes an invitation look…well, inviting. While it goes without saying that such fanciness and glamor comes with a (relatively) hefty price tag, MBS has got rooms of different tiers to suit your needs. If you are expecting a huge turnout for your party, we highly recommend you book a suite instead!
Apart from its ease of access, MBS is an excellent option to throw a party with a view, with most of its balconies overlooking the beautiful Gardens By The Bay, which only grows more enchanting at night in its expanse of greenery and twinkling lights. To top it all off, the hotel does not impose official limitations or restrictions on visitors and have played host to some of our local bloggers' parties – MBS generally welcomes gatherings.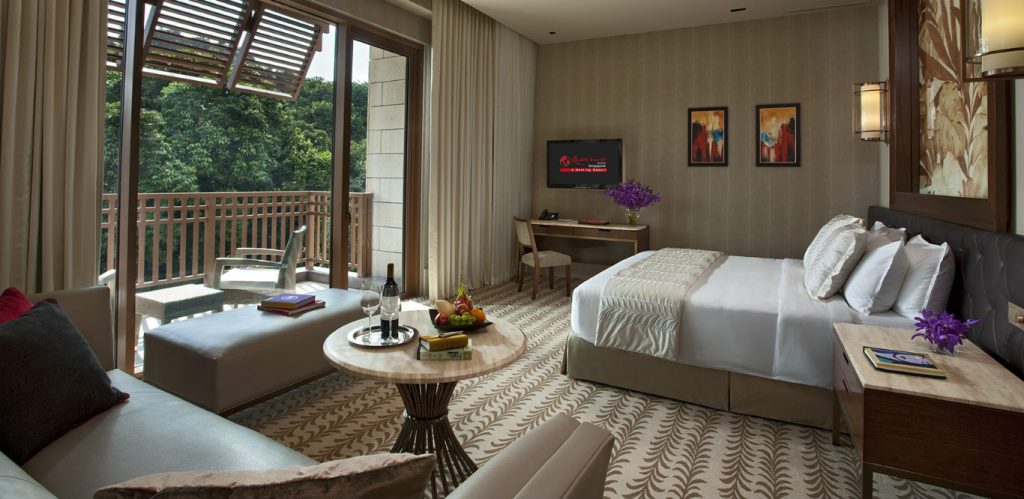 The Deluxe Room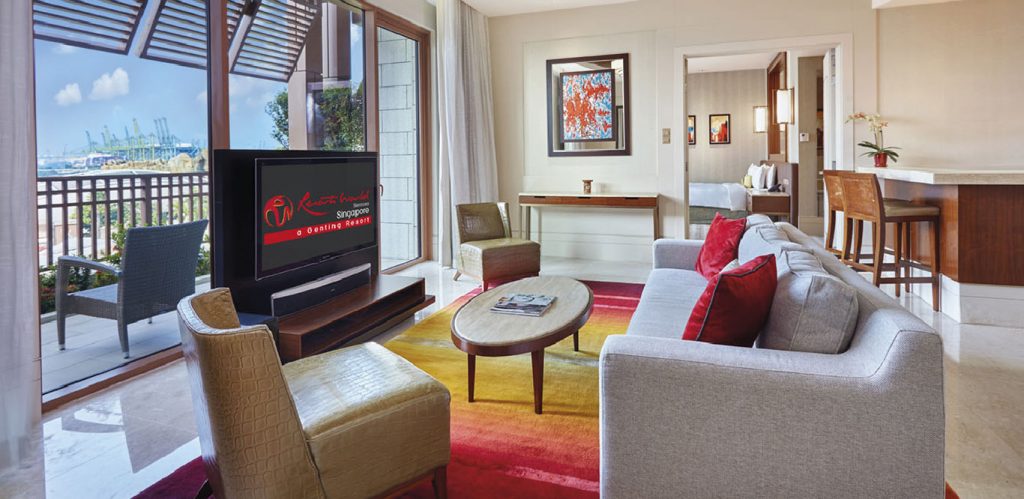 The Deluxe Suite
If it's a large space you're looking for, a less extravagant alternative to MBS would be Equarius Hotel. With even the smallest room standing at 51 sqm, the hotel will be able to host most party sizes comfortably. Being situated rather deep in Resorts World Sentosa (RWS), the place may not be most accessible for your guests. But fret not! This is compensated by the relaxed atmosphere for your party as Equarius Hotel is truly a tranquil hideout tucked away from all the noise and activity.
Besides, what's there not to be pleased about having complimentary access to a cluster of swimming pools around the hotel?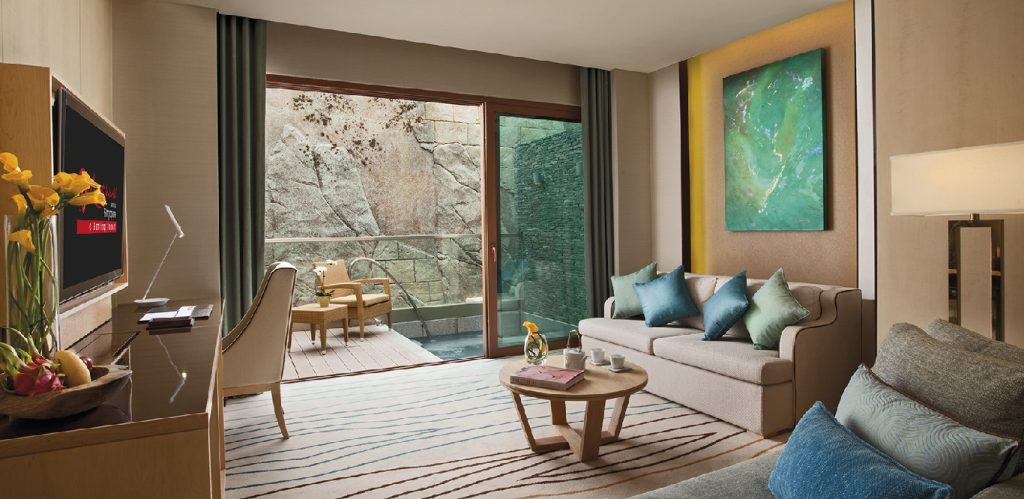 The Ocean Suite

While most parties would see guests hanging out and chilling mainly in the living room, we can't say the same about this one because your bedroom is likely to be…overcrowded. Well it is difficult not to be if your bedroom has an… AQUARIUM!
The Ocean Suite Bedroom
If you're planning a party to impress your guests and make their jaws drop, you'll nail it with the Ocean Suites at Resorts World Sentosa! Designed to be a two-storey townhouse, guests would be offered the best of both worlds above and underwater where they can view over 50,000 marine fishes. Let's just say your picture-worthy party is going to be reeling in loads of attention on Instagram that day.

The Studio M Loft
Widely known for its refreshing two-storey loft concept, the Studio M Hotel is a classic testament of minimalist interior design. Doing away with fanciful textures and quirky designs, each room in the hotel is clean and plain enough for your decor to stand out, and the high ceilings mean that you can execute Project Balloon-Overload without having the room look cluttered and messy. Studio M Hotel is ideal for parties of smaller groups or intimate gatherings because of its loft design. It may not be huge but it most certainly is effortlessly stylish. After all, simplicity is the ultimate sophistication, says Mr. Leonardo Da Vinci.
Now that we've got upscale, nature, and artsy onboard… we're only missing one on this list of party spaces – Boutique.
Hotel Re! Themed Suites
We all know that in a city like Singapore, big hotel names are a dime a dozen. But if you're planning for your party to be different, ditch them and go for something adventurous! Hotel Re! is a Modern Retro Boutique hotel. A plus point of throwing your party here is that even without much decor, your party space immediately looks ten times more funky!
And just when you think that Hotel Re! cannot get anymore quirky, your guests will be delighted to learn that their themed rooms all come with open concept bathrooms and waterbeds! If you think you're quirky and fun, your 21st party should reflect just that. If you want bigger party spaces, the hotel has fully equipped function rooms and halls for you to get your groove on.
Note: If you are holding your party at Hotel Re!, do inform your guests of a shuttle service from Outram MRT!
Editor's Note: This post was originally published in July 2015 and has been updated for accuracy and comprehensiveness.
Next Step: Find awesome event venues and spaces to rent in Singapore 
We are Spaces is a venue discovery platform for event planners. Browse from over 300 curated venues available for rent, filter spaces based on your specific requirements, and get quotes from multiple venues all from a single enquiry. Visit We Are Spaces to find your perfect venue today!