Imagine an event where every element, from the venue to the decorations, tells a story of environmental consciousness, where eco-friendliness meets elegance. Sustainable event planning is a holistic journey, weaving together the threads of glamour, responsibility, and innovation at every stage, transforming events into experiences that leave a lasting mark on both attendees and the planet. Let's dive into the art of hosting events that are not only unforgettable but also environmentally mindful, where every celebration becomes a step toward a greener, more sustainable future.
Sustainable Events – How they Help Boost Your Business
Before delving into the practical tips for sustainable event planning, it's crucial to recognize the array of benefits that this approach can bring to the table.
Positive Brand Image
Hosting sustainable events is a powerful way to bolster your brand image. In an era where consumers are increasingly conscious of corporate responsibility, aligning your brand with eco-friendly practices can enhance your reputation and attract environmentally conscious audiences. Demonstrating a commitment to sustainability communicates that your company is socially aware and actively contributing to positive environmental change.
Cost Savings
Contrary to the misconception that sustainability comes at a high cost, many eco-friendly practices can result in long-term cost savings. Energy-efficient lighting, water conservation measures, and waste reduction strategies not only benefit the environment but also reduce utility expenses. By adopting sustainable practices, event planners can realize economic benefits while contributing to a more sustainable future.
Attendee Engagement
Modern audiences, particularly Millennials and Generation Z, are increasingly environmentally conscious. Hosting sustainable events aligns with the values of these demographics, leading to increased attendee engagement and satisfaction. An eco-friendly event can serve as a unique selling point, attracting individuals who actively seek out and support environmentally responsible initiatives.
Innovation and Creativity
Embracing sustainability in event planning encourages organizers to think innovatively and creatively. The challenge of minimizing environmental impact while delivering a memorable experience sparks inventive solutions. From alternative materials to eco-friendly technologies, sustainable event planning fosters a culture of innovation, inspiring event organizers to explore new and creative approaches to event management.
Practical Tips for Sustainable Event Planning
Now, let's delve into practical tips that event planners can implement to make their events more sustainable.
Green Venue Selection
The choice of venue plays a pivotal role in the sustainability of an event. Opt for venues with recognized green certifications, such as LEED (Leadership in Energy and Environmental Design), which signifies a commitment to environmentally responsible practices. Look for venues with energy-efficient facilities, waste reduction initiatives, and sustainable practices in place. A green venue sets the foundation for an eco-friendly event.
Waste Reduction and Recycling
Implementing a robust waste reduction strategy is a cornerstone of sustainable event planning. Minimize single-use items, such as plastic cups and utensils, and instead opt for reusable or compostable alternatives. Place recycling bins strategically throughout the venue and clearly communicate waste separation instructions to attendees. Collaborate with local waste management services to ensure proper disposal and recycling of event-generated waste.
Sustainable Catering
Catering is a significant aspect of any event, and adopting sustainable practices in this area can make a substantial difference. Choose catering services that prioritize locally sourced, organic, and seasonal ingredients. Consider a menu that minimizes meat consumption, as the meat industry is a significant contributor to environmental degradation. Opt for reusable or compostable servingware, and work closely with the caterer to minimize food waste through careful planning and portion control.
Digital Communication
In the digital age, there's no need for excessive paper usage in event communication. Utilize digital platforms for invitations, event programs, and promotional materials. Leverage event apps, email campaigns, and social media platforms to disseminate information to attendees. This not only reduces paper waste but also provides a more efficient and dynamic means of communication.
Energy Efficiency
Reducing energy consumption is a critical aspect of sustainable event planning. Choose venues with energy-efficient lighting systems, and utilize natural light whenever possible. Invest in renewable energy sources, such as solar or wind power, to power your event. Encourage speakers and presenters to use electronic presentations rather than printed materials, further reducing energy consumption and paper waste.
Sustainable Transportation
Transportation to and from the event can contribute significantly to its overall environmental impact. Encourage attendees to use eco-friendly transportation options, such as public transit, carpools, or biking. Choose a venue with accessibility to public transportation to make it easier for attendees to adopt sustainable travel methods. Implement initiatives such as providing discounted public transit passes or coordinating shuttle services to reduce the carbon footprint associated with attendee transportation.
Offset Carbon Footprint
Calculating and offsetting the event's carbon footprint is a proactive step toward environmental responsibility. Work with reputable carbon offset programs that invest in projects like tree planting, renewable energy initiatives, or methane capture projects. By offsetting the carbon footprint of your event, you contribute to environmental conservation efforts, helping to balance out the emissions generated during the event.
Engage Stakeholders in Sustainability
Encourage and educate all stakeholders involved in the event—vendors, sponsors, exhibitors, and attendees—about the importance of sustainability. Provide guidelines and resources to help them adopt eco-friendly practices. Engaging stakeholders in the sustainability journey not only amplifies the impact of your efforts but also fosters a collective commitment to environmental responsibility within the event ecosystem.
Water Conservation
Water is a precious resource, and events can often contribute to excessive water usage. Implement water conservation measures by using water-efficient fixtures and encouraging responsible water use. Consider providing water stations with reusable cups instead of single-use plastic bottles. Communicate the importance of water conservation to attendees and staff to instil a culture of environmental consciousness.
Green Event Materials
From signage to promotional materials, choose sustainable alternatives to traditional event materials. Opt for recycled paper or materials made from sustainable sources. Consider using digital signage or reusable banners that can be utilized for multiple events. By selecting eco-friendly materials, you reduce the environmental impact associated with the production and disposal of event-related materials.
Community Involvement
Engage with the local community to incorporate sustainable practices into your event. Partner with local businesses that share a commitment to environmental responsibility for catering, supplies, and services. Involve local environmental organizations or community groups to participate in or support your event. By integrating the community into your sustainability efforts, you contribute to the broader goal of fostering a sustainable event culture.
Post-Event Evaluation
After the event concludes, conduct a comprehensive evaluation of its sustainability performance. Assess the success of implemented eco-friendly practices and identify areas for improvement. Collect feedback from attendees, vendors, and partners to gain insights into the effectiveness of sustainability initiatives. Use this information to refine and enhance your approach for future events, creating a continuous improvement cycle.

Go Green Today!
Sustainable event planning is a fundamental shift toward responsible and conscious event management. By understanding the principles of sustainability and implementing practical tips, event planners can reduce the ecological footprint of their events while reaping a multitude of benefits. From positive brand image and cost savings to attendee engagement and innovation, the advantages of sustainable events extend far beyond the realm of environmental responsibility.
The path to sustainable event planning involves a holistic approach, from selecting green venues to promoting eco-friendly practices in every aspect of event execution. By adopting these practices, event planners can contribute to a positive environmental legacy while ensuring the success and resonance of their events in an increasingly eco-conscious world.
We hope that our list has given you some inspiration on hosting your while being gentle on our Earth! Meanwhile, if you need help finding your ideal event venue, check out our wide selection of event spaces for more venue inspirations. With We Are Spaces, you can browse from over 300 curated venues available for rent, filter spaces based on your specific requirements, and get quotes from multiple venues all from a single enquiry. Or, hit us up for some personalised suggestions!
Meanwhile, here are some event venues you may want to check out:
The Lawn at CHIJMES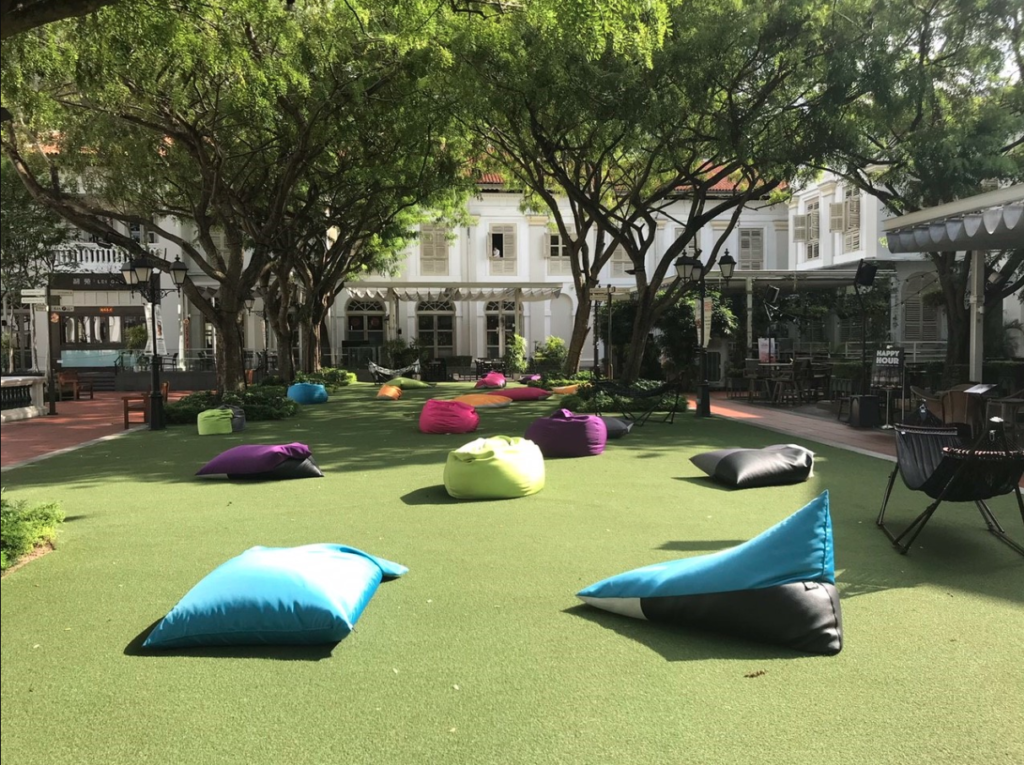 Address:  30 Victoria Street, #B1-09, CHIJMES, Singapore 187996
Max Capacity: 250 guests
Price Range (half-day):  S$1,501 to S$2,000
Price Range (full-day):  S$1,501 to S$2,000
Interested in this event venue for rent? Click here to find out more and get a quote.
Sentosa Pavilion @ Sentosa Golf Club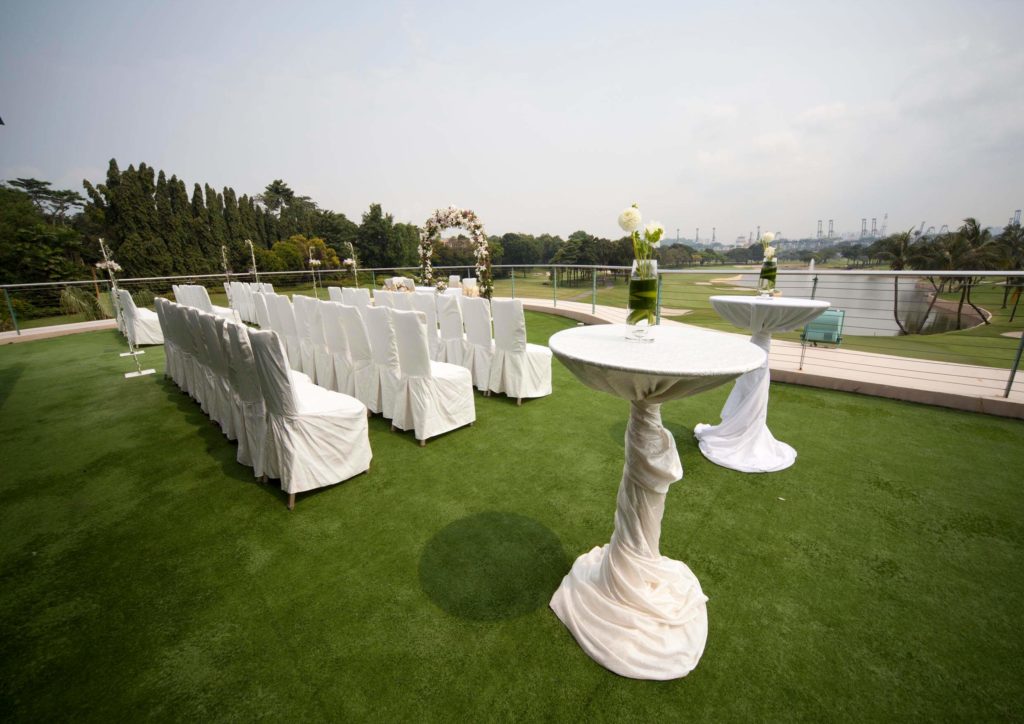 Address:  Sentosa Golf Club 27 Bukit Manis Road, Singapore 099892
Max Capacity:  500 guests
Price Range (half-day):  Enquire for quote
Price Range (full-day):  Enquire for quote
Interested in this event venue for rent? Click here to find out more and get a quote.
Grand Park City Hall – Rooftop Sky Garden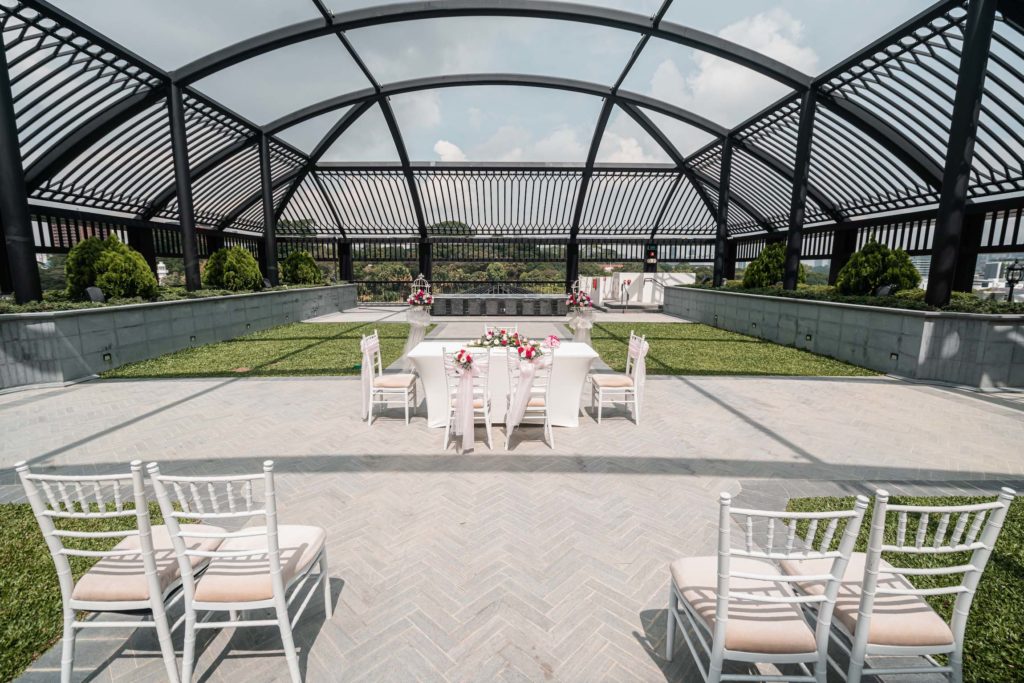 Address: High Street, Beach Road (part), 10 Coleman Street, Singapore 179809
Max Capacity: 120 pax
Price Range (half-day):  S$10,001 to S$15,000
Price Range (full-day):  S$20,001 to S$50,000
Interested in this event venue for rent? Click here to find out more and get a quote.
Amber Ember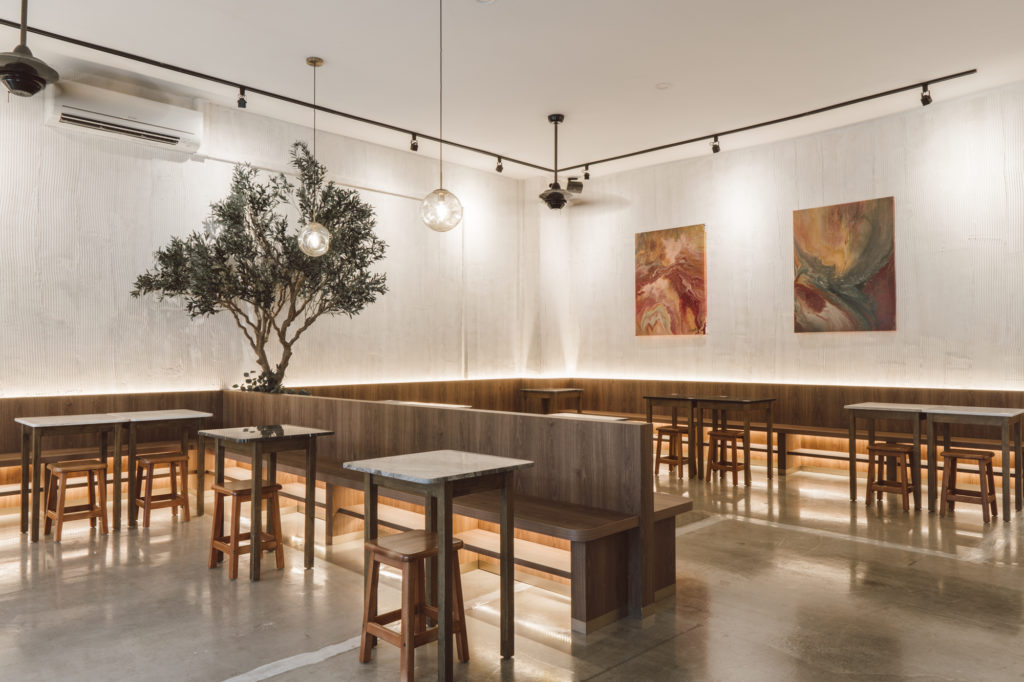 Address: Upper Serangoon Road, #01-01, 730, Singapore 534613
Max Capacity: 40 guests
Price Range (half-day): $1,501 to $2,000
Price Range (full-day): $2,001 to $3,000
Interested in this event venue for rent? Click here to find out more and get a quote.