Organizing a conference involves numerous important decisions, and one of the most crucial is selecting the perfect venue. The conference venue sets the tone for the entire event and can significantly impact its success. Whether you're planning a small professional gathering or a large-scale international conference, finding the right venue is paramount. In this article, we will explore a few key factors to consider when choosing a conference venue.
Define Your Budget
Before embarking on your search, it's essential to establish a budget for the conference venue. Determining how much you can allocate to the venue will help narrow down your options and prevent overspending. Remember to consider not only the rental cost but also any additional fees for services, catering, or equipment.
Choose Your Ideal Location
When it comes to organizing a conference in Singapore, the location plays a crucial role in attracting attendees and creating a memorable event. Singapore is known for its vibrant business environment, world-class infrastructure, and cosmopolitan charm. In this section, we will explore three main locations in Singapore that are popular for hosting conferences: Raffles Place, Bugis, and Orchard Road.
Raffles Place
Located in the Central Business District (CBD), Raffles Place is synonymous with Singapore's bustling financial hub. This prestigious location offers a range of conference venues that cater to both small and large-scale events. Raffles Place is well-connected to public transportation, including the MRT (Mass Rapid Transit) system, making it easily accessible for attendees.
The area is also known for its iconic landmarks, such as the Marina Bay Sands and the Merlion, which provide stunning backdrops for networking and socializing. Raffles Place offers a professional and corporate atmosphere, making it an ideal choice for conferences focused on finance, technology, or business-related topics.
Bugis
Located in the heart of Singapore, Bugis is a vibrant and culturally rich neighborhood that offers a unique blend of old and new. It is home to a variety of conference venues that cater to different event sizes and requirements. Bugis boasts excellent connectivity with multiple MRT lines, making it convenient for attendees to access.
The area is known for its diverse dining options, shopping districts, and historical landmarks like the Sultan Mosque. Bugis provides a lively atmosphere, making it an excellent choice for conferences that want to infuse a touch of local flavor into their event. It is particularly suitable for conferences focused on arts, culture, education, or innovation.
Orchard Road
Orchard Road is Singapore's premier shopping district and a vibrant hub for conferences and events. This iconic location offers a wide range of conference venues, including luxury hotels, convention centers, and dedicated event spaces. Orchard Road is renowned for its world-class shopping malls, restaurants, and entertainment options, creating an exciting and dynamic atmosphere for conference attendees.
The area is well-connected by public transportation, including multiple MRT stations, and offers ample parking facilities. Orchard Road is an ideal choice for conferences that desire a prestigious and cosmopolitan setting. It is particularly suitable for conferences focused on retail, hospitality, fashion, or lifestyle industries.
When selecting a conference venue in Singapore, consider the nature of your event, the target audience, and the atmosphere you want to create. Each location mentioned above offers its unique advantages, so assess your conference requirements and choose the location that best aligns with your goals and objectives. Remember to consider factors such as accessibility, proximity to accommodation options, and the overall ambiance when making your final decision.
By selecting the right location, you can enhance the overall experience for your attendees and create a memorable conference that leaves a lasting impression.
Define The Capacity For Your Event Venue
Understanding and validating the number of attendees you expect is crucial for selecting a suitable venue. Make sure the venue can comfortably accommodate the expected number of participants while adhering to safety regulations. You don't want a cramped space that leaves attendees feeling uncomfortable or a cavernous room that feels empty and disconnected.
More tips to organize your event. 
Amenities For Your Conference Room
When choosing a conference venue, it's crucial to consider the amenities offered by the facility. The amenities provided can greatly impact the overall experience of your attendees and the success of your event. Here are some key amenities to evaluate when selecting a conference venue:
Audiovisual Equipment: Modern audiovisual equipment is essential for delivering impactful presentations and ensuring smooth communication during your conference. Check if the venue provides state-of-the-art sound systems, projectors, screens, and microphones. A well-equipped venue will have technicians available to assist with setup and troubleshooting, ensuring that your speakers can deliver their messages effectively.
Reliable Wi-Fi: In today's digital age, a reliable internet connection is vital for conferences. Confirm that the venue offers high-speed Wi-Fi access throughout the premises, allowing attendees to stay connected, access online resources, and interact via social media. Insufficient or unreliable Wi-Fi can hinder productivity and frustrate participants, so ensure that the venue can handle the connectivity demands of your event.
Breakout Rooms and Networking Areas: Breakout rooms are valuable for hosting smaller sessions, workshops, or group discussions. They provide a more intimate setting for focused conversations and collaborative activities. Inquire if the venue has dedicated breakout rooms that can be reserved for specific sessions. Additionally, consider whether the venue offers designated networking areas where attendees can mingle, connect, and exchange ideas during breaks.
Parking Facilities: If your conference expects attendees who will be driving, sufficient parking facilities are essential. Check if the venue has on-site parking or nearby parking options that can accommodate the number of expected vehicles. Providing convenient and ample parking helps ensure a smooth arrival and departure process for your attendees.
Catering Services: Food and beverage services are crucial for keeping attendees energized and engaged throughout the conference. Inquire whether the venue offers in-house catering or has partnerships with reputable catering companies. Evaluate the menu options, dietary accommodations, and the ability to cater to any specific requirements or preferences of your attendees. Having well-prepared meals, snacks, and refreshments can enhance the overall experience of your conference.
Accessibility Features: Consider the accessibility features of the venue to ensure that it accommodates attendees with disabilities or special needs. Check for wheelchair ramps, elevators, accessible restrooms, and designated seating areas. Accessibility is not only important for inclusivity but also necessary to comply with legal requirements and create a welcoming environment for all participants.
Business Support Services: Depending on the nature of your conference, you may require additional business support services. Inquire whether the venue offers services such as printing, photocopying, faxing, or secretarial assistance. Having access to these services on-site can save time and provide convenience for both organizers and attendees.
Exhibition and Display Areas: If your conference includes exhibitions or displays, evaluate if the venue provides dedicated spaces for showcasing products, services, or promotional materials. Look for areas with adequate lighting, power outlets, and appropriate display equipment. These areas should be easily accessible to attendees and designed to facilitate engagement and interaction.
Extra fun amenities: in some cases, a fun activity can bring a great touch to your event, like a photo booth that guests will enjoy and remember after the even, a good way to have fun!
Choose the best type of venue for your event
When it comes to selecting a corporate event venue for your event, several options are available, each with its unique advantages. Coworking spaces, hotels, and event venues are three popular categories to consider. Understanding the characteristics and benefits of each can help you make an informed decision that aligns with the specific requirements and objectives of your event. Let's explore these different types of categories:
Coworking Space
Coworking spaces have gained significant popularity in recent years due to their flexibility and collaborative environments. These venues are typically designed for professionals and freelancers who seek a shared workspace. However, they can also be an excellent choice for small-scale events, workshops, and networking sessions. Here are some key benefits of choosing a coworking space for your event:
Flexibility: Coworking spaces often offer customizable layouts and room configurations, allowing you to adapt the space to your event's specific needs. They may have open-plan areas, meeting rooms, and breakout spaces that foster creativity and collaboration.
Tech-Ready Infrastructure: Coworking spaces are generally equipped with modern audiovisual technology, reliable Wi-Fi, and presentation tools. This ensures that your event runs smoothly, with the necessary technological support readily available.
Networking Opportunities: Coworking spaces often attract a diverse community of professionals, creating networking opportunities for your attendees. These environments foster connections, idea-sharing, and collaboration among participants.
Cost-Effectiveness: Coworking spaces can be a budget-friendly option for smaller events. They often offer flexible pricing structures, allowing you to rent the space for the duration and scale that best suits your needs.
Hotel
Hotels have long been a popular choice for hosting conferences, meetings, and corporate events, in addition to private parties. They offer a range of amenities and services tailored to the needs of event organizers. Here are some reasons why hotels may be an ideal venue for your event:
Accommodation: If your event spans multiple days or requires attendees to travel, having on-site accommodation can provide convenience and a seamless experience. Hotels offer the advantage of readily available rooms for participants, eliminating the need for them to commute to a separate location.
Event Management Support: Hotels often have experienced event planning and management teams who can assist you in organizing and executing your event. From catering and audiovisual services to logistics coordination, these professionals can handle various aspects, allowing you to focus on the content and purpose of your event.
Facilities and Amenities: Hotels typically have purpose-built event spaces with a variety of room sizes and layouts. They are equipped with state-of-the-art audiovisual equipment, comfortable seating arrangements, and professional ambiance. Additionally, hotels often provide dining options, business centers, and recreational facilities, adding convenience and value for attendees.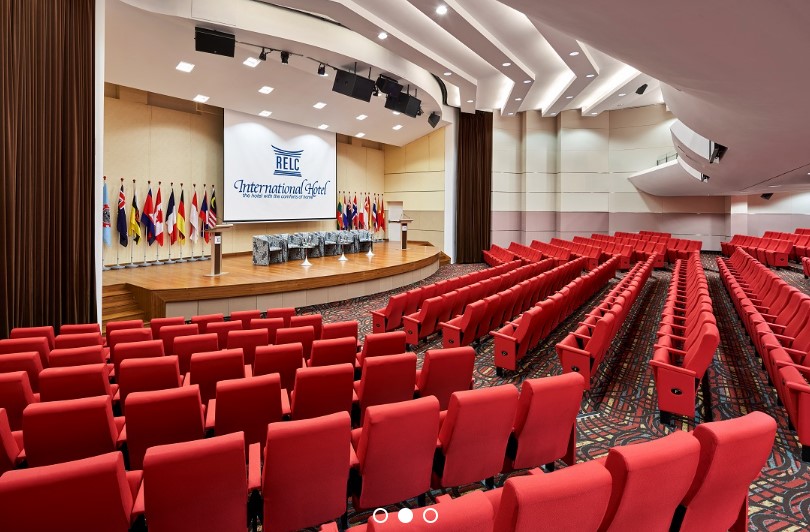 A hotel venue like RELC is conveniently located in the heart of Singapore close to Orchard Road
Event Venue
Dedicated event venues are specifically designed to host a wide range of events, including conferences, trade shows, and exhibitions. These venues offer comprehensive event solutions and are well-equipped to handle large-scale gatherings. Here are the advantages of choosing an event venue for your event:
Capacity and Flexibility: Event venues are often spacious, providing ample room for a large number of attendees. They offer various room configurations and can accommodate diverse event requirements, such as plenary sessions, breakout rooms, and exhibition areas.
Specialized Event Services: Event venues typically provide a comprehensive suite of services, including event planning, audiovisual support, catering, and logistics management. Their experienced teams understand the intricacies of hosting successful events and can provide professional guidance throughout the planning and execution process.
Branding and Customization: Event venues often offer branding opportunities and customizable spaces. You can tailor the venue to align with your event's theme or branding, creating a cohesive and immersive experience for your attendees.
On-site Support: Event venues usually have dedicated on-site staff who are experienced in managing events. They can assist with technical setup, coordination, and troubleshooting, ensuring that your event runs smoothly.
When selecting the best type of venue for your event, consider factors such as the size of your event, the nature of your audience, the desired atmosphere, and your budget. Each category – coworking space, hotel, and event venue – offers distinct benefits that can enhance your event experience. Other venues like training and seminar rooms can also be suitable for your event.
In some cases, some restaurants and bars can also be a great option for a successful conference or corporate event!
Evaluate these options carefully to make an informed decision that aligns with your event objectives and creates a memorable experience for your attendees.
Venue Layout
Examine the venue's layout to ensure it suits the nature of your conference. Are there multiple rooms or areas for concurrent sessions? Is there a central space for networking and socializing? Consider the flow of your event and how the layout of the venue can facilitate interactions and engagement among attendees.
Conclusion
Selecting the right conference venue requires careful consideration of multiple factors, and each aspect contributes to the overall experience of your attendees. By defining your budget, assessing the location, capacity, features, staffing support, branding opportunities, venue layout, and accommodation options, you can make an informed decision that aligns with your conference goals and creates a memorable event for all participants.
Remember, the venue is not just a physical space; it sets the stage for knowledge sharing, networking, and professional growth. Choose wisely, and your conference will leave a lasting positive impression on attendees, paving the way for future success.