Every once in a while, something new is unveiled. Something that makes life easier for people and solves a problem worth solving. Something that simplifies an otherwise tedious process. We Are Spaces has revamped but before we dive into that, it's worth revisiting the genesis of it all.
The story began when Sharon, creator of We Are Spaces, found herself going through the hassle of searching for, and contacting multiple venues (one-by-one) from all over the web, just to gather quotes for the many events she was organizing then. Overtime, she realised that this was a common problem faced by other event planners in Singapore. She also found many great but undiscovered venue spaces along the way, whose owners expressed how they wished they could be rented out more easily and monetized. That sparked an idea, and in 2012, We Are Spaces was born.
We Are Spaces started out as a simple WordPress website (back in 2012), but has since evolved to become a more and more sophisticated platform aimed at providing event planners with a great user experience, as well as venue-owners with better control over their spaces. Early this year, the team has spent considerable time and effort redesigning and revamping the platform with the same goal in mind – help event planners find awesome event venues and spaces for rent in Singapore, while enabling venue owners to showcase and promote their available spaces for rent.
Here's what has changed:
Better search functionality and user experience for event planners
Yup. We revamped everything. Tore it apart and put it back together. The design has changed, the search algorithm has changed. We even spent time updating our inventory of event venues and spaces since many have since ceased to be in operation. There's still a lot to be done, but this is a major leap forward.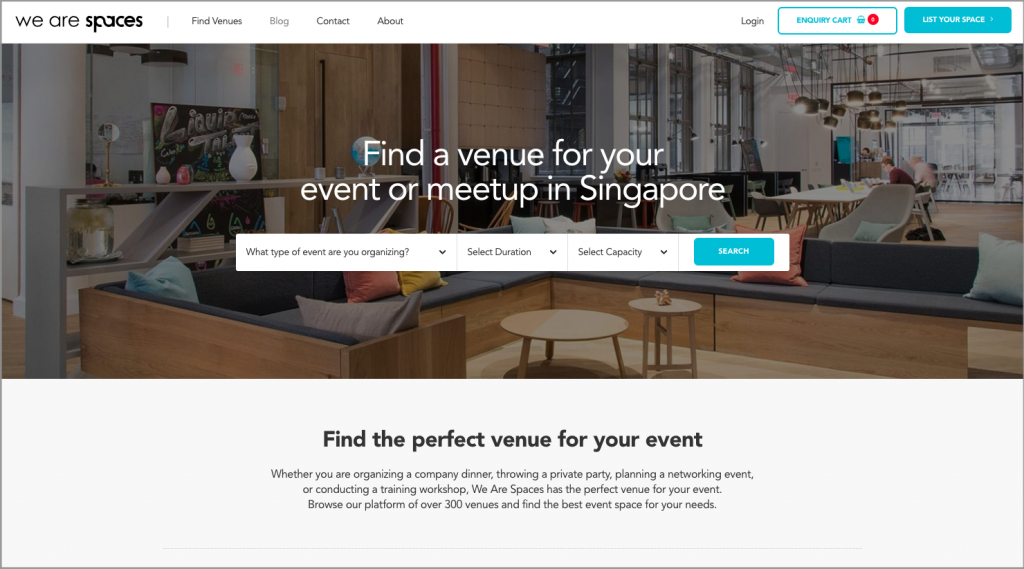 The brand new We Are Spaces Homepage
Event planners now can get more targeted search results by indicating right at the homepage: the type of event they are organizing, the duration of their event, as well has the size of their crew. Additional filters such as location (region in Singapore), amenities, F&B offerings as well as the all important factor – budget, can still be applied in the search result page to narrow down results even further.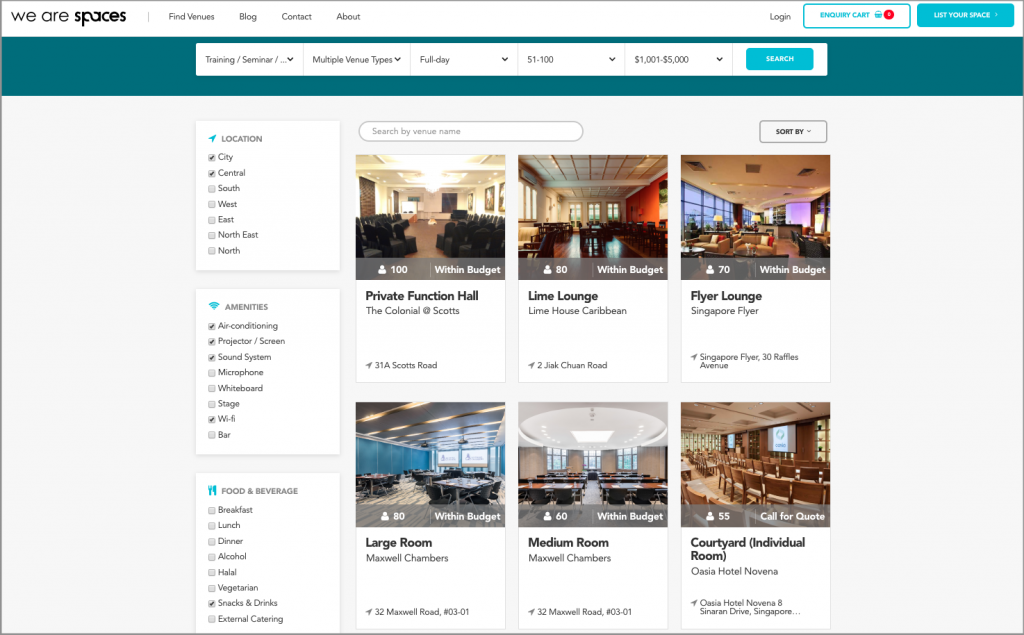 The Search Results Page
When event planners see an event venue or space they like, they can add it to the "Enquiry Cart". It's kinda like shopping; except for venues and spaces. Once they have shortlisted a few potential venues for their event, they just need to fill in one single enquiry form with their event details (date/time/special requirements etc) and the request will be automatically sent to all the venues shortlisted via email. Venues typically will reach out privately to the event planner within 24-48 hours and provide quotes and other details. Easy peasy!
Note: Power users can create their own user account so they can save/bookmark their favourite spaces for future reference 🙂
Easier onboarding, reporting and control for venue owners
We used to onboard venues and spaces manually. Yup. It was a tedious process and things were moving slowly. We soon realised that venue owners took pride in the way they promoted their spaces so we decided to build a new admin section for venue owners to get the ball rolling themselves. Signing up is easy and setting up is even easier. Venue owners get to create their own listings, furnish the right details and upload the necessary photos themselves. The result is that venue owners get to list their spaces faster with close to zero downtime (the We Are Spaces team still needs to "approve" the venue submissions just to check for any inaccuracies and inappropriate content that violates our terms of use).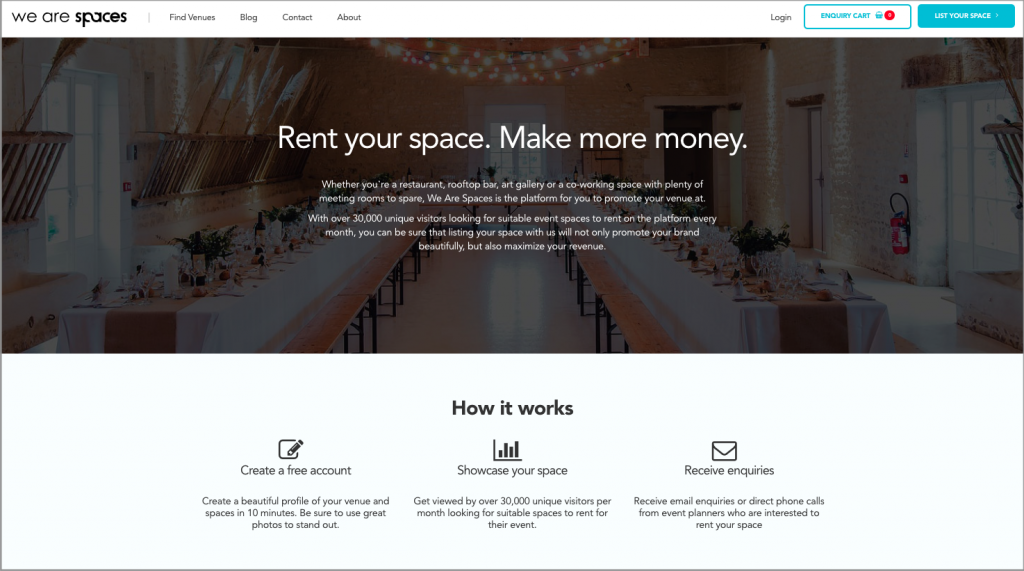 Venue Owners Sign Up Page
Once logged in, venue owners get to also see a log of all enquiries sent to them (they still get them sent via emails). In addition to that, they can track basic reports on how well their spaces are doing: total views, unique enquiries, phone number clicks etc. The entire onboarding process is now super smooth and easy. We have venue owners getting their spaces listed within an hour from signing up.
Note: It's currently free for venue owners to list their space on We Are Spaces. Yup you heard it (no listing fee and no commissions splitting). So go ahead and promote your venue!
The road ahead for We Are Spaces …
It's gonna be a busy year. Besides adding more awesome venues to our platform, we will continue fine-tuning and launching new features to our platform. We will also be posting meaningful and valuable content around the best event venues and spaces in Singapore. So if you're planning an event (or know someone who is), be it a birthday party, baby shower celebration, company dinner and dance, networking session or a training workshop, visit We Are Spaces and find the perfect venue for your event. Spread the love! 🙂
Questions or comments? We'd love to hear from you. You can reach us via our contact page here.