Throwing a memorable dinner party goes beyond delicious food and great company. Elevate your gatherings with unique themes that add excitement and create lasting memories for your guests. Whether you're hosting an intimate evening at home or planning a larger event, these ten fun dinner party ideas and themes are sure to leave a lasting impression.

Dinner parties are an opportunity to create unforgettable experiences. By adding a creative theme to your gathering, you set the stage for an engaging and enjoyable evening that your guests will cherish. A well-chosen theme adds personality and excitement to the event, making it more than just another dinner – it becomes an event to remember.
1. Classic Elegance: A Formal Affair

If you're looking to host a sophisticated and elegant dinner party, a formal affair is the perfect choice. This timeless theme embraces the beauty of traditional formal gatherings with an air of grace and refinement. Here's how to make it a memorable night:

Choosing the right venue for a touch of sophistication
Consider upscale restaurants, historical venues, or luxurious private dining spaces. The ambiance should exude sophistication and grandeur, setting the tone for a lavish evening.

Dress code: Black tie or cocktail attire Encourage guests to dress in their finest formal wear. Black tie or cocktail attire adds to the elegance and makes everyone feel like a part of a grand celebration.

Menu: Multi-course gourmet meal with wine pairings
Curate a gourmet menu with exquisite dishes that reflect culinary artistry. Pair each course with carefully selected wines to enhance the dining experience

Ambiance: Dimmed lights, elegant table settings, classical music
Set the mood with subdued lighting, elegant table settings, and soft classical music playing in the background. This classic ambiance creates an atmosphere of timeless sophistication.
2. Rustic Farm-to-Table Gathering
For a charming and relaxed dinner party, a rustic farm-to-table theme brings the beauty of the countryside to your event. Celebrate the simplicity of fresh ingredients and create a warm, inviting setting:
The charm of a countryside or barn setting
If possible, host the event in a rural setting, such as a farm, barn, or even a rustic backyard. The natural surroundings add to the rustic charm.

Embracing seasonal and locally-sourced ingredients
Design a menu that highlights seasonal produce and locally-sourced ingredients. The focus on freshness and sustainability adds authenticity to the theme.

Informal seating arrangements: long communal tables
Arrange long communal tables to encourage a sense of togetherness and camaraderie among guests. Sharing a meal in this way enhances the rustic feel.

D. Decor: Mason jars, wildflowers, wooden accents
Keep the decor simple and charming. Use mason jars as vases, adorn the tables with wildflowers, and incorporate wooden accents to create a cozy, rustic atmosphere.
3. Global Fusion: International Flavours
If you're looking to take your guests on a culinary journey around the world, a global fusion theme is the perfect choice. Explore diverse cuisines and celebrate the richness of international flavours:
Exploring diverse cuisine from around the world
Choose a few different cuisines to showcase, such as Italian, Thai, Mexican, or Indian. This theme allows guests to experience a variety of exciting flavours.

Setting the scene with cultural decorations
Decorate the venue with elements that represent the chosen cultures. Use colours, patterns, and decor inspired by each cuisine to create a vibrant atmosphere.

Interactive food stations with different international dishes
Set up food stations with dishes from each selected cuisine. Guests can explore and sample a diverse range of flavors, creating an engaging and interactive dining experience.

D. Entertainment: Cultural music or dance performances
Enhance the theme with entertainment that complements the cuisines you're featuring. Hire musicians or dancers to perform traditional music or dances, adding to the cultural experience.

4. Cosy and Intimate: Wine and Dine
For a more intimate and relaxed dinner party, a wine and dine theme creates a cozy atmosphere centred around wine appreciation and delightful conversation:
Hosting a wine-themed dinner party at home
Utilize your home as the venue to create a warm and inviting space for your guests. A cozy living room or a charming backyard can be perfect settings.
Wine tasting with curated wine pairings
Choose a selection of wines to taste throughout the evening. Consider offering a flight of wines that pair beautifully with the different courses of the meal.
Menu: Tapas or small plates, highlighting wine flavours
Create a menu with small plates or tapas-style dishes that complement the wine. Each dish should enhance the flavours of the wines being served.
Conversation starters: Share wine knowledge or tasting notes
Encourage conversations about wine by providing tasting notes or sharing interesting facts about the wines you've selected. It's a great way to engage your guests and elevate the wine experience.
5. Retro Revival: Nostalgic Dinner Party
Take your dinner & dance parties up a notch! Go on a trip back in time with a retro revival theme that celebrates the fun and nostalgia of a specific decade. Whether it's the swinging '60s, the funky '70s, or the vibrant '80s, this theme allows you to embrace the charm of the past:
Selecting a specific decade as the theme (e.g., '70s, '80s)
Choose a decade that resonates with you and your guests. Consider the fashion, music, and cultural trends of that era to create an authentic experience.

Guests encouraged to dress in retro fashion
Invite your guests to dress in styles that were popular during the chosen decade. Encourage bold and colourful outfits that capture the essence of the time.

Playlist: Hits from the chosen era
Create a playlist featuring the top hits from the chosen decade. Music plays a significant role in setting the mood and enhancing the nostalgic atmosphere.

Menu: Popular dishes from that time with a modern twist
Craft a menu inspired by the culinary trends of the chosen decade, but add a modern twist to make the dishes appealing to contemporary tastes.
6. Outdoor Garden Soiree
An outdoor garden soiree is a delightful way to enjoy the beauty of nature while savouring a delectable meal. Whether in your own garden or a rented outdoor space, this theme offers a refreshing and enchanting atmosphere:
Utilising your garden, backyard, or a rented outdoor space
Take advantage of the natural beauty of your garden or rent a picturesque outdoor venue. The open-air setting creates a sense of freedom and relaxation.

Open-air dining under the stars
If the weather permits, set up the dining area outdoors for an al fresco experience. Dining under the stars adds a magical touch to the evening.
Decor: Fairy lights, candles, and natural elements
Enhance the ambiance with twinkling fairy lights, candles, and other natural elements like potted plants and wooden accents. The decor should blend seamlessly with the surroundings.
Menu: Fresh and light dishes with a focus on seasonal produce
Craft a menu that celebrates the freshness of the season. Incorporate dishes with seasonal produce and ingredients that complement the outdoor setting.
7. Mystical Masquerade Ball
Embrace an air of mystery and elegance with a mystical masquerade ball theme. Guests wearing exquisite masks and formal attire create an atmosphere of intrigue and
enchantment:
Masked theme for an air of intrigue and elegance
Masks add an element of mystique to the event. Encourage your guests to wear beautifully crafted masks that reflect their style.

Guests wear elaborate masks and formal attire
Set the dress code to black tie or formal attire, and make masks an essential part of the ensemble. The combination of masks and elegant attire creates a captivating visual experience.

Live entertainment: Magician, tarot reader, or live band
Elevate the enchantment with live entertainment that fits the theme. A magician, tarot card reader, or even a live band playing enchanting melodies can enhance the mystical atmosphere.

Menu: Exquisite appetizers and desserts with a touch of mystery
Create a menu that tantalises the senses and adds an element of mystery. Exquisite appetizers and desserts with unique presentations or unexpected flavours can captivate your guests.
8. DIY Pizza Party
If you're aiming for an interactive and relaxed dinner experience, a DIY pizza party is an excellent choice. Guests get to create their custom pizzas with a variety of toppings, adding a fun and engaging element to the evening:
Interactive and relaxed dinner experience
A DIY pizza party encourages guests to get involved in the culinary process, making it an interactive and enjoyable experience.

Guests create their custom pizzas with a variety of toppings
Set up a pizza-making station with a range of fresh ingredients and toppings. Guests can choose their favourite combinations and create personalized pizzas.

Outdoor pizza oven or indoor pizza-making station
If you have access to an outdoor pizza oven, it's a fantastic addition. Alternatively, create an indoor pizza-making station where guests can assemble their pizzas.

Drinks: Craft beer or wine pairings with pizzas
Pair the delicious pizzas with craft beer or carefully selected wine options. Consider offering drink suggestions that complement the various pizza flavours.
9. Around the World Potluck
If you're short on time or prefer a collaborative approach, an around the world potluck theme allows guests to contribute dishes from their culture. This theme celebrates diversity and the joy of sharing:
Collaborative dinner party where guests bring dishes from their culture
Invite your guests to bring a dish that represents their culture or background. The variety of flavours creates a global feast.
Showcase a global feast with diverse flavours
With dishes from around the world, your dinner party becomes a culinary journey. The diverse flavours offer a unique and exciting dining experience.
Provide a variety of traditional dishes and appetizers
Ensure there's a variety of dishes, including appetizers and desserts, to give your guests the opportunity to try a little bit of everything.
Celebrate cultural diversity and share stories behind the dishes
Encourage guests to share the stories behind their dishes. This adds a personal touch and celebrates the cultural diversity of the group.
Here are some of our picks to host your fun events:
The Royal Greenhouse Garden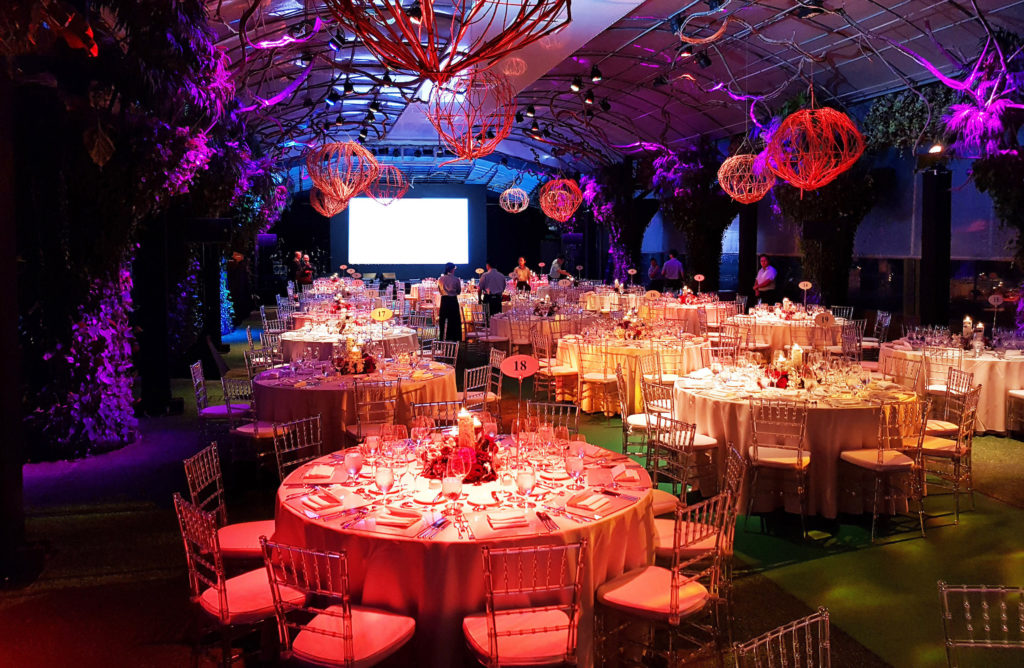 Address: Choa Chu Kang, Tengah, 82 Sungei Tengah Road, Singapore 698985
Max Capacity: 420 guests
Price Range (half-day): $5,001 to $6,000
Price Range (full-day): $10,001 to $15,000
Interested in this event venue for rent? Click here to find out more and get a quote.
HighFIVE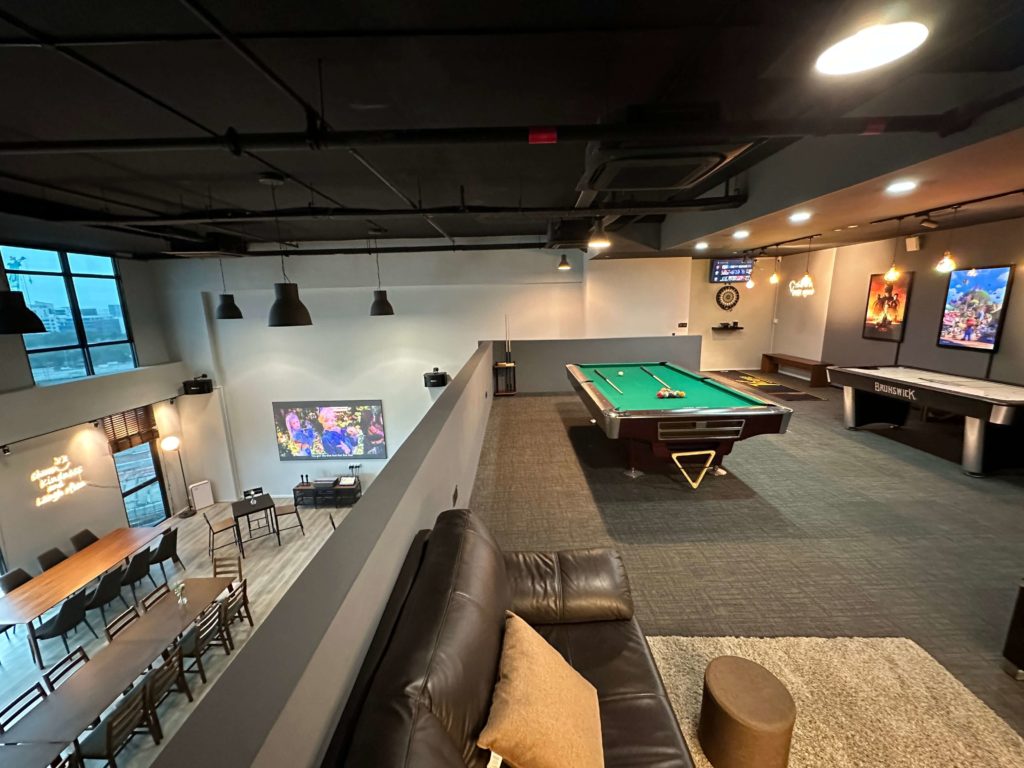 Address: Serangoon Garden, Hougang, Punggol, 22 New Industrial Road, PRIMAX #06-20/21, Singapore 536208
Max Capacity: 100 guests
Price Range (half-day): $501 to $1,000
Price Range (full-day): $1,001 to $1,500
Interested in this event venue for rent? Click here to find out more and get a quote.
Gyutan-Tan Restaurant
Address: Anson, Tanjong Pagar, 41 Tras Street, Singapore 078980
Max Capacity: 40 guests
Price Range (half-day): $2,001 to $3,000
Price Range (full-day): $3,001 to $4,000
Interested in this event venue for rent? Click here to find out more and get a quote.

Choosing a fun and engaging theme for your dinner party adds excitement, creativity, and personal touches to the event. Whether you opt for classic elegance, global exploration, or a casual and interactive atmosphere, the right theme sets the stage for a memorable evening. Consider your guest preferences, the occasion, and the ambiance you want to create. So, go ahead, pick the theme that resonates with you, and prepare to host a fantastic dinner party that everyone will cherish!
We hope these ideas will help you plan an exciting party! Meanwhile, if you need help finding your ideal event venue, check out our wide selection of event spaces for more venue inspirations. With We Are Spaces, you can browse from over 500 curated venues available for rent, filter spaces based on your specific requirements, and get quotes from multiple venues all from a single enquiry. Or, hit us up for some personalised suggestions!
Let us help!
As you embark on planning your next unforgettable dinner party, remember that the right venue plays a significant role in bringing your chosen theme to life. Finding the perfect venue can be a breeze with us. With an
extensive selection of venues (over 500!)
at your fingertips, we can help you discover spaces that match your vision and preferences – in just a few clicks Whether you're seeking an elegant setting, an outdoor garden oasis, or a unique space to fit your theme, we've got you covered.