Conference planning is an intricate endeavour that demands meticulous attention to detail, careful coordination, and a deep understanding of the event's objectives and audience. A well-organised conference can leave a lasting impact on attendees, foster valuable connections, and showcase the expertise and innovation of the hosting organization. Whether you're organising a corporate symposium, industry conference, or academic summit, having a comprehensive conference planning checklist is essential to ensure a successful and impactful event.

Let us guide you through the key steps of conference planning, offering valuable insights, tips, and examples to help you create a seamless and memorable experience for your attendees. Whether it's a company party, networking event or product launch, we've got you.
1. Define Your Conference Objectives
The first step in conference planning is to define clear objectives. What do you aim to achieve with this event? Who is your target audience, and what are their needs? Are you looking to educate, inspire, network, or showcase your organisation's offerings? By outlining your objectives, you'll set the foundation for all your planning decisions.
Try these:
If you're hosting a technology conference, your objectives might include educating attendees on the latest industry trends, fostering networking among tech professionals, and showcasing your company's innovative products.
For an academic symposium, objectives could involve facilitating knowledge exchange among researchers, promoting interdisciplinary collaboration, and elevating your institution's reputation.
2. Create a Budget
A comprehensive budget is crucial for effective conference planning. It covers everything from venue costs and catering to audio-visual equipment and marketing expenses. Determine your funding sources, allocate resources strategically, and plan for contingencies.
Try these:
Consider cost-saving measures, such as negotiating with vendors or exploring sponsorship opportunities.
Allocate a significant portion of the budget to critical elements like quality speakers, comfortable venue, and engaging networking activities.
For a budget breakdown, you might allocate 30% for venue and equipment, 25% for catering, 20% for marketing, 15% for speakers' fees, and 10% for unforeseen expenses.
3. Choose the Perfect Venue
Selecting the right venue sets the tone for your conference. Consider factors like capacity, location, amenities, and accessibility. The venue should align with the conference theme and provide a comfortable, inspiring environment for attendees.
Try these:
Research potential venues based on your event's requirements and size.
Visit the venues in person to assess their suitability.
Consider unique venues, such as historical sites, modern event spaces, or eco-friendly locations, that can add an extra layer of authenticity to your conference.
For a corporate business conference, a centrally located hotel with modern facilities may be ideal. However, for a sustainability-focused event, a LEED-certified conference centre with eco-friendly features might be a better fit.
Here are some of our picks for conference events: 
Amphitheatre at Distrii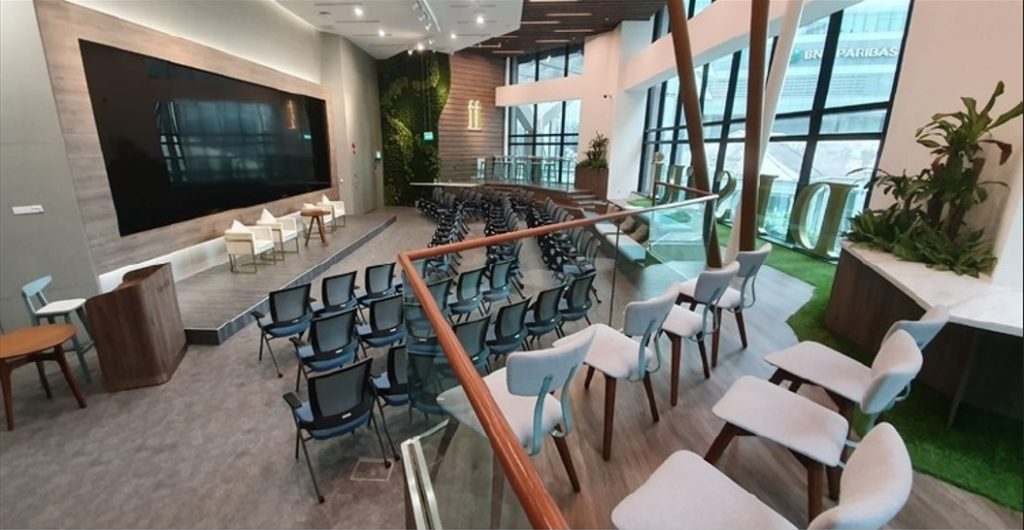 Address: 9 Raffles Place, Republic Plaza 1 Level 2, Singapore 048619
Max Capacity: 120 guests
Price Range (half-day): $2.001 to $3,000
Price Range (full-day): $5,001 to $6,000
Interested in this event venue for rent? Click here to find out more and get a quote.
The Executive Centre – Auditorium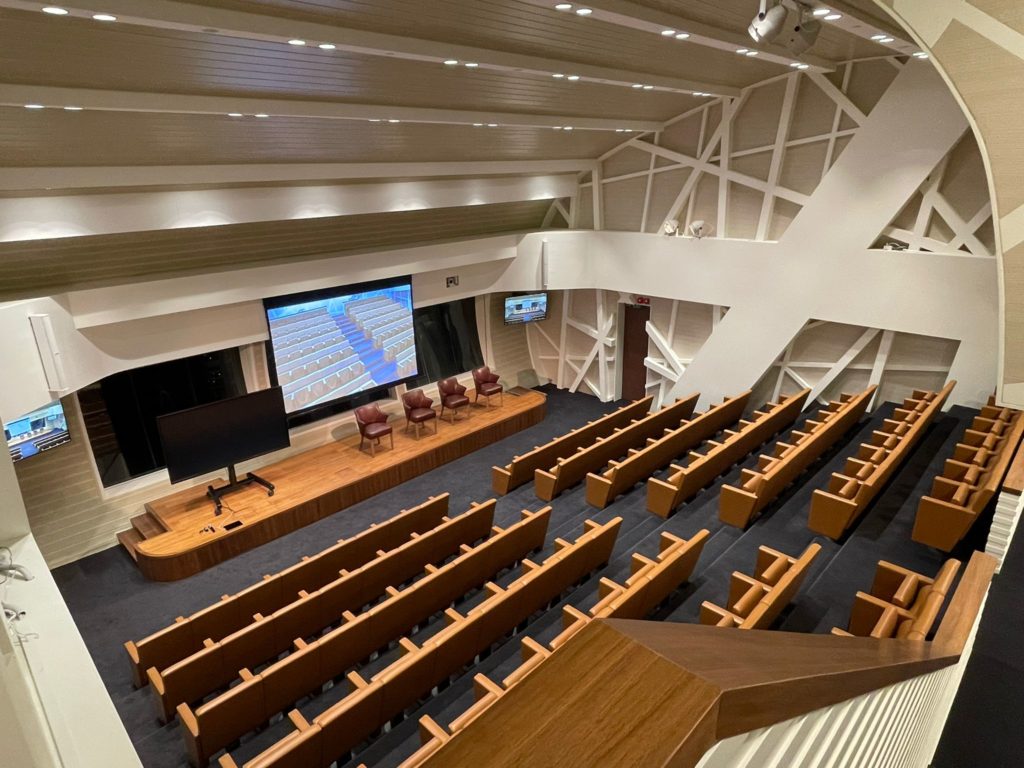 Address: Level 49, One Raffles Quay, North Tower, Singapore 048583
Max Capacity: 112 guests
Price Range (half-day): $1.001 to $2,000
Price Range (full-day): $2,001 to $3,000
Interested in this event venue for rent? Click here to find out more and get a quote.
SingPost Auditorium

Address: Singapore Post Centre 10 Eunos Road 8, #05-30, Singapore 408600
Max Capacity: 242 guests
Price Range (half-day): $501 to $1,000
Price Range (full-day): Call for quote
Interested in this event venue for rent? Click here to find out more and get a quote.
4.  Plan Engaging Conference Sessions

The heart of any conference lies in its content. Design a diverse and compelling agenda that caters to the interests of your attendees. Engaging sessions should balance educational content, thought-provoking discussions, and interactive activities.

Consider the following tips and examples:
Include a mix of keynote speakers, panel discussions, workshops, and breakout sessions.
Invite industry leaders, subject matter experts, and thought leaders as speakers.
Create interactive sessions that encourage audience participation, such as Q&A sessions, live polls, or hands-on workshops.
For a tech conference, you might have sessions on emerging technologies, case studies, and interactive coding workshops. A healthcare conference could include expert panels on medical advancements, research presentations, and interactive simulations.

5.  Provide Top-Notch Audio-visual Setup

A flawless audio-visual setup is essential to enhance presentations and workshops. Invest in high-quality equipment and experienced technicians who can handle any technical challenges that arise.
Try these:
Ensure all presentations are visible and audible to the entire audience.
Test the audio-visual equipment well in advance to address any glitches.
Explore innovative AV technologies, such as interactive touchscreens, 3D projections, or virtual reality experiences, to elevate the conference experience.
For a marketing and design conference, cutting-edge AV setup can enhance the visual impact of presentations, while a medical conference might require clear audio for medical case studies and live surgical demonstrations.
6.  Offer Delectable Catering Options
Catering plays a crucial role in keeping attendees energized and engaged throughout the conference. Design a catering menu that accommodates dietary preferences and restrictions while delighting the taste buds.
Try these:
Offer a variety of food options, including vegetarian, vegan, gluten-free, and allergen-free choices.
Create themed coffee breaks and refreshment stations to keep attendees refreshed and inspired.
Incorporate local flavours and specialties to give attendees a taste of the conference's location or theme.
For an international business conference, you might serve a diverse selection of global cuisines during lunch, while a sustainability-focused conference could prioritize eco-friendly, locally sourced catering options.
7. Enhance Networking Opportunities
Networking is a crucial element of any conference, allowing attendees to connect, exchange ideas, and build valuable relationships. Plan networking sessions and activities that facilitate meaningful interactions among participants.
Try these:
Organise structured networking events, such as speed networking or roundtable discussions.
Design a conference mobile app that enables attendees to connect and schedule meetings.
Create interactive icebreaker activities that encourage attendees to engage with each other.
For a technology conference, consider a "Hackathon" networking event, where participants collaborate on coding challenges. A creative industry conference might include "portfolio review" sessions where attendees can showcase their work and receive feedback.
8. Implement Efficient Registration and Check-In
The registration and check-in process sets the tone for the conference experience. Streamline this process to ensure a smooth entry for attendees.
Try these:
Utilise online event registration software to simplify the registration process.
Provide a mobile check-in option for convenience.
Have a dedicated registration desk with friendly staff to assist attendees.
For a scientific conference, an efficient check-in process ensures that attendees can quickly access scientific sessions and poster presentations. An industry trade show may require a more elaborate check-in process to accommodate a large number of exhibitors and attendees.
9. Market and Promote Your Conference
Effective marketing is essential to attract attendees and create buzz around your conference. Develop a comprehensive marketing strategy that leverages digital platforms, email marketing, social media, and partnerships.
Try these:
Create a visually appealing conference website with detailed information and registration options.
Utilise targeted email campaigns to reach potential attendees.
Partner with industry influencers, associations, and organisations to expand your reach.
For a technology conference, you might launch teaser videos showcasing keynote speakers and innovative tech demos. A fashion and beauty conference could leverage influencers to promote the latest trends and exclusive conference perks.
10. Prepare for Unexpected Challenges
Conference planning is not without its challenges, and it's crucial to be prepared for the unexpected. Create a contingency plan to handle any unforeseen circumstances during the conference.
Try these:
Identify potential risks and challenges, such as technical glitches, weather disruptions, or speaker cancellations.
Have backup plans and alternative solutions in place for critical aspects of the conference.
Appoint a dedicated team to handle crisis management and provide clear communication to attendees.
For a scientific conference, a backup plan might involve having a replacement speaker ready for a scientific presentation. An outdoor conference may require contingency plans for sudden weather changes.
11. Seek Feedback and Evaluation
After the conference concludes, gather feedback from attendees to assess the event's success and identify areas for improvement.
Try these:
Send post-conference surveys to attendees to gather their insights and opinions.
Analyse attendee feedback to identify what worked well and what can be enhanced for future conferences.
Use feedback to refine the conference planning process and make data-driven decisions for the next event.
For a business and entrepreneurship conference, feedback can provide insights into the relevance of the workshops and networking opportunities. A healthcare conference can use feedback to assess the effectiveness of medical case presentations and the overall educational value for attendees.
Here's to a perfect event!
Creating an exceptional conference is the result of effective planning, dedication, and a desire to provide a meaningful experience for attendees.

We hope that our conference planning checklist equips you to plan and organise a seamless, engaging, and unforgettable event. Meanwhile, if you need help finding your ideal event venue, check out our wide selection of event spaces for more venue inspirations. With We Are Spaces, you can browse from over 300 curated venues available for rent, filter spaces based on your specific requirements, and get quotes from multiple venues all from a single enquiry. Or, hit us up for some personalised suggestions!