In the world of event planning, there's an undeniable thrill in the spontaneous, the unplanned, and the unexpected. While many events are meticulously prepared months in advance, sometimes circumstances arise that require us to pivot quickly and put together gatherings with little time to spare. These impromptu events, though challenging, can lead to unforgettable moments that capture the essence of spontaneity and the rush of making things happen against the odds.
Whether it's a surprise celebration, a hastily arranged business meeting, or a time-sensitive conference, booking a suitable venue on short notice can be a daunting task. However, fear not! In this guide, we'll walk you through the process of booking last-minute venues with ease and efficiency, ensuring that your impromptu gatherings are not only successful but also memorable.
The Quick Venue Booking Process
Booking a venue at the last minute requires efficiency and a systematic approach. Here's a step-by-step guide to help you secure the perfect space for your impromptu gathering:
Step 1: Identify Your Event's Purpose and Requirements
Before you begin your search for a venue, clearly define the purpose of your event and the specific requirements you need. Consider the type of event, the number of attendees, the desired ambiance, any equipment needed, and the location.
Step 2: Determine your Budget
Understanding your budget is essential, especially for last-minute bookings. Be realistic about what you can afford and prioritise venues that align with your budget constraints.
Step 3: Consider Alternative Dates
Given the short notice, your desired venue might be booked on the original date you had in mind. Be open to alternative dates and times to increase your chances of finding an available venue that fits your requirements.
Step 4: Search for Suitable Venues
This is where We Are Spaces can be a game-changer! Our platform offers a comprehensive database of over 600 venues, making it easy to filter options based on your needs. Indoor event spaces, outdoor ones, private party venues, function rooms, corporate event spaces, group dinner spaces, meeting rooms and seminar rooms – there's so much to choose from!

Whether you're looking for a casual eatery, a rooftop bar, a co-working space, or an event hall, you can quickly narrow down your choices with us
Step 5: Contact Event Venues Efficiently
Once you've identified potential venues, reach out to them promptly. Provide a brief description of your event, the date, and any specific inquiries you have. "We Are Spaces" can simplify this process by providing direct contact information, streamlining your communication.
Step 6: Utilise our We Are Spaces platform for Fast and Tailored Venue Searches
If you need some last-minute help, we (and our 600+ venues) are here for you! Simply use our filtering options to tailor your search based on specific preferences. Whether it's the capacity, location, amenities, or event type, you can quickly find venues that match your criteria, even on short notice.

Types of Venues Ideal for Last-Minute Gatherings
Amidst the urgency of last-minute planning, you'll be relieved to know that you have a wide array of venue options to match your needs. Here's a breakdown of the types of event space you can choose from. 
Casual Eateries and Restaurants: Many restaurants have private dining areas that can accommodate small to medium-sized gatherings. Their existing setups can make them convenient choices for quick bookings.
Rooftop Bars and Lounges: Rooftop venues offer a unique ambiance and can be a fantastic choice for social gatherings or relaxed business meetings.
Co-working Spaces: If you need a flexible and professional environment for a meeting, a co-working space can be an excellent option.
Community Centres and Event Halls: These venues often have versatile spaces available for short-notice bookings, making them suitable for various event types.
Outdoor Locations and Parks: For casual gatherings or team-building activities, outdoor locations can provide a refreshing change of scenery. Check if permits are required for public spaces.

Conference Rooms and Auditoriums: Many hotels, business centres, and event venues offer conference rooms and auditoriums designed for presentations, meetings, and seminars. These spaces are equipped with AV facilities, making them ideal for corporate gatherings that require a professional setting.
Creative Studios and Art Spaces: If you're looking to infuse creativity into your event, consider booking a creative studio or an art space. These venues can be transformed into unique event settings, perfect for workshops, artistic showcases, or networking events with a creative twist.


Negotiating with Venues
When dealing with last-minute bookings, effective negotiation skills can make a difference. Here are some tips for successful negotiations and things to take note of when you have to pull off an event in a hurry:
Quick Decision-Making: Once you find an available venue that fits your needs, be prepared to make a decision swiftly. Prompt action can secure the venue before it's booked by someone else.
Flexibility: Since you're booking on short notice, be open to any offers or promotions the venue might have. Flexibility on both sides can lead to a win-win situation.
Leverage Available Dates: Inquire about off-peak or available dates for the venue. They might be more willing to accommodate your last-minute event if you're flexible with the date.
Review Contract Clauses: Carefully review the contract, focusing on cancellation policies, additional charges, and any clauses that might impact your event. Clarify any terms that require clarification.
Venue Recommendations: If you're unsure about the venue's capabilities or services, ask for recommendations. They might suggest other suppliers or partners to enhance your event – so you'll save time on getting your own vendors. 
Express Appreciation: A courteous and appreciative attitude can go a long way in negotiations. Expressing gratitude for the venue's assistance, especially during a last-minute booking, can foster goodwill – especially given the inevitable challenges that tend to arise in such situations.
Ask About Payment Terms: Inquire about flexible payment terms, especially if you're dealing with limited time for financial arrangements. Some venues might accommodate staggered payments.
Be Ready to Compromise: In the spirit of successful negotiations, be prepared to make compromises that benefit both parties. This cooperative approach fosters a positive working relationship.
Consider Package Deals: Venues often offer packages that include catering, AV equipment, and other essentials. Evaluate if these bundles can save you time and money, given the short planning window.
Above all, remember that communication is key!  Clearly communicate your requirements, budget, and any specific needs you have for the event. Venues appreciate transparency, and it can lead to a smoother negotiation process.

Be Organised, Stay Positive
When time is of the essence, staying organised is your best ally. Here are some practical tips to ensure a smooth and successful last-minute event, even in the midst of chaos:
Prioritise Tasks: Create a checklist of essential tasks and prioritize them based on urgency. Focus on critical elements such as venue confirmation, key suppliers, and event timeline.
Delegate Responsibilities: Trust your team members and delegate specific tasks to individuals with the appropriate skills. Clear communication ensures everyone knows their role, reducing the burden on any one person.
Stay Calm Under Pressure: Keep a level head and don't let stress overwhelm you. Deep breaths, short breaks, and focusing on solutions rather than problems will help maintain composure.
Flexible Adaptation: Be ready to adapt. Last-minute changes are almost guaranteed, but having a flexible mindset and backup plans in place ensures you're prepared for any curveballs.
Maintain a Positive Attitude: A positive outlook can inspire your team and set the tone for the event. Embrace challenges as opportunities to showcase creativity and resilience.
Communicate Clearly: Keep everyone informed of any changes, updates, or new instructions. Clear communication prevents misunderstandings and ensures everyone is on the same page.
Engage with Attendees: During the event, connect with your attendees, and radiate enthusiasm. Engaged organizers create a positive atmosphere, making attendees feel welcome and valued.
Evaluate and Learn: After the event, take time to assess what worked well and what could be improved. This feedback loop helps you refine your skills for future last-minute event planning.


The Benefits of Impromptu Gatherings
While it's true that many events are carefully planned well in advance, impromptu gatherings hold their own special charm. These spontaneous moments often arise due to unexpected occasions or pressing needs. Here are a few reasons why impromptu events can be particularly beneficial:
Spontaneity and Thrill: There's an electrifying energy that comes with a last-minute decision to gather. The excitement of quickly organising something meaningful can create unforgettable memories.
Strengthening Relationships: Impromptu events show your flexibility and commitment to connecting with others. Whether it's a social gathering or a business meeting, the spontaneity can strengthen bonds among participants.
Flexibility and Adaptability: In a fast-paced world, being able to pivot and adapt is a valuable skill. Impromptu events allow you to embrace change and handle unexpected situations with grace.


Booking a last-minute venue for your impromptu gathering doesn't have to be stressful. The spontaneity and thrill of such impromptu events can lead to remarkable experiences for both you and your attendees. So, the next time you find yourself needing to organise a last-minute gathering, embrace the challenge, and make it an unforgettable moment with the right venue at your fingertips. Here are some of our top picks for event venue rental in Singapore:
Delon's Kitchen (Private Dining)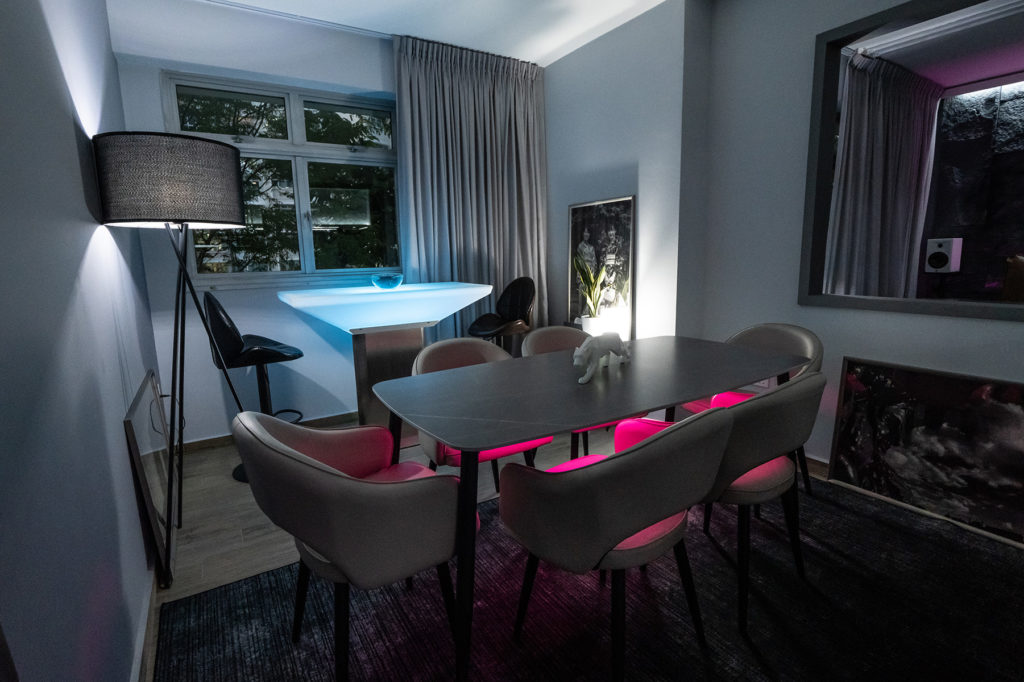 Address: Yishun, Sembawang, 511A Yishun Street 51 #02-423, Singapore 761511
Max Capacity: 8 guests
Price Range (half-day): $101 to $250
Price Range (full-day): $251 to $500
Interested in this event venue for rent? Click here to find out more and get a quote.
Attic 113

Address: Raffles Place, Cecil, Marina, People's Park. 2nd floor, 8a Canton Street, Singapore 049748
Max Capacity: 21 guests
Price Range (half-day): $501 to $1,000
Price Range (full-day): $101 to $1,000
Interested in this event venue for rent? Click here to find out more and get a quote.
Avantir Wellness Studio
Address: Katong, Joo Chiat, Amber Road, 451 Joo Chiat Road #02-08/09 Singapore 427664 Singapore 427664
Max Capacity: 40 guests
Price Range (half-day): $251 to $500
Price Range (full-day): $5011 to $1,000
Interested in this event venue for rent? Click here to find out more and get a quote

We wish you all the best in your event planning!
Meanwhile, if you need help finding your ideal event venue, check out our wide selection of event spaces for more venue inspirations. With We Are Spaces, you can browse from over 500 curated venues available for rent, filter spaces based on your specific requirements, and get quotes from multiple venues all from a single enquiry. Whether you're looking fora company event venue, corporate event venue or birthday event venue in Singapore, we've got you covered.Or, hit us up for some personalised suggestions!