Everybody knows Timbre. Students' chill-out location after class to chase the Monday blues away. Hip-hop dancers' hangout following a long day of practice. Dating venue for couples, even double or triple dates. Old friends' place of catching up and not forgetting, the corporates' way of saying TGIF as they raise their glasses and toast to the end of yet another work week.
But just how much do you know about Timbre and what makes it so inviting? Is it the live music by home-grown musicians that makes the dining experience so much more cultured and local? Or the warm lighting, cozy couches and wooden benches that characterizes almost every of its outlet in the city?
Today's installment on We Are Spaces is all about Timbre. All in all, it's a favorite among locals. A popular hit. The trusty go-to place you know you can't go wrong with if you're put in charge of organizing a get-together. Let us take you through the many establishments under the Timbre Group in Singapore so you never have to select at random again. But first, here's a brief introduction of some things you gotta' know about Timbre.
Background
If you think that Timbre is no more than just another restaurant dishing out blog/instagram-worthy items from the menu…then you are so wrong. Sure, they do have pretty remarkable entertainment that gives it many bonus points, but that isn't it. The Timbre Group is more than just a F&B establishment. From Hotel F&B services to festivals to events management and music education, Timbre strives to be an ecosystem that supports music, good food, and lifestyle. Simply put, Timbre is a community! Presently in Singapore, the group brought 3 Timbre Outlets at Gillman Barracks, Substation and The Arts House, a recent addition "Switch" and an upcoming renovated "Barber Shop" to all.
Timbre @ Gillman Barracks
Image Credit: www.wallpaper.com, www.themuse.com.sg
Gillman Barracks is an interesting location at 9 Lock Road not many people know about. With its striking white colonial facade that bears great resemblance to our beloved Fort Canning premise, this place unsurprisingly used to be a military camp named after General Sir Webb Gillman. The barracks, a completely unpretentious place nestled amid lush greenery, is an up and coming contemporary art destination that houses a series of art galleries. But how can such a gem of a place be without a sanctuary of good food and live music?
And so Timbre @ Gillman Barracks pops up. The largest Timbre outlet to date.
Being located in the arts cluster, the highlight of this Timbre outlet would be that guests can take the opportunity to appreciate and celebrate the growing arts scene in Singapore, or soak up the creative energies and be rejuvenated.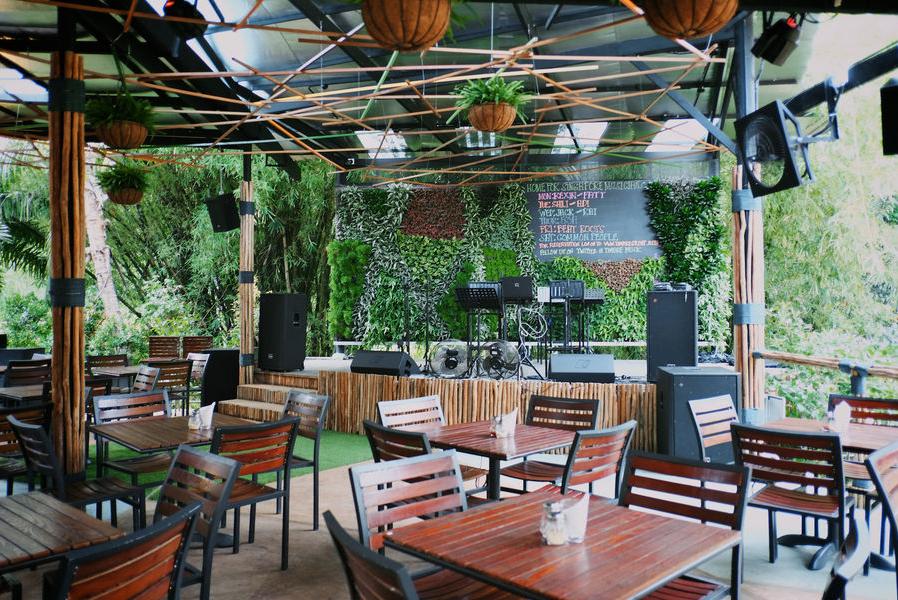 Nothing screams original like this 8 metre stage against a green wall with live plants at the Gillman Barracks outlet – a centrepiece is the platform for nightly live performances. This outdoor space is also a place of cultural exchange in the music scene as it hosts events and visiting musicians.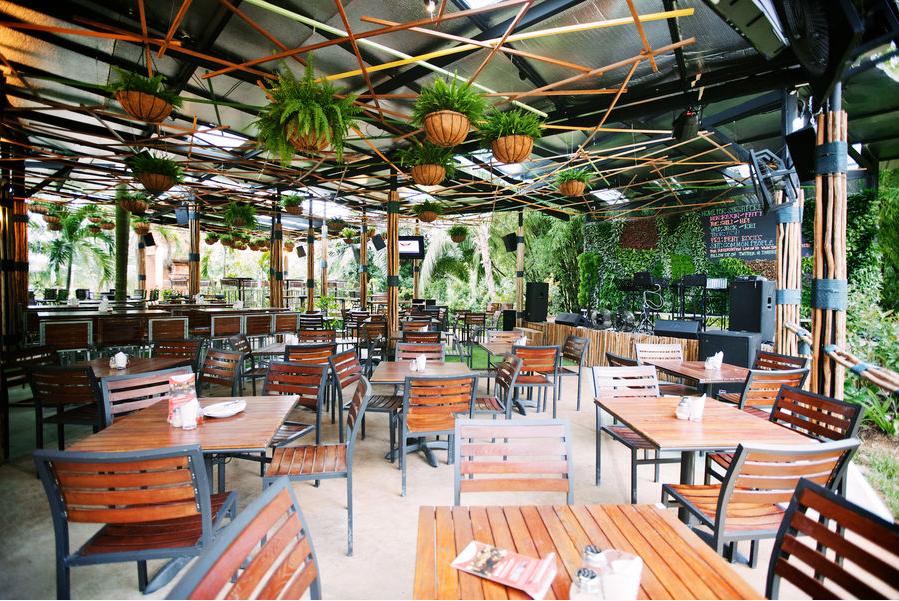 The natural greenery surrounding the place provides a beautiful backdrop for the celebration of occasions such as birthdays, anniversaries and hen's nights. This would also make a lovely venue for company events as it is a getaway from the bustling city. Just good ol' home-grown music, a tantalizing menu and great company.
Monday-Thursday 4-11.30pm
Friday-Saturday 5-12.30am
Closed on Sundays
Tel: 6694 4201
Timbre Substation
At another hidden location tucked away from the crowds at Armenian Street , Timbre Substation is dubbed "Music Oasis Within The City".
Located just across SMU in the cluster of art and cultural establishments and museums, this outlet is big on Alfresco dining. Teak-hued furnishings make up most of the restaurant's interior, surrounded by a circle of waving leafy fronds around it. If dining outdoors is what you'd fancy after a whole day of being in in the office, we think you would really like this place!
When Alfresco dining meets live music, it creates a festive and communal atmosphere for an evening chillout. The outdoor bar with an extend platform bar is another highlight of this outlet. If your Friday night routine is usually a pub crawl/hunt after a hearty dinner, we recommend you indulge in both food and drinks at Timbre Substation. And well, not to forget – music.
The Goodfellas, is an all-time favorite that has played for the longest time at Timbre Substation, so much so that it had become easy for them to engage the audience through song dedications. It is just lovely that the resident band adds to the identity of the place, that diners would even watch out for their performances on the event calendar before deciding to make a trip down. Solid live music does have a way of playing host to people!
Timbre Substation is one of the branches with the latest closing time at 2.30am on Friday nights and Saturdays. If you find yourself in the vicinity with no place in mind, you know just where to go 🙂
Monday to Thursday & Sun 6pm – 1am
Friday & Saturday 6pm – 2.30am
Timbre @ The Arts House
There is nothing not to like about a quintessential riverside dining experience in Singapore. But there is nothing not to LOVE about dining in a historical building, against a backdrop of the city skyline, by the river, and accompanied by live music performances on a specially designed Timbre stage!
Surrounded by some of the oldest buildings of art and history in the city such as the beautiful Victoria Concert Hall, Timbre @ The Arts House is situated in the restored Old Parliament building. The surrounding architecture puts the restaurant in an unique setting, enhancing the overall dining experience for both locals and tourists alike.
Image Credit: www.gvpedia.com
What this Timbre has to offer is a cosy and comfortable ambience. Easily spotted from afar are the gigantic white umbrellas adorned with fairy lights, below which sits happy guests on couches and sofa, just watching the world go by as they savor the tapas and salads from the extensive menu.
Timbre @ The Arts House serves over 20 different types of pizzas, the widest range thus far. Of this number, one pizza's name would jump out at you and that would be the Roast Duck Pizza that had been so highly raved about.  But it is indeed delectable, I must say. I can testify to that.
Monday – Thursday 6pm – 1am
Friday – Sat 6pm – 2am
Closed on Sundays
Tel: 6336 3386
Switch by Timbre
The latest addition to the family speaks two languages. Actually, it sings two languages! Say hi to the Timbre Group's latest billigual live music restaurant and bar: Switch, conveniently located at 73 Bras Basah Road in the midst of all the arts and heritage happenings.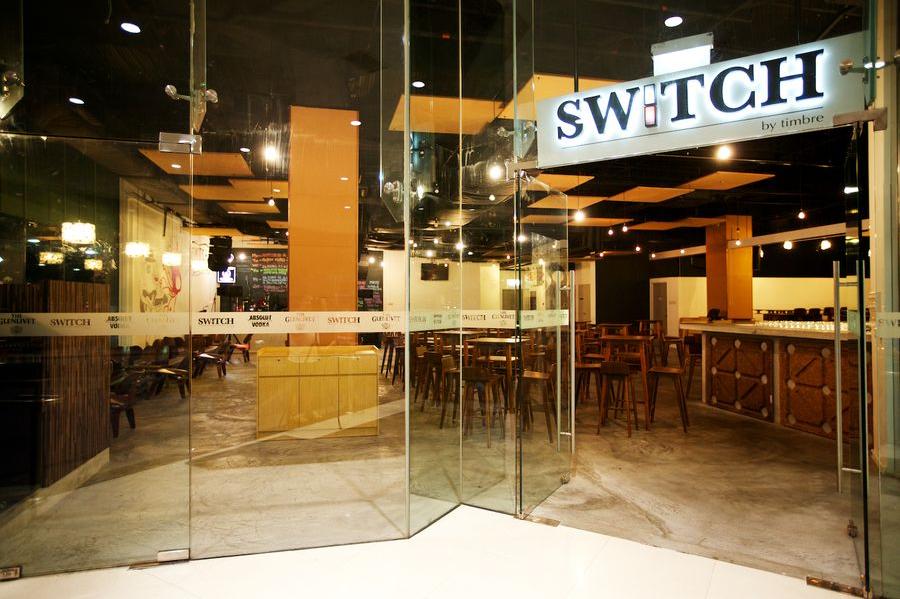 The decor at Switch is something you'd call old school. With its bare cement flooring and four legged wooden chairs, the whole feeling that place brings about is almost nostalgic. The stage platform is also backed with a chalkboard-like background with neatly scribbled words and a white wall splashed with what seems like a hand-drawn mural.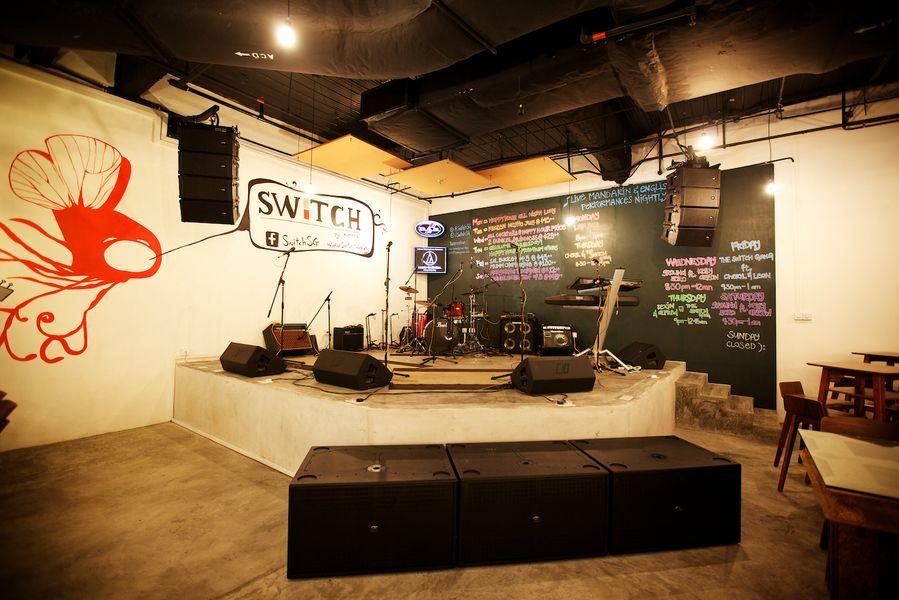 For both mandarin-pop and english fans, the versatile and refreshing fusion concept that keeps guests coming for more. There are a variety of performances at Switch, ranging from intimate pieces being put up by 2-piece duos to bands of 6. There is simply no better way to appreciate home-grown musicians than to have the best of both worlds!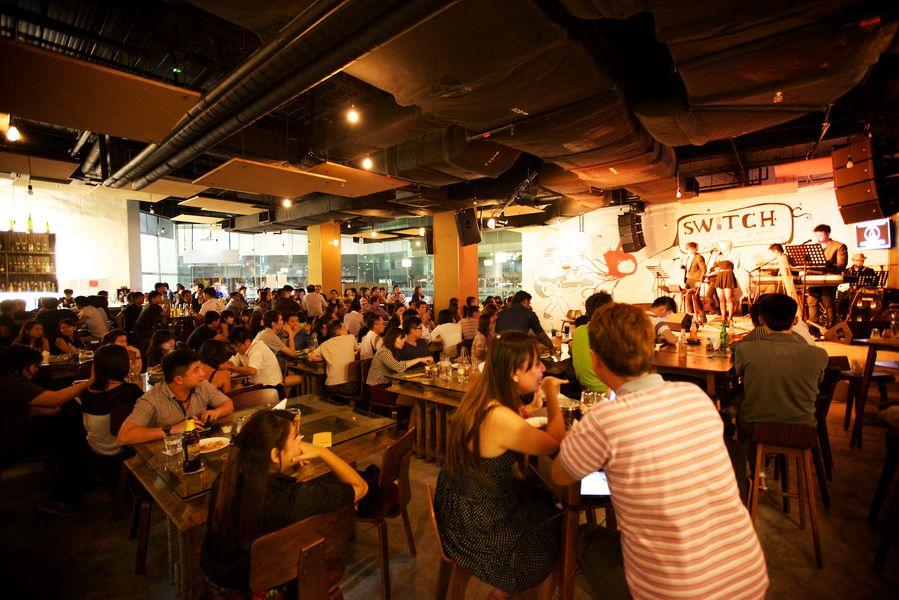 While the concept of billigual live music may seem to be the highlight of the entire place, the restaurant's menu is also noteworthy. Not only does it incorporate some of the more popular tapas and pizzas from Timbre, it has a playful twist to it by adding crazy Asian-inspired dishes to the list.  So the next time you visit Switch, be sure to pay attention to the details that make up the complete experience!
Monday to Thursday: 6pm – 1am
Friday & Saturday: 6pm – 2am
Sunday: Closed
Tel: 6336 7739
Timbre may just be the perfect place for you to hold your event whether is it a birthday party, a corporate event, a wedding or a company function. To check out the pricing, capacity and the amenities available at these various locations, or to simply view more photographs, do check out Timbre at the Gillman Barracks, The Arts House, or Switch by Timbre on We Are Spaces.
Next Step: Find awesome event venues and spaces to rent in Singapore 
We are Spaces is a venue discovery platform for event planners. Browse from over 300 curated venues available for rent, filter spaces based on your specific requirements, and get quotes from multiple venues all from a single enquiry. Visit We Are Spaces to find your perfect venue today!