Advancing in a post-Covid 19 environment where digital globalisation takes precedence calls for technology-driven solutions. While this has been emphasised, the events sector (read: which saw a massive downturn when the pandemic first hit) has proven to be flexible and innovative, what with the adoption and implementation of various tech solutions to counter the effects of Covid-19.
2020 saw a steep increase in virtual events – think local concerts and virtual raves – allowing a slew of users to log in into their own Zoom accounts to interact – virtually, of course – with other users during the event. Though it was said to be the best solution in an environment where social distancing seems to be status quo, virtual events – while it did bring about a string of benefits – lacked face-to-face interactions; relationship building; and networking opportunities that played integral roles in ensuring robust, in-person events. 
Read More: How Businesses In Singapore Can Prepare For Phase 3
The good news: Now that Singapore has entered phase 3, in-person events have been proceeding – though with some minor tweaks. As such, this gave rise to hybrid events, which refers to a combination of face-to-face communications and live digital meet-ups through platforms like Zoom. 
Read More: Key Developments Impacting The Event Industry In Singapore
With the use of both digital avenues and a live audience, hybrid events are said to champion the future of the industry, what with the seamless integration of technology to facilitate participation and interaction between live and virtual audiences. This reaps an abundance of benefits such as increased engagement with guests, higher reach and attendance count since guests can log in if they are unable to attend physically, as well as allowing for flexibility (read: crossing borders is no longer an issue if speakers from overseas can attend events through a Zoom meeting).
Ready to start planning hybrid events in Singapore? We school you in on the checklists to keep tabs on. 
Get a space
Unlike purely virtual events, planning hybrid events would require a physical space. Whether you are keen on one that comes fully equipped with all the materials you would need (ie: projectors) for a meeting or a space that oozes an artistic, cool and design-driven appeal, We Are Spaces allows you to peruse through a multitude of event spaces to pick the one that fits the bill. 
..That Comes With Speedy Wifi Too
After months of rigorous planning and coordination, having your event interrupted by a glitch from the internet connection is definitely an issue best avoided. Therefore, opting for a space that provides strong, consistent internet connectivity to ensure your Zoom experience goes smoothly is critical. Your guests would definitely appreciate having top-notch wifi connectivity to update their own personal Instagram stories with pictures and videos of the event – increased reach is always a bonus, yes? 
And offers great lighting 
When planning hybrid events, find a space that allows for natural lighting as it would provide more incentives for your guests to take pictures and post them up on their very own social media platforms to continuously generate buzz. Moreover, great lighting can set the mood of your event right while ensuring clearer visibility of your speakers on Zoom. 
Create engaging content
It is important – if not essential – to create content that engages both digital and live audiences, allowing them to build on conversations. It might not be the easiest to deliver the same content, which is why it is imperative to cater the content differently to suit the demands and needs of your audience. 
Our hack: provide both your audience a timeline so that they would have a general overview of the schedule. Next, have your content for your virtual audience or spokesperson be easily accessible and on-demand, allowing them to access it anytime at their own convenience. If you are feeling creative, make use of digital technologies such as AR to engage your virtual audience. 
Our Picks
1. Eat At My Kitchen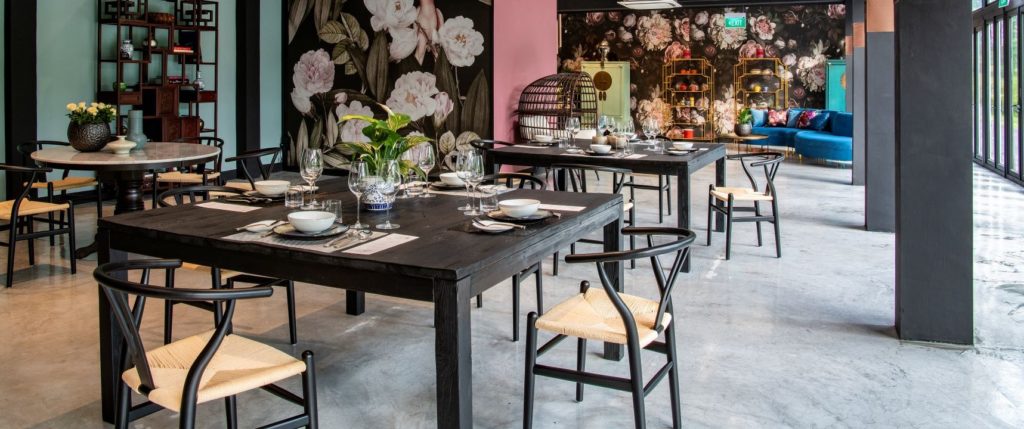 Nestled within the picturesque backdrop of Dempsey Hill is Eat At My Kitchen, an acclaimed private dining kitchen that visitors often rave about though few are aware of its use as an event space. This beautiful space is a hidden gem with over 3000 square feet of space for you to easily customise your next hybrid event. Plus, it makes for a great intimate wedding and solemnisation venue, as well as team gatherings and meet-ups. And yes, the space is equipped with wifi too so you do not have to worry about any internet interruptions. 
Address: 8D Dempsey Road, Singapore 249672
Has this venue piqued your interest? Click here to find out more and get a quote.
2. White Rabbit Hole Classic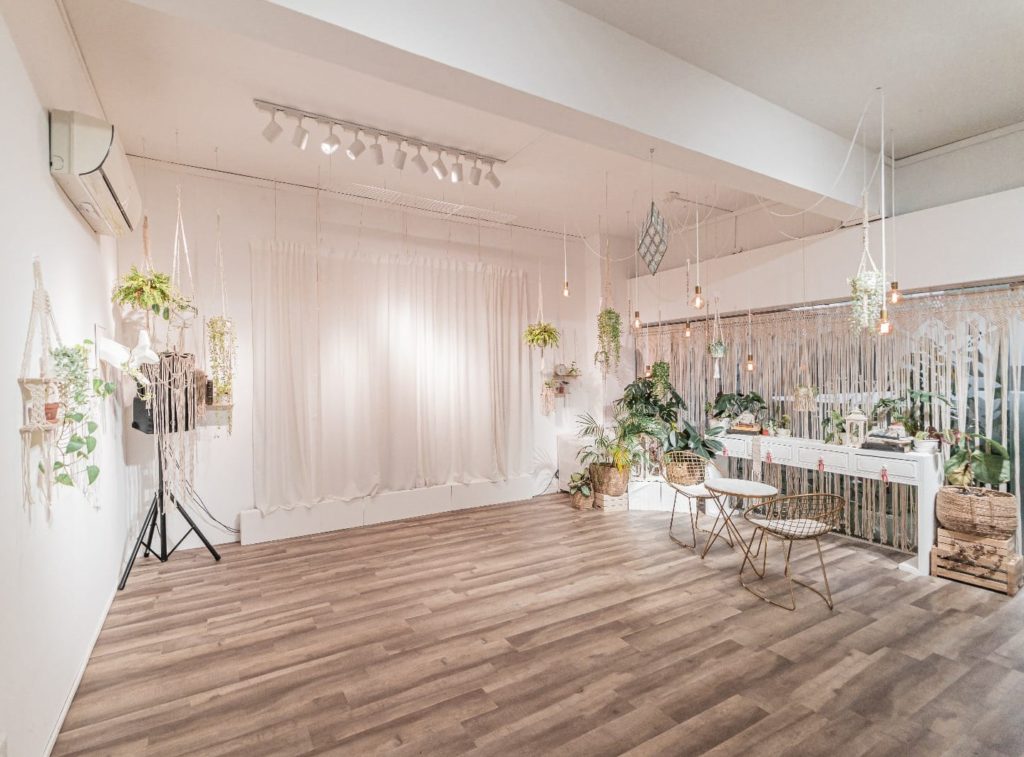 Looking for a space that boasts a lighthearted, brightly lit and dreamy interior? This gin garden bar – also known as White Rabbit Hole – is the venue for you. It fits up to 30 guests and is perfect for private gatherings; corporate team-bonding sessions; and product launches. You can even customise your own seating arrangements with the individual square tables, chairs and cushions, and opt for a specially catered food menu. And of course, the space provides Wi-Fi, whiteboards and flipchart, as well as a wireless projector and sound system. 
Address: #04-29, Upper Cross Street, Singapore 050533
Has this venue piqued your interest? Click here to find out more and get a quote.
3. The Executive Centre – Frasers Tower (Event Space)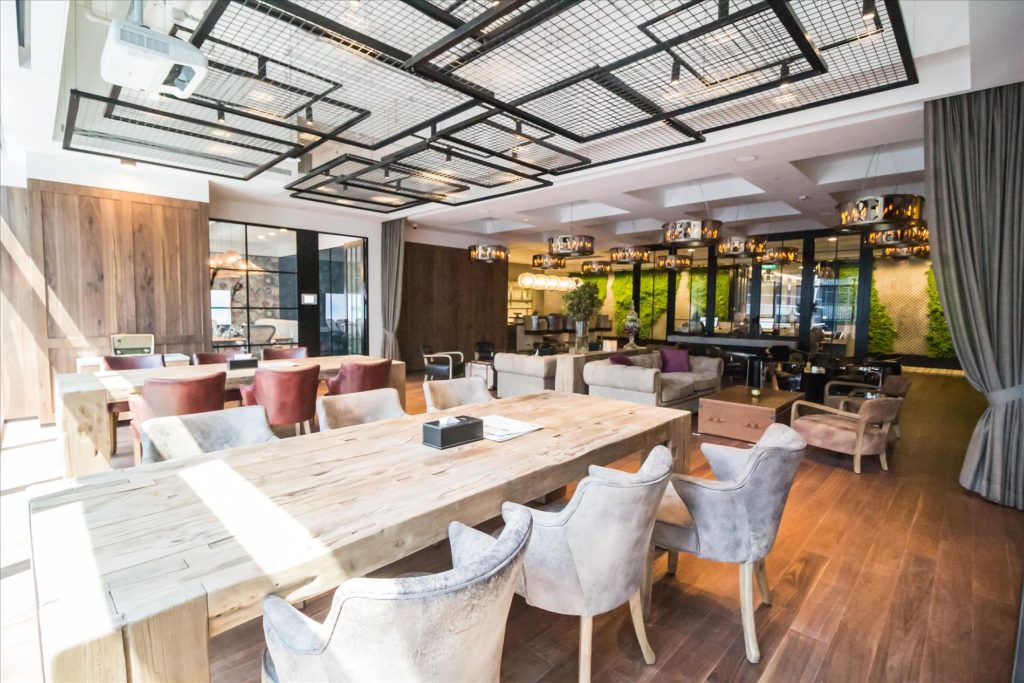 A co-working office that doubles up as an event space which exudes a sophisticated appeal, this is ideal for corporate functions, conferences and meetings. The space can also be configured exactly to your event specifications either in a lounge-style setting, theatre-style or with more professional functions (read: projectors, a state-of-the-art sound system and whiteboards are available for your perusal). 
Address: Level 17, 182 Cecil Street, Singapore 069547
Has this venue piqued your interest? Click here to find out more and get a quote.
4. The Great Room – One George Street (Drawing Room)

The 15,000 square feet co-working space is indeed a luxurious option to hold any hybrid event. Case in point: A high-end coffee machine, impressive contemporary art by emerging Singapore artists, and floor-to-ceiling views of Singapore's skyline. Moreover, it even comes with projectors, sound systems and high speed internet connectivity. Oh, not forgetting the bespoke furniture (there are no actual workstations), as well as objets trouves and coffee-table books on design and art that pepper the space. 
Address: #10-01, 1 George Street, Singapore 049145
Has this venue piqued your interest? Click here to find out more and get a quote.
Now that you are all set and ready in planning hybrid events, it is time to put the plan to execution. Check out our wide selection of event spaces and venues in Singapore and book yourself a slot of the one that best suits your needs.