What: The Vintage Room
Where: 37 Duxton Hill, Singapore 089614
Type: Lounge, Bar, Restaurant, Function space
Vibes: Sophisticated, Vintage, Victorian, Relaxed
In recent years, Duxton Hill has been re-imagined as an area which boasts many independent, one-of-a-kind restaurants. Take a leisurely walk around, and you would notice the unique storefronts offering international cuisines, ranging from casual Italian food to homemade duck foie gras terrine. One question that rang through my mind as I was roaming the area was, if there are so many restaurants here with their own unique decor and food offerings, how does one stand out from the rest? I found my answer in The Vintage Room, which is more of a bar than a restaurant, a place for people to escape the hustle and bustle of the city and find a cosy safehaven for a couple of drinks and bar bites.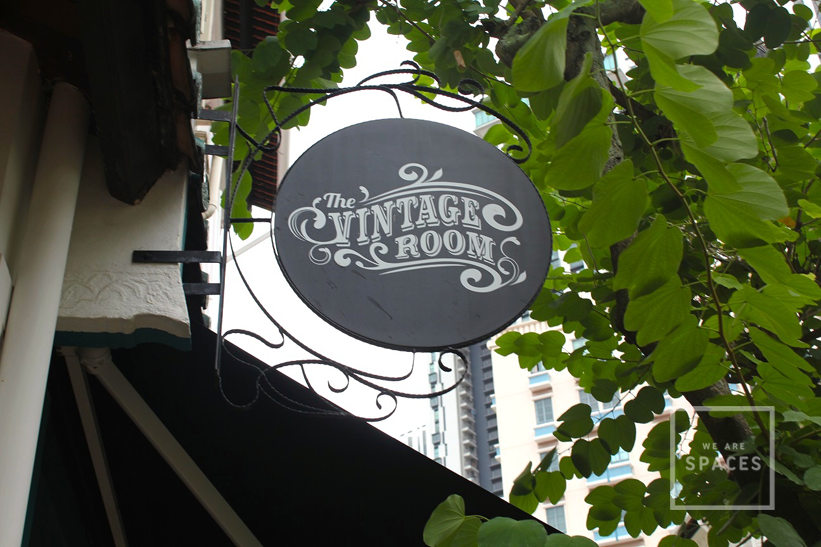 The Vintage Room is 1 of the 9 restaurants Deliciae Hospitality Management has opened in Singapore. As leading F&B professionals, the company has constantly made frontlines in the industry by introducing fresh concepts to Singapore, by opening an honest steak-and-fries-bistro and a tapas bar, before the trend reached the mainstream. The Vintage Room, like some of her sister restaurants, boasts a primarily French menu (I am personally unable to pronounce half of the food items listed there). Most of the ingredients are flown in from France, a fact Pei Shan, the marketing executive of Deliciae Hospitality Management and my gracious host for the evening, is proud to note.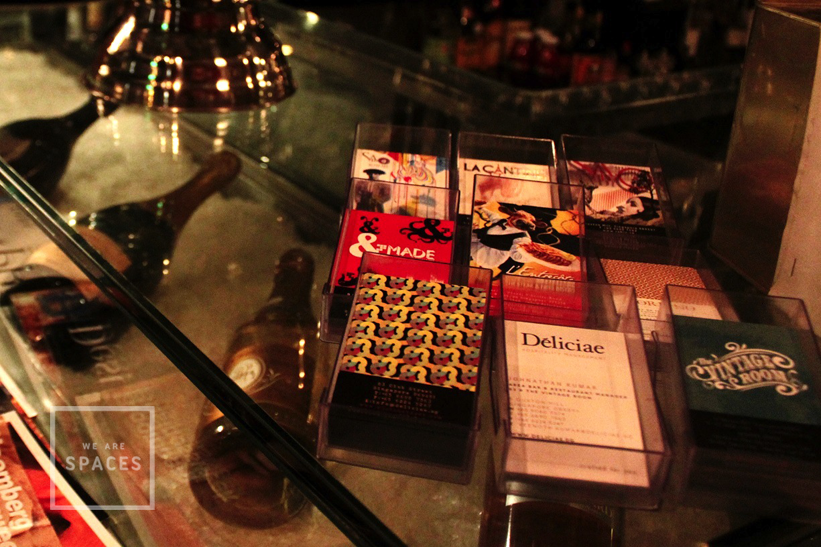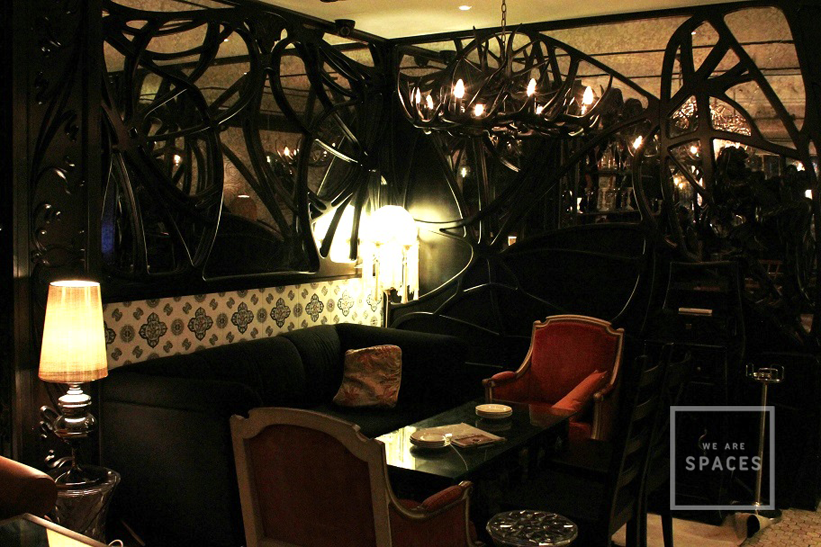 The exterior of The Vintage Room contrasts heavily with the interior, even though they both carry the same vibe, which is a non-pretentious vintage venue for people to let their hair down. The exterior is colourful and reminiscent of the flamboyant distant past, with eye-popping pastels. However, you enter a different world when you walk past through the doors; an instant Victorian-era vibe immediately hits you. It oozes an "Old World charm", with Persian rugs decorating the floor. Most of the furniture, ranging from photo frames to lamp shades to customised tiles, were obtained from antique stores in Singapore. The champagne posters mounted on the wall were sourced overseas, and some of the lights hanging from the ceilings were originally hung on boutique hotel lobbies that have since closed, enhancing the vintage atmosphere. Seating about 40-50 people, The Vintage Room is the perfect venue to host small gatherings.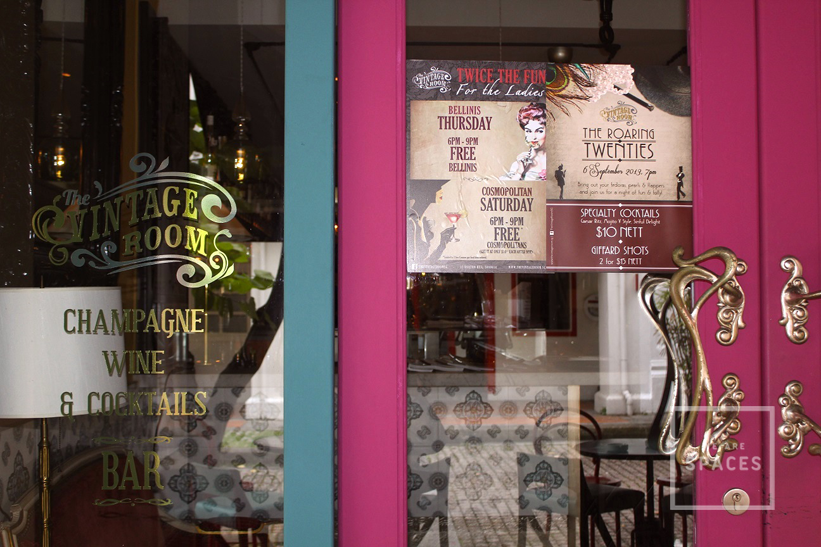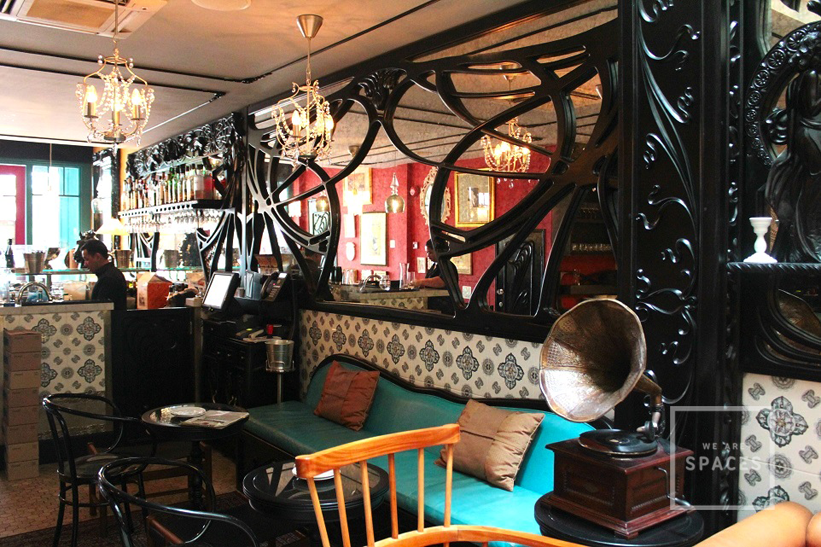 There is one myth I would like to debunk. While The Vintage Room may look like an overly sophisticated restaurant from its furniture, it is actually a casual bar frequented mostly by art-appreciating ladies. In fact, Pei Shan touts it a "girly bar". And what better way to introduce a bar than to talk about the alcohol selection? The Vintage Room carries an impressive range of 22 champagnes, from a classic Dom Perignon to a Delamotte, a customer favourite. Most of the cocktails on the menu are original recipes, specially concocted by the creative mixologist to suit the ambience of the lounge. The first time I was there, I had Caesar Ritz, choosing gin to go along with elderflower liquor and a dash of lime juice. Another unique cocktail I tried and would like to recommend is Sex on the Runway, a delightful concoction of apple liquor with cinnamon-sugar rimmed glass. Just remember to lick your lips clean after each sip.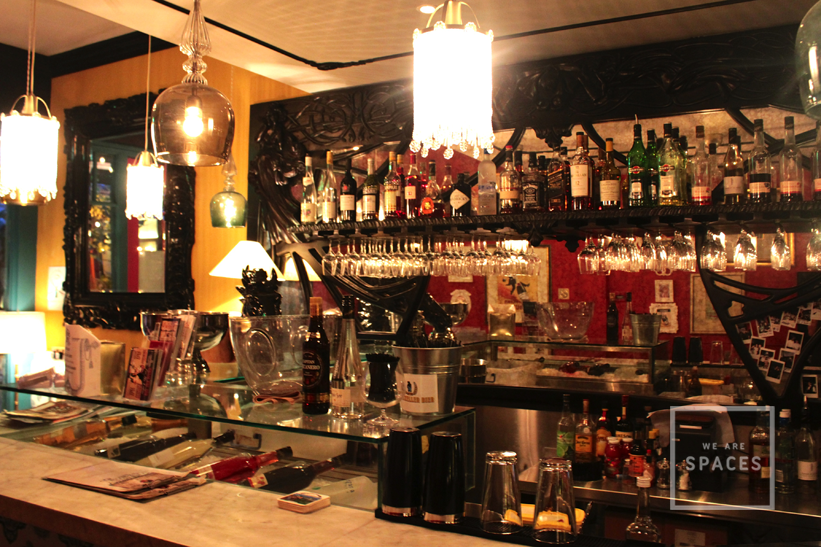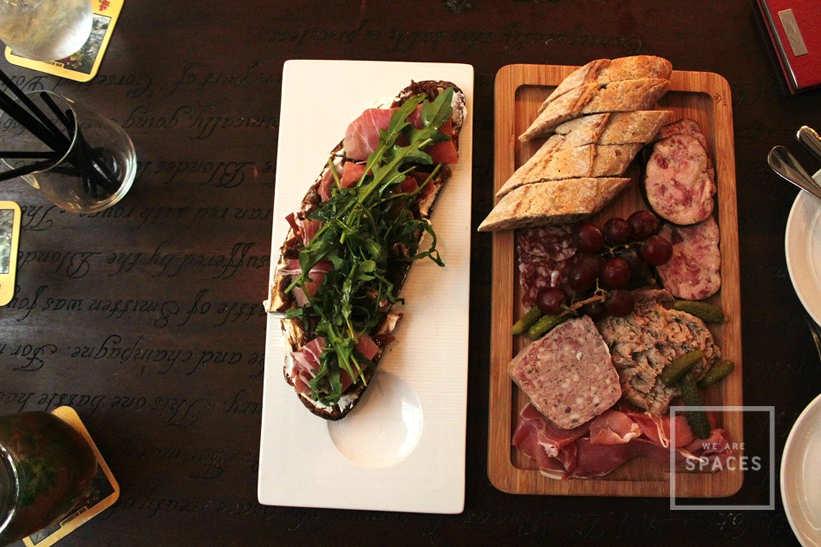 For first-timers to The Vintage Room like me, Pei Shan recommends the Cold Cuts Platter and a selection of one of the lounge's authentic tartines. Both dishes can be shared amongst a small group of about 4 people, a convenient small bite to grab. The Cold Cuts platter is a combination of French Bayonne Ham, Andouille and Saucisson sausage, homemade Duck Rillettes and Pate de Campagne, served with baguette. Guests would most definitely have fun experimenting with and combining the different meat on the baguette slice, just like I did. I also sampled the customers' favourite tartine, in which the Poilane toast was coated with fresh goat cheese, caramelised onion and Bayonne ham. Patrons may initially be wary of the strong taste of goat cheese, but it was tastefully masked by and complemented with the ham. The plate was wiped clean in no time.
The Vintage Room has different promotions for almost every night, and the vibe of the lounge is subtly changed on a daily basis with the clever use of music. On Tuesdays, for example, mojitos that come in 5 flavours go for a neat $10 per glass, and patrons can sip it whilst enjoying the lounge-y Buddha Bar music. On Wednesdays, when there is a 1-for-1 promotion for wines, one can expect more sophisticated tunes. This flexibility is reflected in the event packages people can take up in hosting a celebration or an event, where hosts can customise the drinks and food served for a modest fee. The Vintage Room, with its eclectic decor and atmosphere, is no stranger to being a venue for hosting interesting themed parties. This includes hen parties, costume parties, networking and dating events.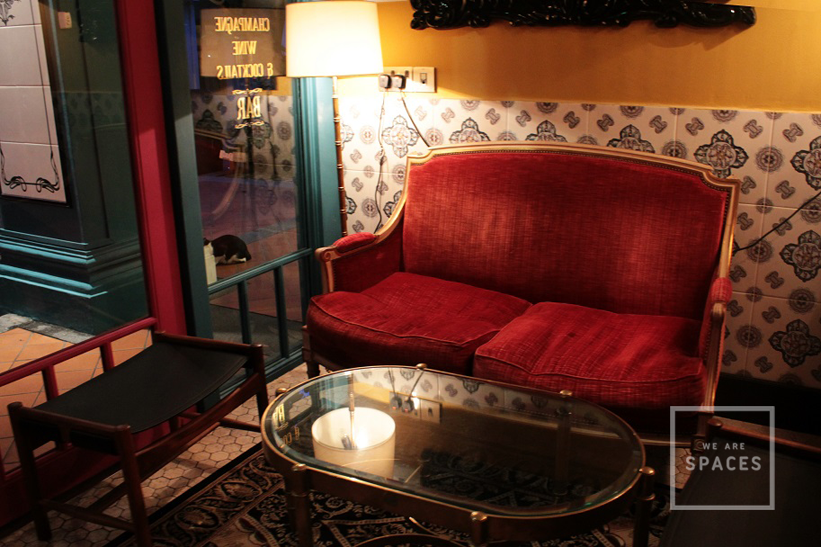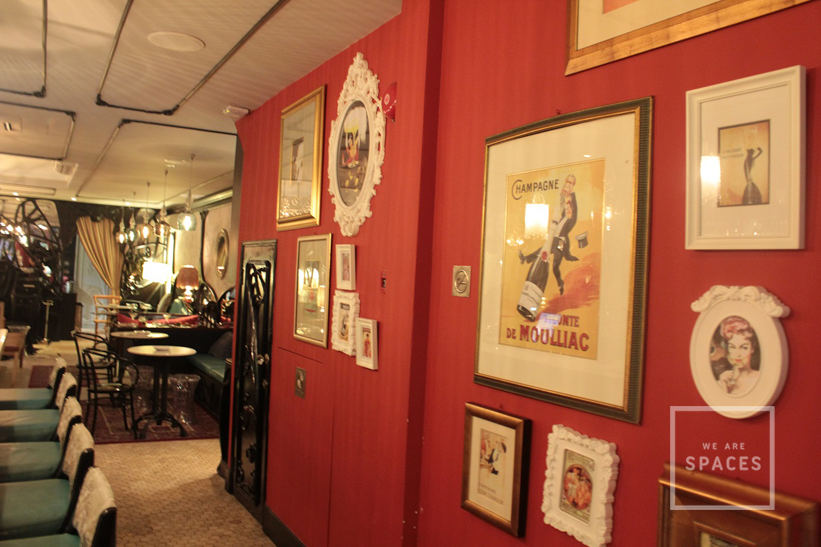 Did I mention that the chef is Michelin certified? If I were you, I would scoot to The Vintage Room the next ladies' night, which is held on Thursdays. And if you are a fan of The Great Gatsby, you would be glad to know that a 1920's themed party was recently hosted there.
If you are looking for a fancy venue that has a vintage feel for your small to mid-sized gathering or event, this is definitely the place to be. Find out more about The Vintage Room over here, and shoot them an enquiry if you feel so inclined.
Next Step: Find awesome event venues and spaces to rent in Singapore 
We are Spaces is a venue discovery platform for event planners. Browse from over 300 curated venues available for rent, filter spaces based on your specific requirements, and get quotes from multiple venues all from a single enquiry. Visit We Are Spaces to find your perfect venue today!