As the Singapore Tourism Board announced the allowance of events with up to 50 attendees last August, the country has continued its road to reopening with the event industry in Singapore. It has been announced that bigger exhibitions and conferences with 250 attendees will be allowed to pilot events starting October. Likewise, weddings with 100 unique attendees are allowed to occur as are corporate events with up to 50 attendees.
This gradual resumption is important in maintaining Singapore's position as a leading MICE hub and in safeguarding jobs and livelihoods. So how can event planners or venues run these events whilst ensuring health & safety protocols? Continue reading below for an overview of the latest government updates and guidelines regarding the event industry in Singapore.
Guidelines for Event Organisers
MICE Events
In short, event organisers or event venues must show they are able to implement safe management measures. These include limiting overall density of attendees and having infection control measures before and after the event. 
Similarly, not only will attendees have to register using the SafeEntry app, which allows people to check in online with their names and contact details, they will also have to use TraceTogether. This is a mobile app or token that tracks who users interact with. An interaction is defined by the app as coming within 2m for at least 30 minutes. 
These protocols will once again be tested at a pilot event: the Singapore International Energy Week Conference, which is scheduled to be held at Marina Bay Sand from October 26-30. This event will be conducted in a hybrid format and will be a determining factor in the continued reopening of Singapore's MICE sector. 
Weddings & Solemnisations
Previously we mentioned how the allowance for weddings and solemnisations was raised from 20 attendees to 50. This has now been raised. Starting October 3, 2020 weddings will be allowed to have up to 100 unique guests. This is including the wedding couple but excluding vendors and service providers. 
However, there are key guidelines that must be followed:
Wedding participants must either be split into zones with up to 50 people per zone or staggered by timing with at least 30 minute gap between slots to allow for proper cleaning
Solemnisations held in homes or at the Registries of Civil and Muslim Marriages Building is still limited to 10 people
Venue operators must impose a lower capacity if they cannot provide appropriate zoning or staggered timing requirements
Corporate Events
Work-related events that take place in the office such as seminars, corporate retreats, and annual general meetings have also been allowed to resume with a maximum of 50 attendees. However, larger-scale events such as dinner and dance events are still prohibited in and outside of the workplace. 
Similar to wedding venues, the maximum capacity may be lowered depending on the venue as all participants must keep a 1m distance. Food and drinks are also not allowed to be served. Instead, participants should be seated a safe distance from each other and served one by one.
Innovative Visitor Experiences
However, the reopening isn't limited to local events. The Singapore Association of Convention and Exhibition Organisers and Suppliers has been collaborating with government agencies, the Singapore Tourism Board, and Enterprise Singapore on a Roadmap that will provide further guidelines on safety measures and best practices. 
Likewise, the Alliance for Action on Enabling Safe and Innovative Visitor Experiences has explored new ways to develop safe experiences for visitors to Singapore amidst COVID-19. As a result they have begun to develop the following:
A prototype for safe trade shows and exhibitions, which will be first tested at the TravelRevive event in November 2020. 
A safe itinerary for small private tours around Singapore
A travel insurance product for inbound travellers that will cover critical COVID-19 related expenses
Moving Towards Phase 3
With these new protocols in the event industry in Singapore and the successful re-launch of larger scale physical events, the country continues to go down its road of Phase 2 reopening. In a few weeks the Government may also release guidelines on how it plans to enter into Phase 3. 
Border control measures will be relaxed in this phase as will the number of people allowed to dine out, visit friends or places of worship. It is also the phase in which the country will remain until there is a vaccine or treatment for COVID-19. In other words, Phase 3 will be Singapore's new normal for the near future. However, this may still be several months away. 
If you're looking to host a larger scale event or a hybrid event, we've put together a shortlist of some of our top venues in the event industry in Singapore. 
Conveniently located in Marina Square and easily accessible via MRT this open concept venue at JustCo will surely impress your guests. It's modern and stylish design will give you a clean but well thought out palette to set up your event. Including a projector, sound system, microphone, and secure WiFi you have all the tools necessary at your disposal. Plus, if you want to offer food and drinks for your guests they allow for external catering to be brought in. 
– Location: 6 Raffles Boulevard, Marina Square, #03-308 Singapore 039594
– Max Capacity: 150 guests (may vary due to safe distancing measures)
– Price Range: $251-500 SGD/hr
Interested in this venue? Click here to find out more and get a quote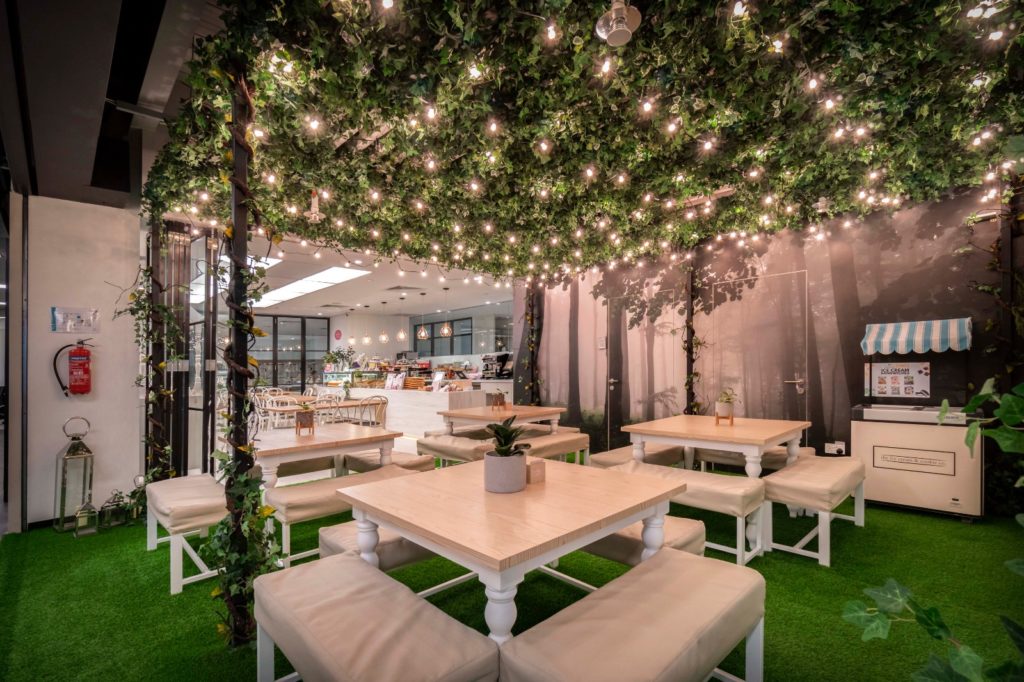 Situated in Funan Mall, this cosy venue is perfect for intimate parties or small corporate events. It is equipped with WiFi access and an audiovisual system to help ensure your event will run smoothly and professionally. Plus, its central location means that your guests can easily travel from either the East-West Line or the North-South Line and it's just a 5-minute way away from City Hall.
– Location: 109 North Bridge Road, Funan Mall, #07-21
– Max Capacity: 20 guests (may vary due to safe distancing measures)
– Price Range: $101-250 SGD/hr
Interested in this venue? Click here to find out more and get a quote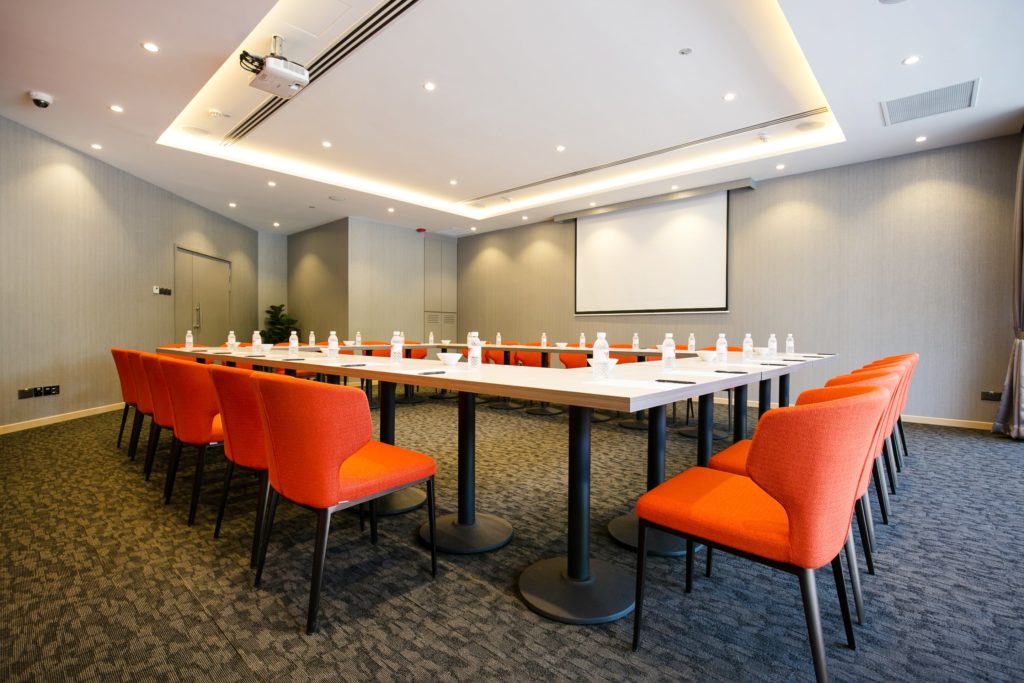 Fully-equipped with WiFi, the latest lighting, and audio-visual systems you can professionally execute your training or seminar. You also don't have to worry about where to get your food and drinks for your guests as they provide catering for breakfast, lunch, dinner as well as vegetarian options and small snacks. 
– Location: 60 Stevens Road 
– Max Capacity: 24 guests (may vary due to safe distancing measures)
– Price Range: $501-1000 SGD/half-day
Interested in this venue? Click here to find out more and get a quote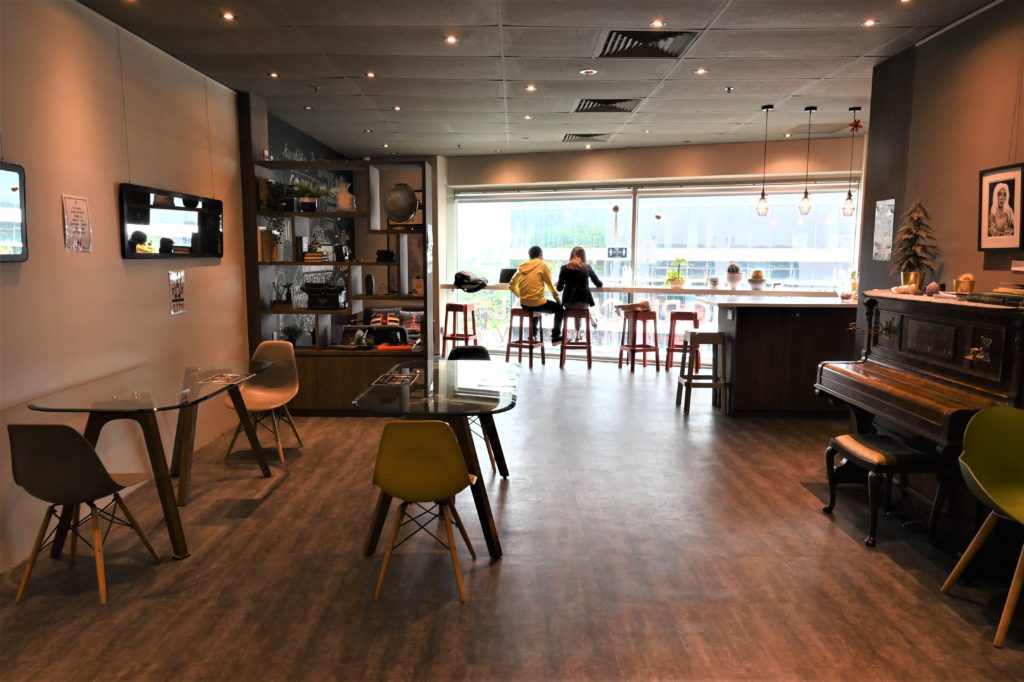 Perfect for small events or training sessions, the Brew House inside Workcentral offers a refreshing and contemporary backdrop for your event. They also offer a projector as well as a whiteboard to help you present your ideas. 
– Location: 190 Clemenceau Avenue, #06-01, Singapore 239924
– Max Capacity: 50 guests (may vary due to safe distancing measures)
– Price Range: $251-500 SGD/hr
Interested in this venue? Click here to find out more and get a quote