It's been a few months since Singapore entered Phase 2 of re-opening after the circuit breaker in April. As COVID-19 cases have decreased and a gradual resumption of activities continues, the country is slowly making its way to Phase 3. We've already discussed key developments impacting the event industry, but we wanted to know the developments that are impacting work. More specifically, how businesses in Singapore can prepare for a return to the office. 
To properly answer this question, we spoke to our partners at FlySpaces – a leading tech platform dedicated to workplaces. Offering scalable solutions to entrepreneurs, multinationals, SME's, remote workers, and partnering with thousands of coworking spaces and office spaces, FlySpaces has experienced how the entire region has been coping with the COVID-19 pandemic. From discussions with both business owners and venue owners, they've been able to offer real-life solutions as companies look to return to the office. 
What Does a Return to the Office in Singapore Look Like? 
A key regulation impacting the return to the office in Singapore is the continued push for work-from-home policies by the government. Employees are required to work-from-home at least 50% of the time whilst a maximum of 50% of employees are allowed in the office at any point in time.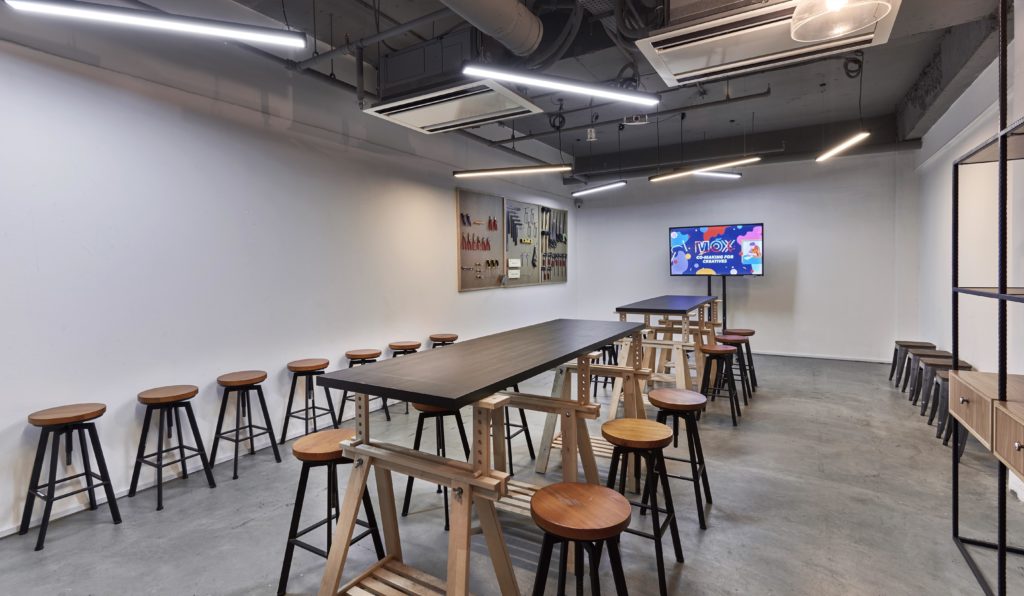 As a result, the government recommends the implementation of flexible working hours or staggered reporting times. This has meant that businesses in Singapore have had to re-evaluate their workplace and workforce strategies. For example, we are seeing businesses adopt shift work or split-team arrangements: teams or individuals alternate which days or weeks to come to the office whilst the rest continue to work from home. This is an easy option to not only reduce office space density, but also reduce risk. 
Key Government Updates for Phase 3 Impacting Return to Work
As community transmission has stayed low, there have been several updates to safely ease restrictions and move towards Phase 3 of reopening. Below are some of the key updates and what businesses can expect in Phase 3.
The Business Travel Pass
In October it was announced that a business travel pass would be piloted. This would allow essential business travel for senior executives with regional or international responsibilities. To ensure the success of this scheme is accurately measured individuals cannot apply to participate, rather individuals were carefully screened and chosen based on specific criteria. 
Resumption of Work-Related Events
Work-related events such as conferences and annual general meetings (AGMs), with up to 50 people, are allowed to resume. These can be held at third-party venues, subject to the venue owner's policies and their ability to ensure safe distancing. 
Increasing Group Size
Currently the maximum group size for gatherings outside and at home is 5. However, it is possible that this will be increased to 8 once we enter Phase 3.
Increasing Capacity at Public Venues and Events
As of now capacity limits at public venues and events, such as worship services and weddings, are at 50 pax with the possibility of 2 zones of 50. In Phase 3, these limits could be increased to allow for multiple zones of 50.
But what does this mean for those returning to work. In short, it signals a nationwide push towards a new normal where a balance is struck between easing restrictions and keeping COVID-19 cases to a minimum. This will allow for more businesses to resume operations, albeit with new flexible working policies. So for those who are looking to bring employees back to the office, or want to offer work-from-home alternatives, what workplace options are available? 
Phase 3 Office Space Opportunities in Singapore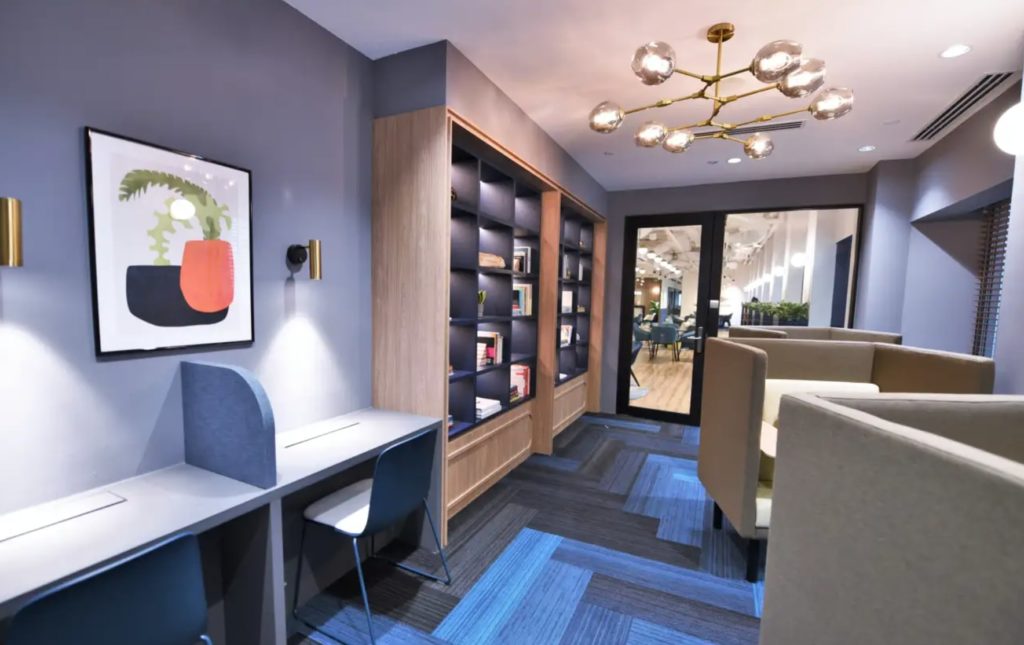 Singapore has long been a prime destination for large companies both from within the region and around the globe to set up their Asia Pacific headquarters. This is due to lower costs, a good business environment, and a strategic location. As a result, there are plenty of Grade-A office buildings and world-class coworking spaces and serviced offices for rent to accommodate these larger companies. Below we'll go into the two different office space solutions: traditional office spaces and flexible workspaces.
Traditional Office Spaces
There has been a slow move towards more flexibility in traditional office spaces, with the pandemic accelerating this process. Developers and landlords in Singapore have come to understand that flexible solutions are here to stay. Particularly with the current economic uncertainty that businesses face across the globe, tenants will prefer to have a flexible or hybrid solution for the office needs. 
As a result, landlords have started to change their mindset and are considering transforming their spaces to match the requirements of mid term office users (those looking for a 1 or 2 year lease). This has led to the emergence of hybrid offices. These are larger conventional office spaces that are already fitted-out and sometimes furnished and come with flexible terms. These solutions provide lower CAPEX investments for businesses, a key benefit in a time when cost-savings are more important than ever. Reach out to the FlySpaces team for a free consultation and the best office space opportunities that match your needs. 
Flexible Workspaces
Prior to the pandemic coworking spaces and serviced offices gained popularity from entrepreneurs and large companies alike due to their flexible terms. They have also become a safe choice for businesses across the region as they offer short-term commitments to help accommodate for any rapid changes in business needs. Likewise, they offer newly remote workers a safe and productive office environment. 
Whether a company needs a few desks or a private office, these fully-furnished offices offer all-inclusive monthly rents that come with all business necessities such as secure WiFi, a business address, and reception services. In other words, there are no hidden costs allowing businesses to have a clear vision of their budget: something that is currently critical for all companies.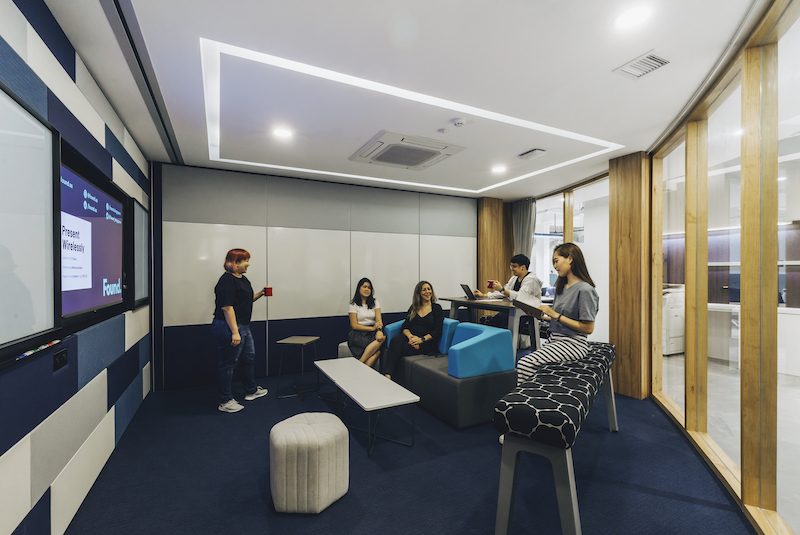 When the pandemic hit, these flexible workspaces were some of the first to adopt government mandated health & safety measures. Plastic dividers, reduced office density, and new layouts were implemented to provide members, both new and old, a safe place to conduct business. To further help businesses in these times, many flexible workspaces offered and continue to offer exclusive BCP deals to help companies re-enter the office with minimal cost. Feel free to reach out to the FlySpaces team to learn more about the available office space deals. 
Hot Desk Memberships
As mentioned earlier, flexible workspaces allow for the option to rent desks. This is a great solution for those who need a break from their work-from-home set up as these desks can be rented on a daily basis. However, it can get expensive, particularly if you rent desks at different providers multiple times a month.
In fact, FlySpaces offers a cost-effective solution for both individuals and companies in the form of FlySpaces Passport: a hot desk membership providing access to the top coworking spaces in Singapore. Rather than renting a desk at a time and paying different fees at different spaces, FlySpaces Passport offers a monthly subscription that provides a number of day passes. 
The number is determined by the plan you choose: Starter, which comes with 5 day passes per month, or Unlimited, which as the name suggests comes with an unlimited number of day passes per month. Once you have purchased a Passport plan, you will be equipped with your own dashboard, where you can reserve your desks and manage your bookings.
FlySpaces also offers an enterprise solution to their Passport solution: with this plan companies are able to customize the number of day passes available per month and can share this amongst their employees. This is particularly useful for those companies looking to adopt a core-and-flex workforce model as remote employees are given the choice where to work. Likewise, it provides companies visibility on where employees are working to signal any trends that can be used to determine where a more permanent office location should be set up. 
As an exclusive offer, FlySpaces is offering 20% OFF both Passport Starter and Passport Unlimited in Singapore! Take advantage of this limited time offer, valid until December 31 2020, and contact our partners at [email protected] to get started!