Believe it or not, we are halfway through 2021 (congrats!) and if you are in charge of organising a company retreat, team bonding session or corporate event and have yet to compile a list of venues to have it at, we are here to help. For one, you would need a space. And besides the usual indoor event venues, why not hold it at an outdoor event venue in Singapore? Outdoor event planning isn't too hard at all and plus, outdoor events come with a slew of benefits too. 
The Perks
In the day, sunlight and fresh air contribute to a positive, amiable atmosphere. At night, opt for an outdoor venue that overlooks the cityscape. Essentially, an outdoor environment offers a relaxed mood for a fun, enjoyable respite, especially if you are planning a solemnisation ceremony. Moreover, outdoor events also allow for more creative options with catering, entertainment and even activities (yes, we are thinking of a BBQ party too).
In addition, one of the biggest benefits of an outdoor event venue is the space itself. While there may be certain restrictions with Covid-19 in play, having a roomy, generous open space allows you to decorate without many restrictions as compared to an indoor venue – what's not to like?
Read More: Top 10 Outdoor Venues In Singapore
But of course, if you are still unsure about outdoor events planning, we are here to help. Apart from team bondings and activities, there is a slew of other types of events you can organise at an outdoor venue. 
It's Not Just Your Team Bonding Activities That Need To Be Outdoors
Instead of having your intimate wedding reception or solemnisation ceremony in an indoor space, we propose an alternative: opt for an outdoor venue. An open garden or rooftop space adds a romantic element and ups the convivial ambience. And if you are one who loves lush greenery, a garden venue for your perfect solemnisation ceremony adorned with flora and fauna arches and petals is definitely ideal. Other corporate events such as networking sessions, wine tasting events and even product launches can be done at outdoor spaces too. 
Read More: Where To Propose In Singapore: The Non-Conventional Venues To Surprise Her
Now that you have got some ideas, it is time to do up a checklist for that outdoor event planning of yours. Firstly, get a chart of the weather forecast so you will be certain of when the rainy and sunny days are. And since it may not be the most accurate, come up with a wet weather plan. 
Next, source for an outdoor event venue in Singapore– and if you do not know where to start, head over to our website for a comprehensive list of event venues spaces to peruse through. 
Based on the type of event you are planning, list down the amenities, as well as the size of the space and other health and safety protocols put in place to ensure the well-being of your guests is taken care of. As of now, guests should always be in groups of eight, which would be maintained throughout the event with a maximum of 50 guests while wedding receptions and solemnisation ceremonies are capped at a maximum of 150 guests. 
Need more information? We compiled them just for you – here. 
Ready to start planning your next outdoor event? We pick out the outdoor event venue spaces in Singapore to consider. 
Our Picks
1. Wings Over Asia – Hangar66 VIP Rooftop Garden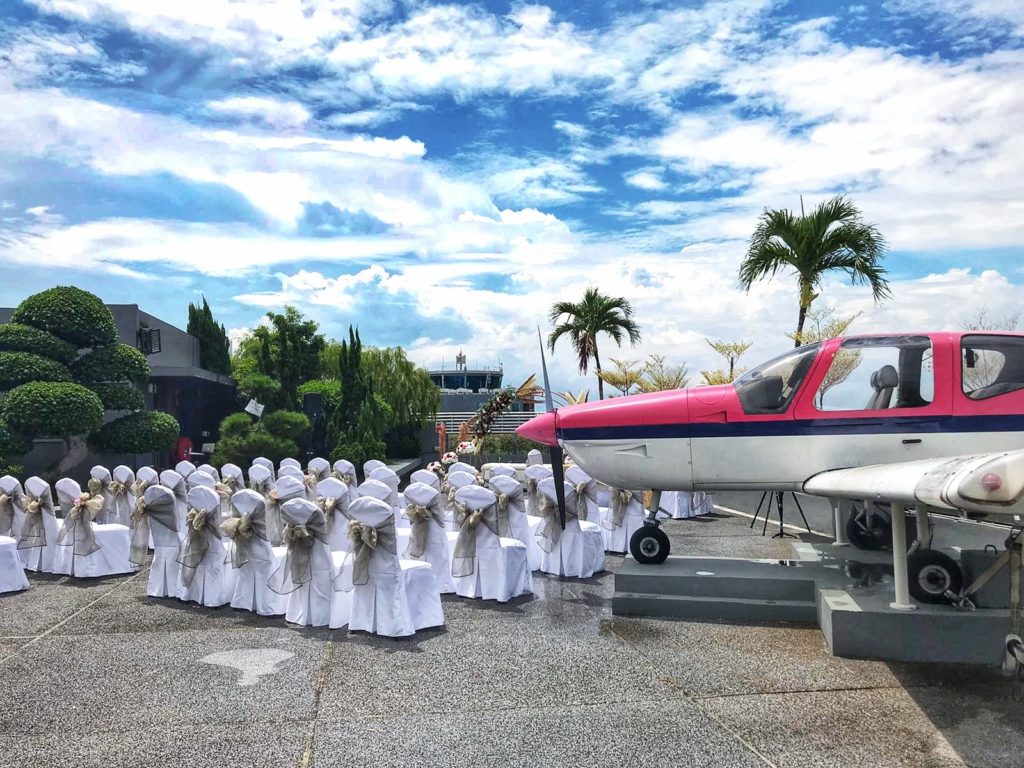 Looking for an outdoor venue for your next corporate get-together or networking session? Consider this spacious rooftop garden that is nestled in the North-East area of Singapore at Seletar. A quiet retreat, the garden is equipped with both indoor and outdoor areas (read: so you won't have to worry about a wet weather plan) and features a real aircraft parked on it. The best part: having an outdoor event in this rooftop space would mean your guests will be treated to a gorgeous view overlooking the Seletar Airfield. 
Address: 66 Seletar Aerospace View, Singapore 797509
Interested in this space? Click here to find out more and get a quote.
2. Met A Space Pod – Rooftop

Whether you are looking for a venue for an upcoming photoshoot or birthday celebrations, this rooftop garden is one to note. It is centrally located and boasts scenic views overlooking the city's skyscrapers. Plus, it even comes with a projector, microphone, whiteboard and sound system in place. 
Address: 56 Arab Street, Kampong Glam, Singapore 199753
Interested in this space? Click here to find out more and get a quote.
3. Acid Bar – Alfresco Area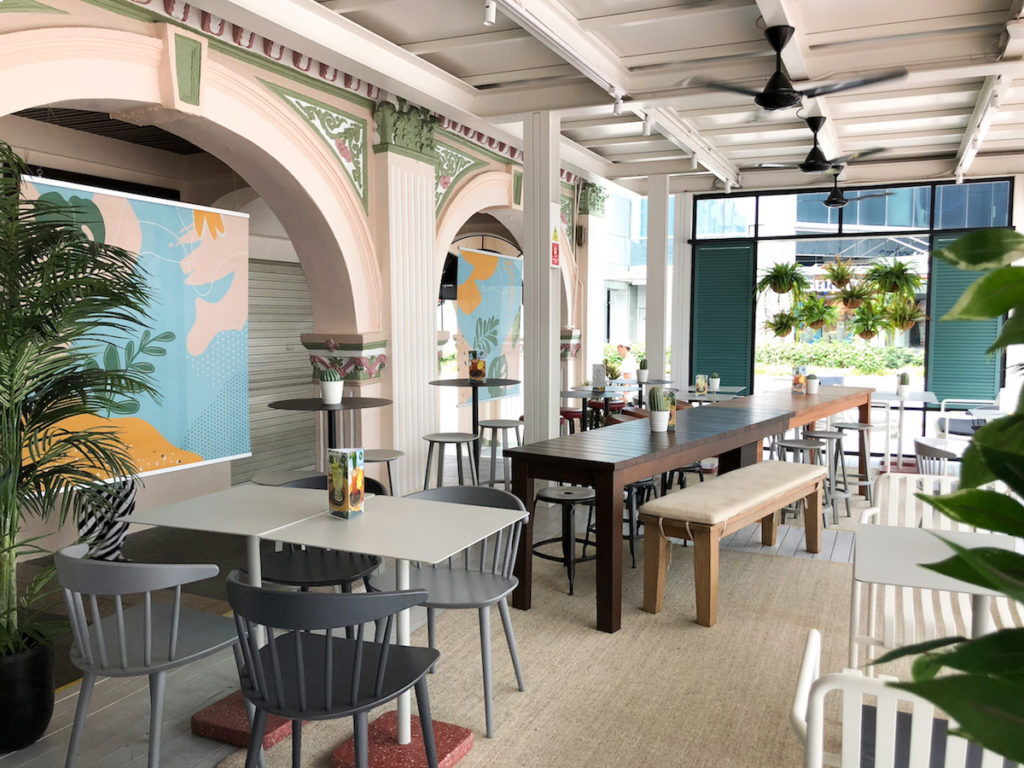 If you are looking to throw a bridal party, this alfresco bar should be on your radar. The space is fitted out with photogenic furnishings and potted plants, making it perfect for any Instagram shot. What else we love about it: Its convenient and accessible location that sits opposite 313 Somerset.
Address: 180 Orchard Road, Singapore 238846
Interested in this space? Click here to find out more and get a quote.
4. UFIT Singapore – Outdoor Space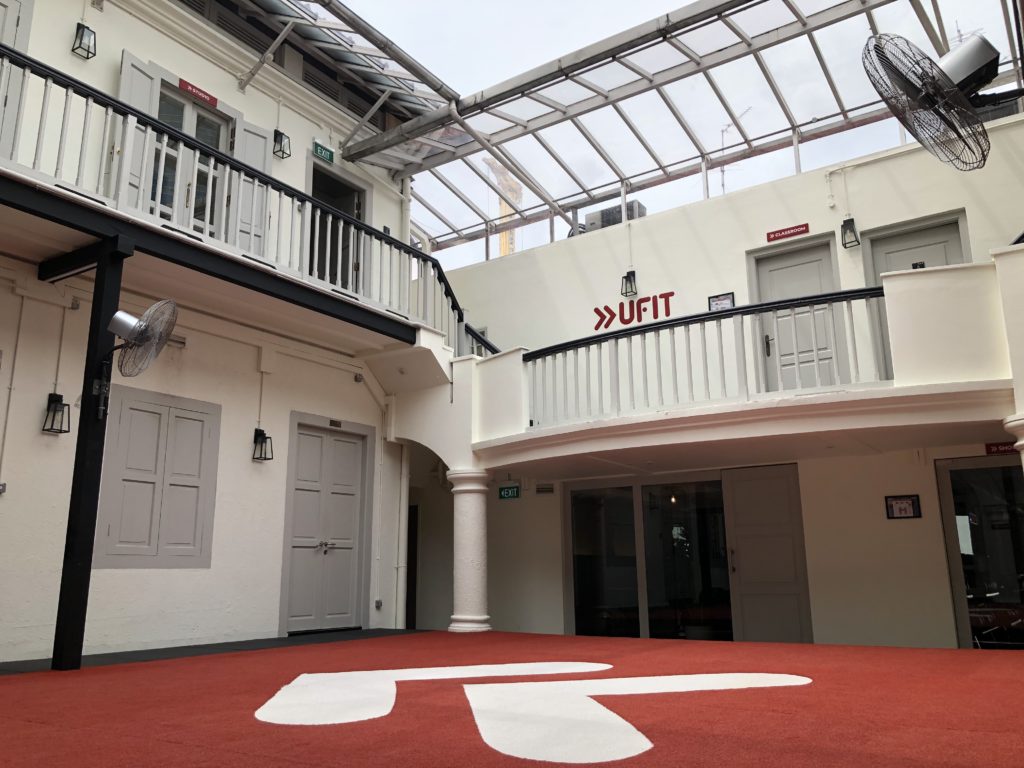 Unlike the usual outdoor event venues, this spacious open courtyard sits within an indoor space. And if you book through We Are Spaces, you can opt to rent both spaces. The upside: you don't have to worry about a wet weather plan. Plus, it even comes equipped with a projector, screen and microphone, ideal for any corporate event. 
Address: 21 Club Street, #01-01 Singapore 069410
Interested in this space? Click here to find out more and get a quote.
Ready to start planning your next event at some of these outdoor event venues in Singapore? Check out our wide selection of event spaces for more venue inspirations or hit us up for some personalised suggestions!