Constantly finding your nearest Starbucks, Coffee Bean or Ya Kun swamped with people, and not conducive for work or a group discussion or meeting at all?
We hear your woes, all you mobile workers out there. So we explored and made a list of 8 best cafes to work at in Bugis. Whether you need a space to focus on your task alone or have productive conversations with your colleagues or clients, there is surely something for you here.
All 8 spaces offer complimentary Wifi, so this puts an end to using your phone as a hotspot and treading fearfully on your 2GB data limit every month.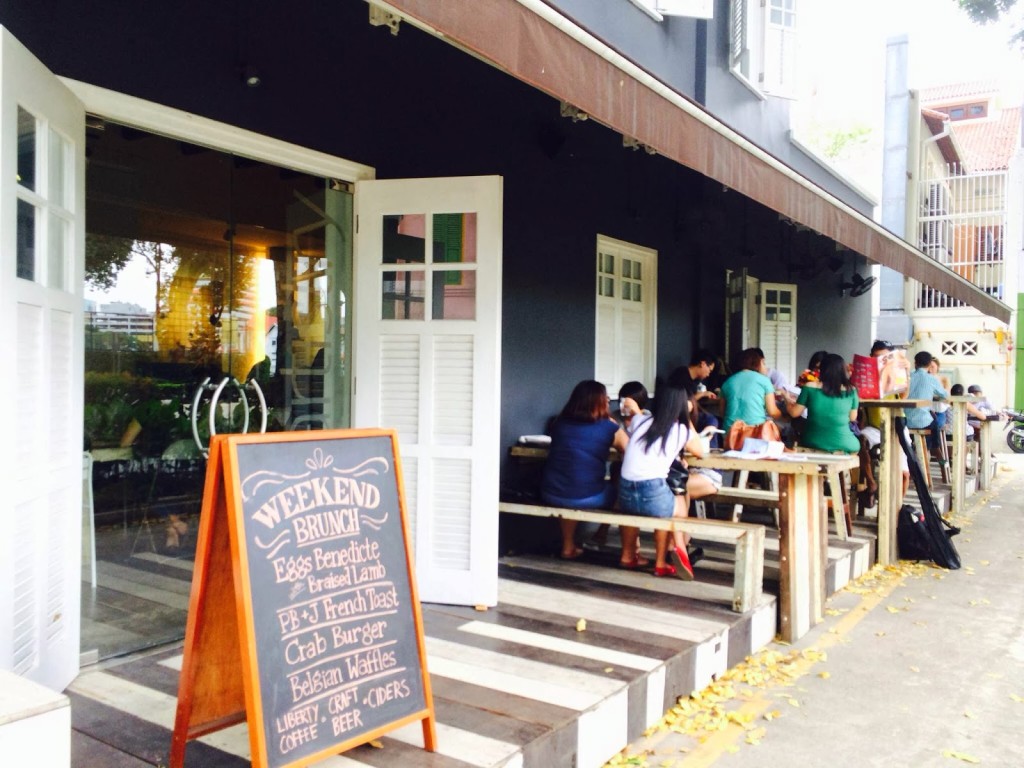 Image Credit: Uniquelious
A cafe, gallery and shop house all in one – Artistry at Kampong Glam is a place of art and music. Its quiet and intimate vibes provide just the right setting for thoughtful conversation. They are known for coffee and artisan dessert, so don't forget to pick some of these up during your meetings!
Artistry
17 Jalan Pinang, S (199149)
Tel: 6298 2420
Opens:
Tue-Sun: 10am to 7pm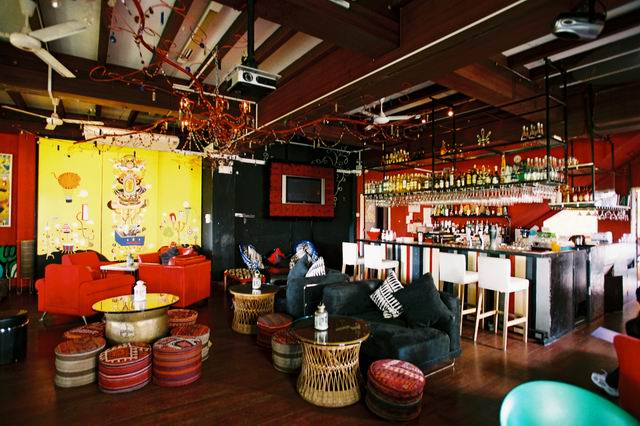 Image Credit: Sgthingstodotoday
One of the most frequented night spots in the Haji Lane vicinity, Blujaz is more widely known as a chill-out place. But if you visit in the afternoon, the place can offer a completely different vibe for working on-the-go. The colourful and vibrant interior makes a great venue for creative work before the live band takes over later in the evening.
Blujaz Cafe
11 Bali Lane, S (189848)
Tel: 6292 3800
Opens:
Mon – Thur: 12pm – 12 midnight
Fri: 12pm – 2am
Sat: 4pm – 2am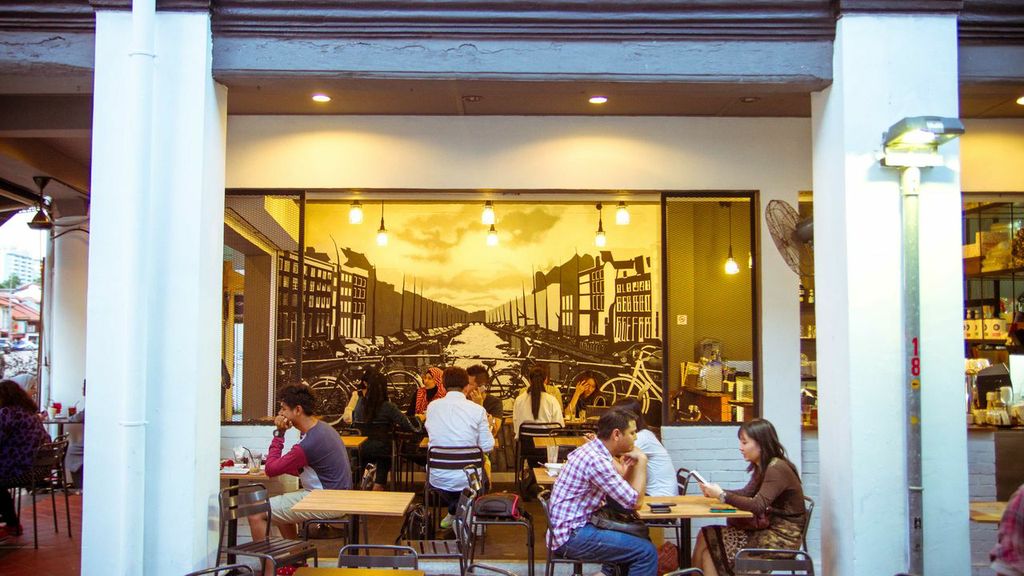 Image Credit: The Chosen Glutton
One look at the shopfront, and some of you travellers out there can already tell the theme of this cafe – Amsterdam. This establishment is a great venue if you prefer to work in open-air areas with natural sunlight. Also, don't you leave without trying their specialty Rainbow Cake!
I Am Cafe
674 North Bridge Road
#01-01, S (188804)
Tel: 6295 5509
Opens:
Mon – Thu: 11:30am – 11pm
Fri – Sat: 11:30am – 1am
Sun: 11:30am – 10pm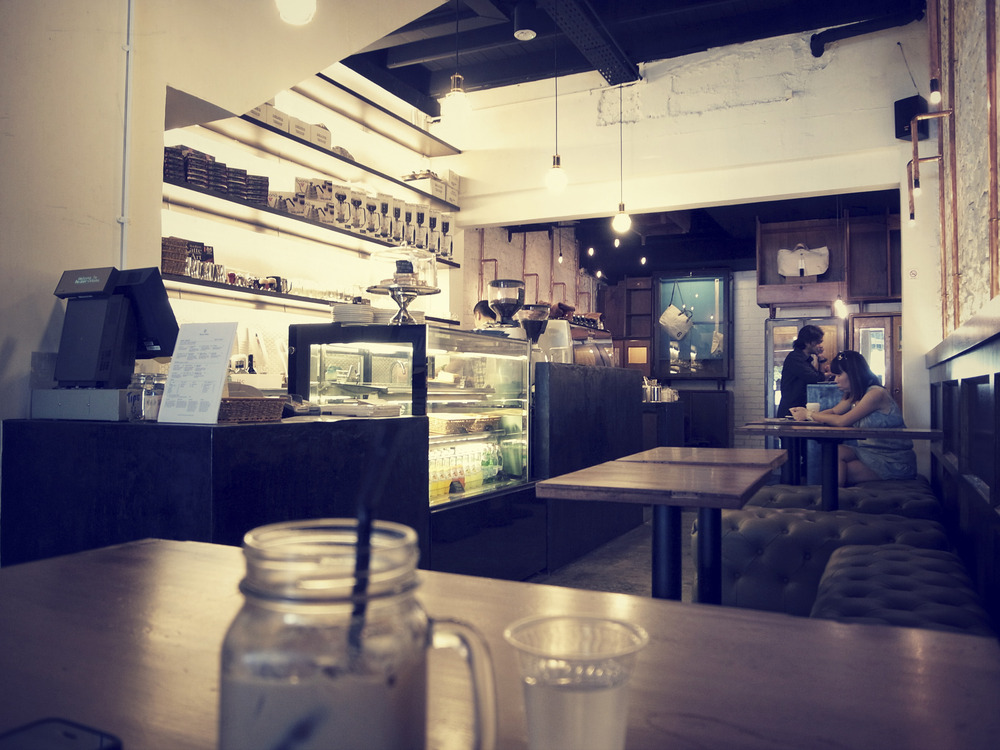 Image Credit: Sangsara
A cafe by day and a cocktail bar by night, Maison Ikkoku is a well-scouted spot among foodies in Singapore – which is also why this is not the place to work on weekends (you've been warned!). The place is also known for its beautiful and ambient interior; when the crowds are absent, it's perfect and conducive for work!
Maison Ikkoku
20 Kandahar Street, S (198885)
Tel: 6294 0078
Opens:
Mon – Thur: 9am – 9pm
Fri – Sat: 9am – 11pm
Sun: 9am -7pm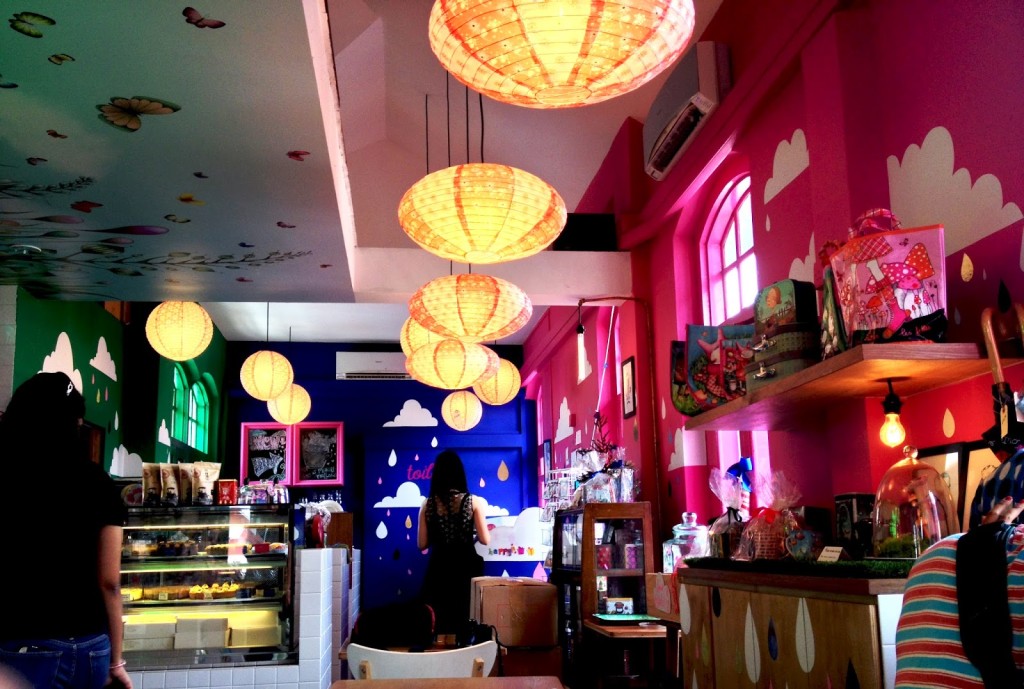 Image Credit: An-EverydayAffair
A unique cafe that at one glance may look more like a nursery than an eatery, La Marelle Cafe & Boutique is a kitschy and quirky rendition of a cafe-meets-shop concept. The cosy cafe's colourful interior and fairytale-like demeanour will put you in a different zone and experience for work. Located on the second storey of a shophouse, you can't possibly miss the bright-pink cutesy stairway.
La Marelle Cafe & Boutique
25A Baghdad Street, S (199664)
Tel: 8138 7654
Opens:
Mon-Sun: 12noon – 10pm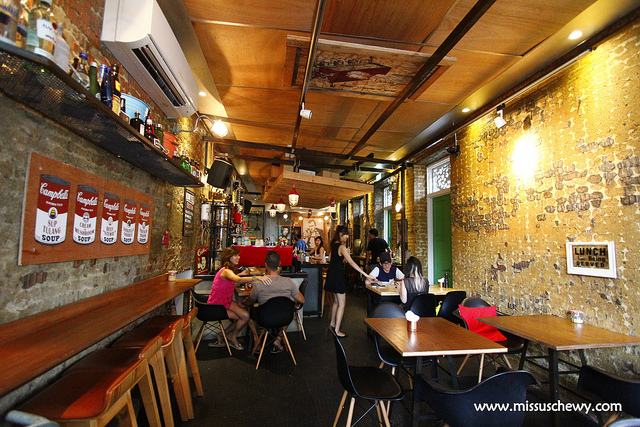 Image Credit: Missuschewy
A hip, black-walled, and hard-to-miss joint along Victoria Street, Symmetry Cafe is one of those cafes that tastefully assembles their furnishing and decor. It is a brilliant spot with lots of natural sunlight for both relaxation or work. Once again, we do not recommend this place during peak hours because it's one of the most popular dinner and night-time haunts in the vicinity.
Symmetry Cafe
9 Jalan Kubor, #01-01, S(199206)
Tel: 62919901
Opens:
Mon: 10.30am-9pm
Tues – Thur: 1030am – 11pm
Fri – Sat: 10.30am – 12mn
Sun: 9am – 9pm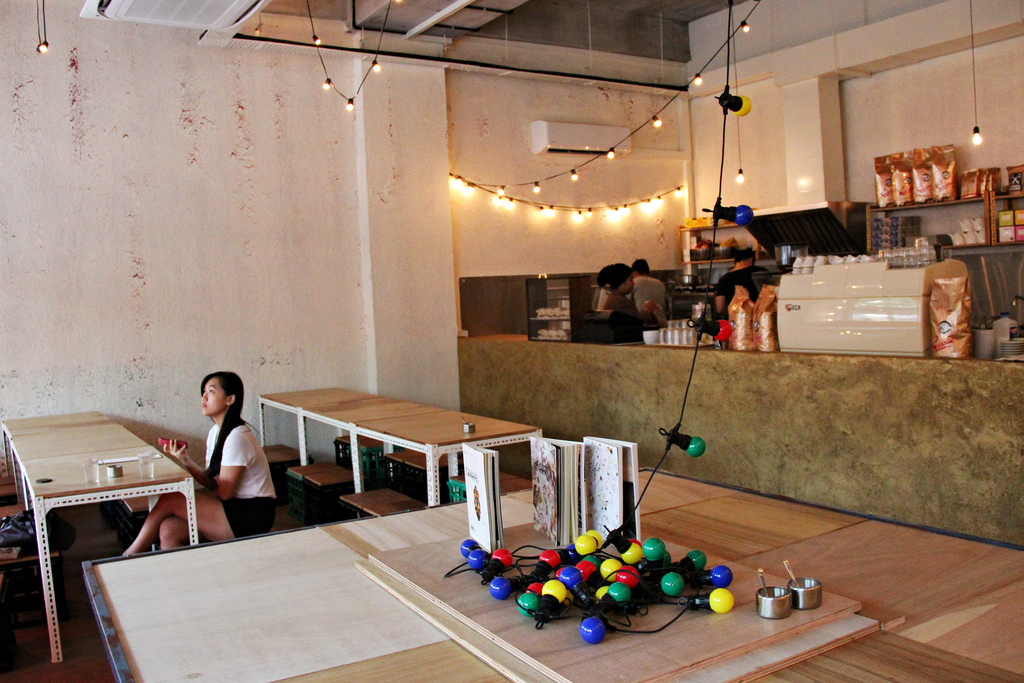 Image Credit: Crystal Wee
The Bravery Cafe is a simple hideout with minimalist decor. The cafe is well-ventilated and spacious with its high ceilings and sparse furnishing; creating a roomy setting for you to work. But here's a disclaimer, this place works best for your inner hipster – to best appreciate the industrial-chic plywood tables and crates that double up as chairs.
The Bravery
66 Horne Road, S (209073)
Tel:  6225 4387
Opens:
Daily: 8am – 8pm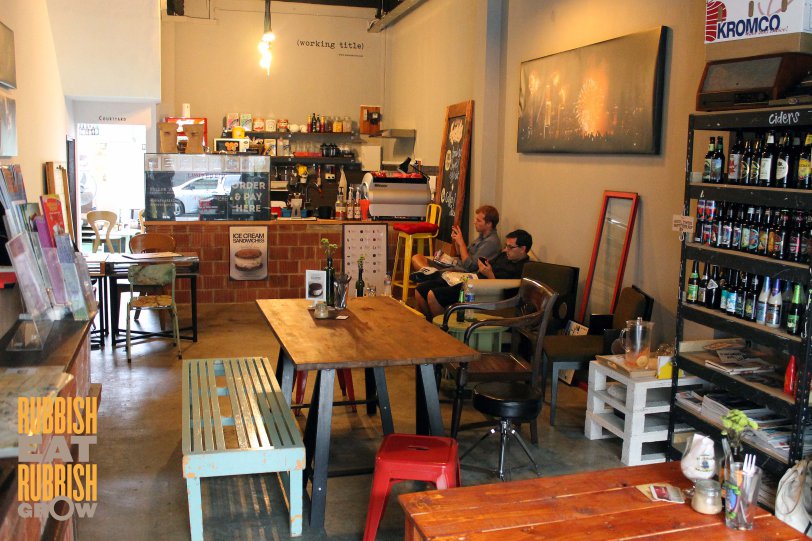 Image Credit: Rubbisheatrubbishgrow
Working Title is a cafe located within a backpacker's hostel. Its lounging crowd and mismatched furniture fill the cafe with laid-back and eclectic vibes, especially with its open-concept seating at the back. We would recommend this place for light-hearted discussions within a casual setting, especially if you're in the creative industry. When you're here, do give their unique craft beers and and specialty coffees a try!
Working Title
48 Arab Street, S (199745)
Tel: 9734 4187
Opens:
Daily: 10am – 10pm (till 12mn on Fridays and Saturdays)
Stay tuned for the upcoming Ultimate Guide To Work-Friendly Cafes – City Hall!

—
Next Step: Find awesome event venues and spaces to rent in Singapore 
We are Spaces is a venue discovery platform for event planners. Browse from over 300 curated venues available for rent, filter spaces based on your specific requirements, and get quotes from multiple venues all from a single enquiry. Visit We Are Spaces to find your perfect venue today!