Every year, on 9 August, Singaporeans come together to watch the National Day Parade. More importantly, they come together to watch the NDP fireworks – it's practically tradition. And every year, Singaporeans squeeze at the same few spots to catch a glimpse of the spectacular display. We say – squeeze no more!
Instead of rounding up the same few hot spots to view NDP fireworks (Marina Bay Sands Waterfront Boardwalk, anyone?), we've decided to pick out the top venues that allow for the best view of NDP fireworks while, at the same time, affording some luxury too (don't worry, you won't have to break your bank to get into these places… not too much, anyway). IMO, it is certainly worth getting together a few mates to book a spot at one of these venues to enjoy the fireworks this NDP 2013!
Here it is: We Are Spaces Top 10 Picks for the Best View of NDP 2013 Fireworks! (click to enlarge)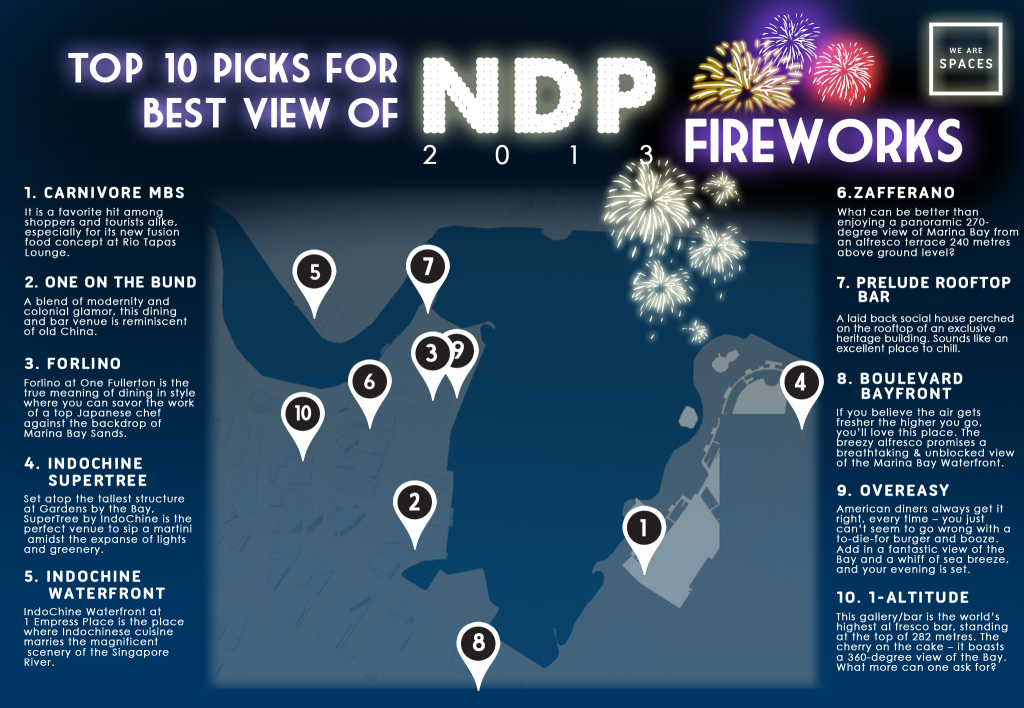 Click to share this with your friends on Twitter here, or on Facebook here
Any venue that caught your interest? Find out more about them, and book your spot, right here:
3) Forlino
6) Zafferano
9) Overeasy
10) 1-Altitude
Enjoy the NDP 2013 fireworks, and Happy National Day from all of us at We Are Spaces!
Featured Image Credit: Red Dot Photo
Next Step: Find awesome event venues and spaces to rent in Singapore 
We are Spaces is a venue discovery platform for event planners. Browse from over 300 curated venues available for rent, filter spaces based on your specific requirements, and get quotes from multiple venues all from a single enquiry. Visit We Are Spaces to find your perfect venue today!