Amidst all the articles that had been circulating and going viral on Facebook and other social media platforms, there was one on EliteDaily that really caught my attention. It is titled, Why Weddings Have Become Meaningless Displays Of Pretense For Gen Y. Critical of the wedding culture today, the article expresses that weddings are becoming more and more of an exhibition of wealth, rather than a sacred tradition.
After pondering on the article, I came to a conclusion – that these issues only exist because most weddings today are one and the same. And when things are too similar to each other, they lose character and eventually become a subject of comparison because well, it is human nature to rate something against another!
So here's what we have to propose. Go alternative! Steer away from the ordinary and create an experience so memorable and unique for both yourselves and your loved ones; and here are a few suggestions we have for you to start thinking out of the box.
1. Vintage
Image credit: ruffledblog.com
Revisiting the old is nothing new in this age and time. With the theme of vintage widely explored in the contexts ranging from interior decor to high fashion, why should it come as a surprise that it is also one of the most popular event concepts? Some may argue that vintage is totally overrated, but the truth remains that it never gets old!
Image Credit: ohsobeautifulpaper.com
Guests should be given an idea of your unique affair at the very first touch point they have leading up to the event – the invitations. Forget about the boring fonts and go easy on the customary scent and glitter that leaves sparkles on our fingertips. Instead, opt for something more in sync with the theme, like typewritten fonts or handwritten cursive, and good old fashioned designs. Of course, vintage is a theme best expressed through decor of your venue so as much as possible, remember to incorporate those elements!
Image Credit: cornwallvwweddinghire.co.uk
Image Credit: sg.tabledb.com
Anyone who has ever walked past Kombi Rocks on Yio Chu Kang Road, will remember the diner for the huge umbrellas, retro vibes, and most of all, the two vintage cars parked sweetly outside the restaurant. If it's a vintage wedding you're holding, you just have to rent a kitschy ride for the day for the sake of parading down in expressway in a Volkswagen Beetle! Otherwise, how's everyone on the PIE supposed to know that today's your big day?
2. Eco Wedding
Image Credit: boho-weddings.com
Wikipedia defines an eco-wedding as a wedding where the couple tries to decrease the impact of their event on the planet. Sounds so considerate and politically correct, doesn't it? With most weddings placing great emphasis on extravagance, it is not difficult to spot activities and components within the event that aren't so green. Sparkly confetti laying around the floor just for the few precious minutes of seeing them dancing in the air – visual pleasure as they call it. New pieces of garments and dresses purchased just for that one-off occasion. The list goes on.
If a lavish showcase is not what you desire, you may want to consider opting for a low-key, low-impact wedding event because well, nobody can debate going green!
Image Credit: wedding-pictures.onewed.com
Image Credit: fabyoubliss.com
There isn't a venue more apt than one with natural and lush greenery to set the tone right. And after we've established that, let us just quickly recall what we've learnt in human geography. Think getting your supplies from local vendors, invitations on recycled craft materials (or even an electronic invitation, if you will), an organic dinner menu and so on.
Also, going green need not only come from your end as the hosts. You can put it out in the invitations and try and garner your guests' support in going green in whichever ways they can. For example, encouraging them to re-wear an existing dress, or urging them not to drive so they can reduce their carbon footprints.
Remember, when it comes to being eco-friendly, less is more. So keep your event simple, sweet, and minimal and your guests can surely feel the sincerity of your wedding.
3. Themed Wedding
Very much like a birthday party, the selection of a theme for your wedding is largely dependent on your (you and your partner's) own preferences and fancies! Take for example, both of you are widely known among your peers for being huge fans of the Star Wars series, or Twilight, or Harry Potter, or basically – just any film distinct, concrete, and novel enough to manifest itself at your wedding!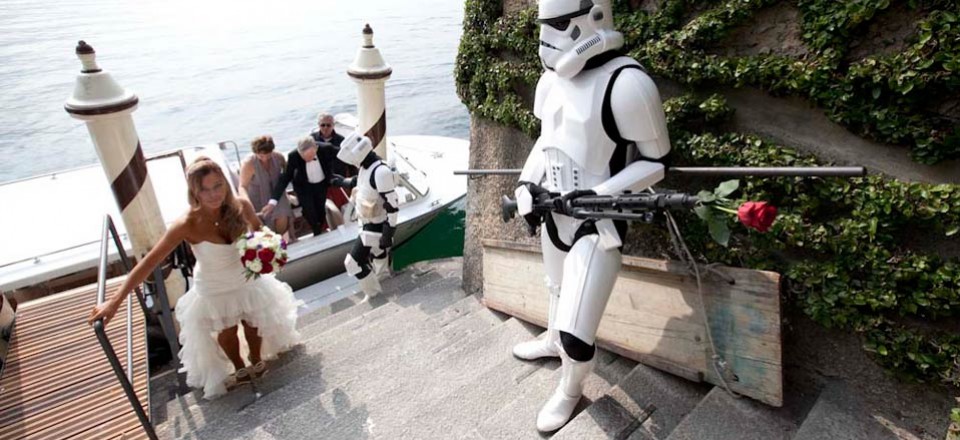 Image credit: italianlakeswedding.com
Image Credit: beforethebigday.co.uk
With a theme, possibilities are endless. There is no limit to how you can best express it. For instance, if it's an Alice in Wonderland theme, incorporate loads of lace and soft textures, whimsical patterns and sparkly finishes against backdrops of pastel colors. Lose the boring templates and spice your wedding party up with themed furniture, decor, and a photo booth for your guests to bring a piece of your wonderland back home!
Image Credit: Weddingideasmag.com
According to WeddingIdeasMag.com, the Great Gatsby is set to be one of the most popular and biggest wedding theme trends in the year of 2014. It's definitely not hard to imagine why this theme appeals to people. With the classy setting (preferably a colonial-inspired mansion or an outdoor lawn), the lady will be donned in bohemian chic and ivory pearls, while the man will wear a boutonniere and an old-time pocket watch. It goes without saying that guests would delight in feather headpieces that makes for great photo-taking props against a background of accordion-pleated details and vintage motifs. It would be quite an experience indeed!
4. Outdoor Wedding
Fresh air, cool breeze, and natural sunlight is always beautiful for any event, much less a joyous occasion like a wedding. There are more and more couples looking to hold their solemnization at an outdoor compound – a garden, a park, by the beach and so on, and then taking the event indoors in the evening at a restaurant or a ballroom. However, some couples choose to take their wedding outdoors entirely to become something inspired by a folk wedding.
What about the weather? You may be concerned. As Singaporeans, we know our weather too well and there's no word that will describe it more aptly than – erratic. However, certain contingencies can be put in place! For example, arranging for a tentage will have you covered if your wedding day isn't so fair-weathered.
Besides, having an outdoor wedding means that there is lesser spatial constraints and restrictions as to what you can do or cannot do. In fact, you can even include game stations to engage your guests as they wait for everyone to be present! And if you're still not convinced, we have a series of photographs grabbed from The Wedding Scoop, of a wedding successfully held at our very own Marina Barrage!
We hope you enjoy looking at them as much as we did!
All Image Credits to The Wedding Scoop
Next Step: Find awesome event venues and spaces to rent in Singapore 
We are Spaces is a venue discovery platform for event planners. Browse from over 300 curated venues available for rent, filter spaces based on your specific requirements, and get quotes from multiple venues all from a single enquiry. Visit We Are Spaces to find your perfect venue today!