Planning an event can sometimes feel like a daunting challenge – there are so many people to manage, so many elements to consider, and so much at stake. Especially when it's a corporate event, which are more than just gatherings; they are opportunities to showcase your brand, nurture client relationships, and inspire your team. Furthermore, they are likely to be of a large scale, and not in the presence of familiar family and friends. You probably already know about the usual, such as budgeting, vendor checklists, delegating and logistics, so we'll go further into the 'hows'. Read on for some tips that can help make your corporate event a success!
1. Create a plan – as early as possible.
You'd want to start as early as you can, because the more time you have, the better prepared you'd be – events do have the penchant of going off-track and popping up surprises sometimes! Before you dive into the planning process, clearly define the objectives and goals of your corporate event. What's the purpose of the event? It looks like a no-brainer, but it really is an essential step to get your planning on track. Are you looking to launch a new product, strengthen client relationships, or celebrate company milestones? Understanding your desired outcomes will guide your decisions and ensure a focused and purposeful event.



2. Choose the perfect venue

Finding the perfect venue is like finding the perfect pair of shoes—it's all about the fit. Take into account the specific requirements of your event, whether it's a conference, gala dinner, or team-building activity. Visit potential venues, assess their facilities, negotiate contracts, and ensure they align with your event's vision . You can check us out at We Are Spaces – browse over 500 event spaces within minutes. You can set filters for what you need and like, look at photos, make a booking, and voilà, the perfect event space is all yours, in just a few clicks!

Here are a selection of great venues for your Corporate Event:
RELC International Hotel

RELC International Hotel boasts a selection of 13 conference rooms, each varying in size to accommodate gatherings ranging from 15 to 200 individuals. The hotel also features a spacious two-storey auditorium with a seating capacity of 489 people. When it comes to organising your event, From managing logistics to catering arrangements, the hotel's dedicated sales conference team will take care of logistics and catering needs, and they go above and beyond to help deliver successful events.
– Address: 30 Orange Grove Rd, Singapore 258352
– Max Capacity: 200 guests
– Price Range (half-day): $250 – $500 SGD
– Price Range (full-day): $500 – $1,000 SGD
Interested in this venue? Click here to find out more and get a quote.
The Executive Centre One Raffles Quay (Auditorium)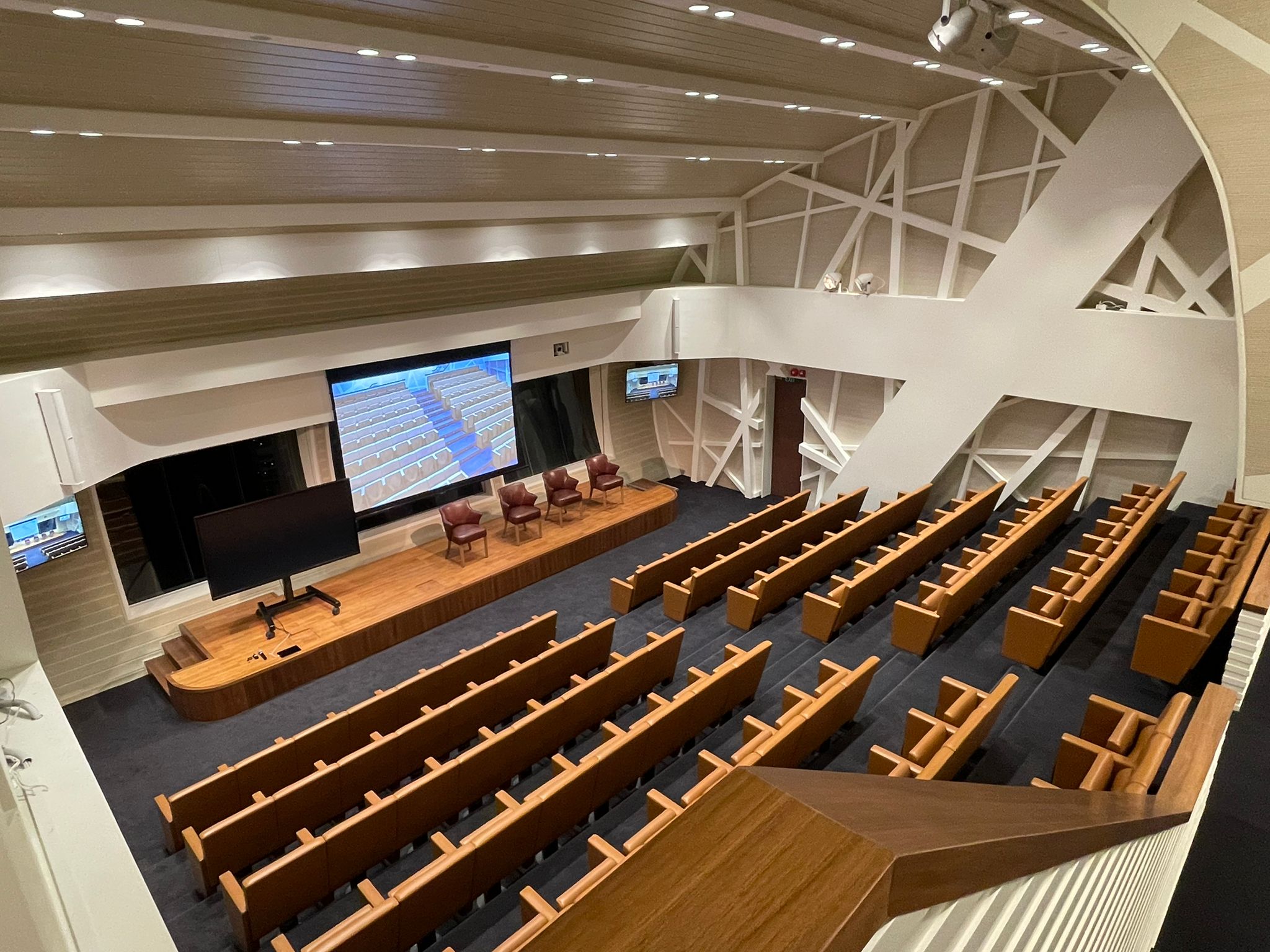 This premium and impressive auditorium is set in one of Singapore's most prestigious locations in the Central Business District. Located on the penthouse floors, this event space houses over 100 stepped seats, each with individual air-conditioning units, a professional stage; creating the perfect setup to host large seminars, speeches, product launches and more. It also features a beautiful lounge space that hosts a stunning skyline view of Singapore right outside the Auditorium doors. 
– Address: Level 49 & 50, One Raffles Quay, North Tower, Singapore 048583
– Max Capacity: 112 guests
– Price Range (per hour): $350 SGD
– Price Range (full-day): $2,100 SGD

Interested in this venue? Click here to find out more and get a quote. 
The Hive Lavender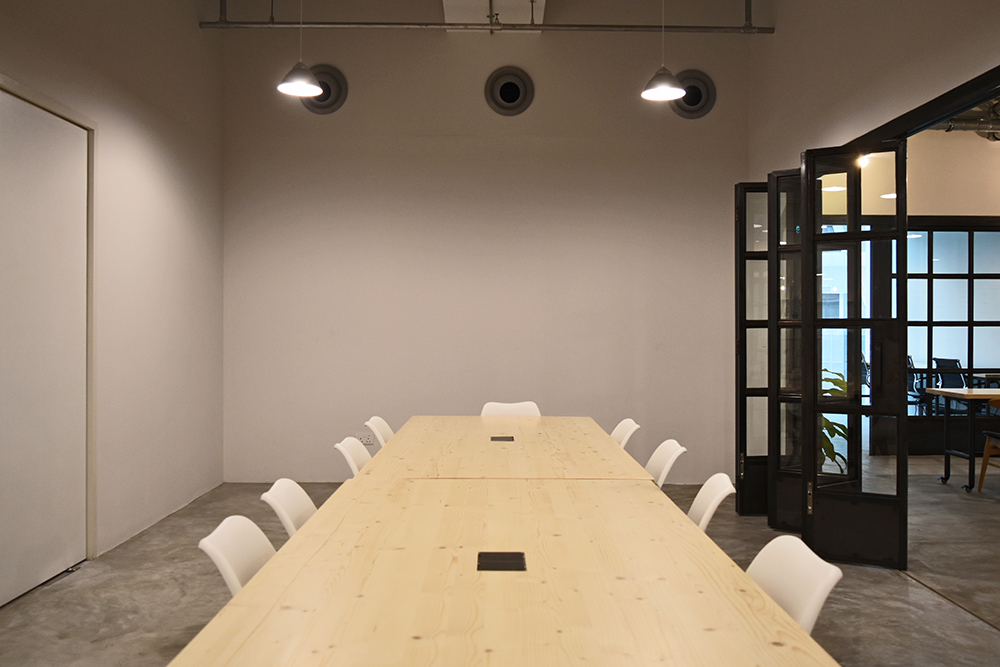 The Hive Lavender comprises a large coworking space, private offices, photography studios and design workshop in one. It aims to build a creative coworking community of designers, architects, creative freelancers, photographers, writers, bloggers, editorial teams, sculptors and makers who find it very helpful to work with the studio and workshop all in one space.

– Address: Level 6 Vanguard Campus, 1 Kallang Jct, Singapore 339263
– Capacity: 4 to 14 guests
– Price Range (per hour): S$45 – $80 SGD
Interested in this venue? Click here to find out more and get a quote. 

Keen on a corporate event venue overseas? Check out the best event venue options on flyspaces.com if you travel to Hong Kong, Manila, Kuala Lumpur or Jakarta (and many other cities as well!) 
3. Slot in time for last-minute changes and decisions
Ah, the joys of last-minute changes and decisions – they're practically a rite of passage in the world of event planning. So, why not make room for them in your grand scheme? Keep a pocket of time reserved specifically for those sudden "uh-oh" moments when things don't go according to plan. Whether it's accommodating VIPs who RSVP at the eleventh hour or rejigging the seating arrangement to accommodate your spontaneous guests, a flexible mindset and some spare time on your schedule will save the day. After all, the show must go on, even if it's with a few surprise twists.
4. Have a back-up plan
No event is complete without a trusty back-up plan in your back pocket. We all know that unexpected hiccups can happen, like a sudden rain crashing your outdoor picnic event, or the DJ's sound system deciding to take an impromptu vacation. By having a solid backup plan, you can face these challenges head-on and keep the event running smoothly. Prepare for the worst-case scenarios, anticipate potential mishaps, and have alternative solutions ready to roll. It's like having a superhero cape tucked away for emergencies!

5. Make room for fun
Who said corporate events had to be all work and no play? Injecting some fun and excitement into your event can make it stand out from the many that your guests attend. Create moments that make attendees smile, laugh, and let loose. From interactive games and team-building activities to surprising entertainment acts and even lucky draws, infuse your event with elements of joy and light-heartedness. After all, even the most serious business folks need a break from the spreadsheets and boardrooms. So, get ready to bring the fun factor and create memories that will have everyone talking long after the event ends.

6. Get some help

Let's face it – event planning can be a wild roller-coaster ride. That's why it's perfectly fine to admit that you can't do it all alone. Don't be afraid to ask for help and assemble a dream team of event planning superheroes. For instance, you can enlist the assistance of event professionals who know the ins and outs of making events shine. Delegate tasks to your trusted colleagues or form an event planning committee to distribute the workload and share the excitement. Remember, teamwork makes the dream work, and with the right support, your corporate event will be an absolute success.
Here's to your perfect corporate event!
We hope these tips will help on your event planning journey. Meanwhile, if you need help finding your ideal event venue, check out our wide selection of event spaces for more venue inspirations. With We Are Spaces, you can browse from over 300 curated venues available for rent, filter spaces based on your specific requirements, and get quotes from multiple venues all from a single enquiry. Or, hit us up for some personalised suggestions!