Brunch is my favorite meal of the day. I'm not so much of a morning person, so even the thought of traditional Ya-Kun kaya toast or my childhood favorite MacDonald's Big Breakfast can't pull me out of bed. While breakfast at 8's too early and lunch at 1's too late, right smacked awkwardly in the middle is a beautiful thing called Brunch, the one meal of the day that I absolutely adore.
Here's some insight and history about Brunch. An article written by MentalFloss.com titled The Genius Who Invented Brunch led me to a revelation – this particular meal was invented to nurse hangovers from Saturday night partying! According to the article, a hybrid meal that starts with tea pastries and later segue into meatier dishes is a much friendlier alternative to a heavy spread of rich fare, like meat pies, once someone wakes up with a hangover. We learn something new everyday, don't we?
Coming back to why I love Brunch. I think it is a wonderful way to start a day. It is one of life's simplest pleasures to be able to leisurely lounging at a cafe while one takes in the sights, sounds, and smells of it. In Singapore, our Instagram timelines between 11am-2pm on weekends would've already showed us what the quintessential Brunch experience looks like. Never complete without a dish of eggs (poached, scrambled, sunny side-up – take your pick), accompanied by a stack of waffles/pancakes and some cutesy coffee art that I doubt I'll ever master this lifetime. Such a delight to be served a beverage with your favorite Sanrio cartoon character swimming in it, isn't it?
Image Credit: metro.co.uk, freshnessmag.com
Brunch make lovely meals for gatherings. It's a perfect time: not too early for the late-risers, and not nearly late enough for anyone to rush off to prepare for any evening appointments. With many brunch-serving eateries sprouting up across the islands, most are well-furnished and decorated, making them cosy places for get-togethers and comfortable settings for conversations. Lately, it also seems that there's a growing trend of birthday celebrations enjoyed over brunch at cafes and restaurants with pretty and kitschy concepts and themes. So if you're not into the evening birthday bashes or the loud pool parties, the idea of a low-key birthday brunch may appeal to you.
Here's a list of brunch places we've chosen across the island!
1) Hatched
Image Credit: http://a2-2a.blogspot.sg, http://www.beverlys.net
With 2 outlets at Holland Village and Evans Road, Hatched is, as its name suggests, all about eggs. Be it boiled, baked, scrambled, fried or poached, we'll bet there is something for everyone in the 2012 catalog of eggs. With a wide variety of dishes, there's no problem finding something you like. Don't fancy any more protein on the sides? Ditch the sausages and the bacon and go for smoked salmon instead. Want something sweet? The maple syrup in the Sleepover Special will do the trick while you figure out if its a dessert or main course you're indulging in.
The double-storeyed shophouse is also one of the most well decorated.  The place is warmly lit by the bare light bulbs suspended from the ceiling, and the yellow/orange furniture certainly stands out against the blackboard walls. Also, look out for the little eggs-themed details, from the salt & pepper shakers to the toys at the counter!
2) The Loft Cafe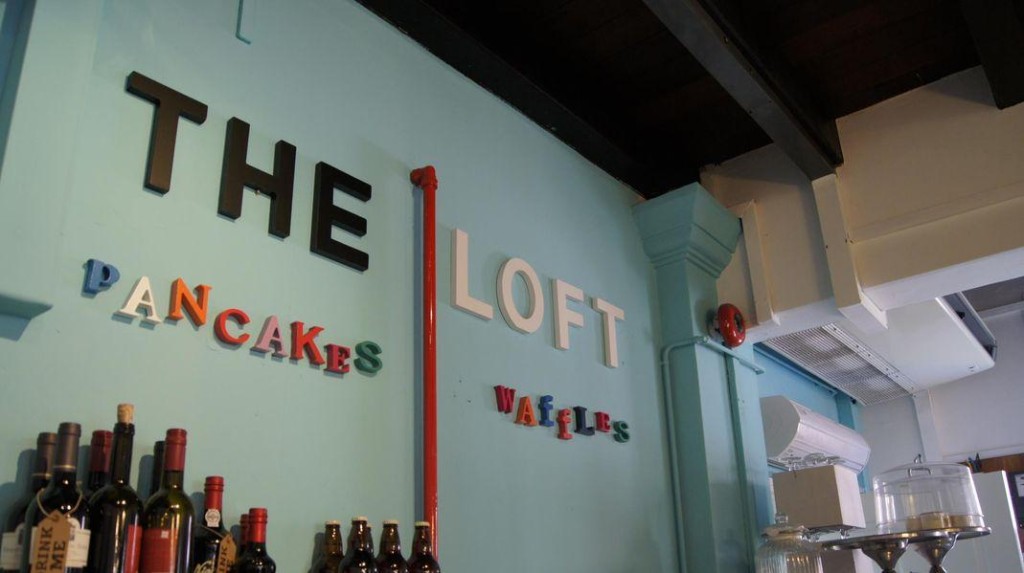 Image Credit: http://www.dodgydumpling.com
If pancakes and waffles are your kind of thing, you're in luck. The Loft Cafe at South Bridge Road is a second-storeyed pancake/waffle haven by the streets of Singapore's ethnic enclave, Chinatown. The relaxing ambience at the cafe makes it a perfect hangout for a laid back Saturday morning/noon.
Unlike most eateries where guests really just go in, have a meal, pay the bill and then leave within 45 minutes, The Loft has taken a slightly more welcoming edge. With magazine racks free for all to browse and computer terminals for internet surfing, the dining experience here would be akin to brunching at home away from home.
3) Le' Toile
Image Credit: www.sixpegs.com
Housed in the heart of a quiet Novena/Farrer Park area, Le' Toile Cafe is a venue off the beaten track of your busy coffee joints in the city. The cafe is styled according to what seems to be a combination of both Japanese and French designs. Vintage elements litter the cafe at different spots, in the forms of carved furniture, lace see-through curtains, wall murals/decals and artworks neatly framed up against minimalist backgrounds.
With a peaceful atmosphere, the cafe is also a sanctuary for leisure reading. Books and magazines are offered along with a variety of seating arrangements (sofa seats, wooden chairs, couches etc) for guests to make themselves at home. A small corner of the cafe is dedicated to the set-up of a lifestyle store selling kitschy knick-knacks like children bibs, greeting cards and fancy stationery.
4) Group Therapy Coffee
Image Credit: http://cafehoppingsg.blogspot.sg, ladyironchef.com
In the heart of the Central Business District, Group Therapy Coffee is located on the 2nd storey of a shophouse at Duxton Hill. A cosy, uncluttered and unpretentious hideout – the cafe had played host to events of all sorts.
What started out as a specialization of event space for birthday parties and corporate functions and slowly beginning to gain popularity all thanks to the coffee they serve. Made from a blend of 100% Arabica beans, Group Therapy serves coffee freshly roasted and ground on the spot. Not a fan of coffee? The cafe also carries a selection of Jing teas, ciders and boutique wines for your tasting.
5) The Coffee Daily
Image Credit: Lazyfoodies.com, http://chowandthecity.wordpress.com
Since we're on the topic of coffee, let me introduce another cafe to the list of brunch places – The Coffee Daily. People who live in the North-eastern part of Singapore will be happy to know that the scouting for brunch places can be kept within the vicinity! There is no need to travel to the city on an empty stomach to find brunch when we've got one in Serangoon Gardens.
The Coffee Daily at Brighton Crescent boasts of aromatic coffee made from the beans they bring in from Highlander, a renowned artisan bean roaster. Other than the well-liked beverage, another highlight of the cafe would be the old school decor that had began to grow on many people. The concrete floors, retro grilles and vintage pieces of furniture tastefully put together in sets contributes to the flavor of the place. I later learnt that the owners of the place had intended for the cafe to look like a home from the 1980s. Well, that explains a lot!
6) 93 DegreesC Coffee
Image Credits: project6wings.tumblr.com, http://vintagetrinkets.blogspot.sg
According to Coffee Research Org, 93 degrees celsius is the optimal temperature for espresso extraction. This inspired owner Kim Hai to adopt the name 93 DegreesC Cafe. Located in the West on Morse Road, the cafe is big on coffee, with its very own in-house roaster and beans for sale to other coffee lovers.
Spacious and cosy, the cafe is neat and organized in color schemes of black, white, and wooden textures. The menu also includes a fair share of burritos, breakfast sets, sandwiches and cakes for the hearty brunch you desire.
7) Wild Honey
Image Credit: hazelhearts.wordpress.com, http://accidentalepicurean.com, beautyfool.com
Of course, in the list of brunch places, how can anyone forget to include Wild Honey? In fact,  have lost track of the number of times I have heard somebody rave about Wild Honey.
With its brick walls and natural lighting making up most part of the restaurant's ambience, what Wild Honey is going for is stated at the entrance of the breakfast place – "No Place Like Home". The entrance also features a tantalizing display of freshly baked goods from the confectionery, ranging from too-pretty-to-be-eaten cakes and fluffy pastries. Most of Wild Honey's main courses are priced around the $20 and above range. The Tunisan Sandwich and I Love NY breakfast are among some of their signatures.
Also, if the weather is beautiful, you could soak up some sun over brunch at the balcony seating!
8) Food For Thought @ Botanic Gardens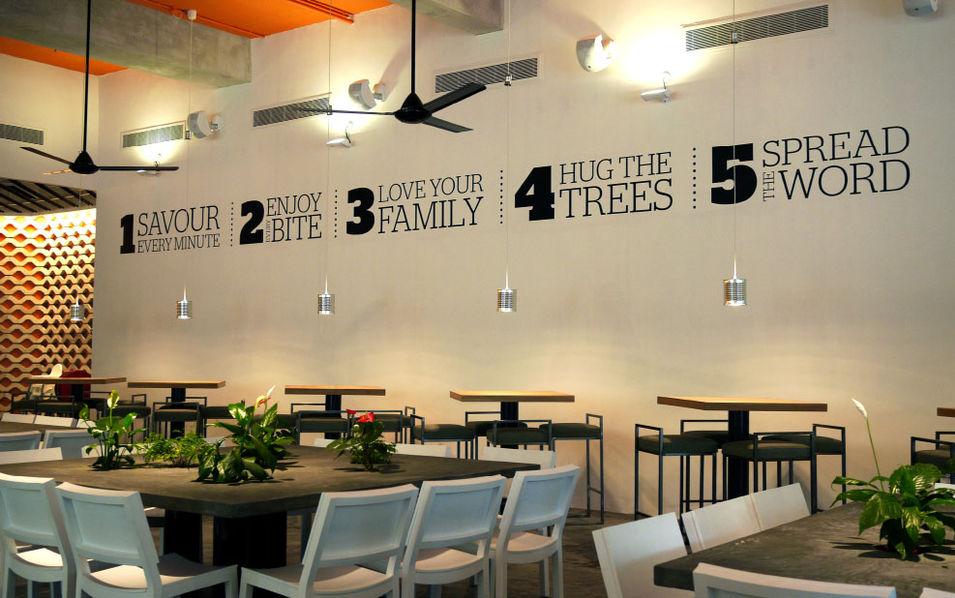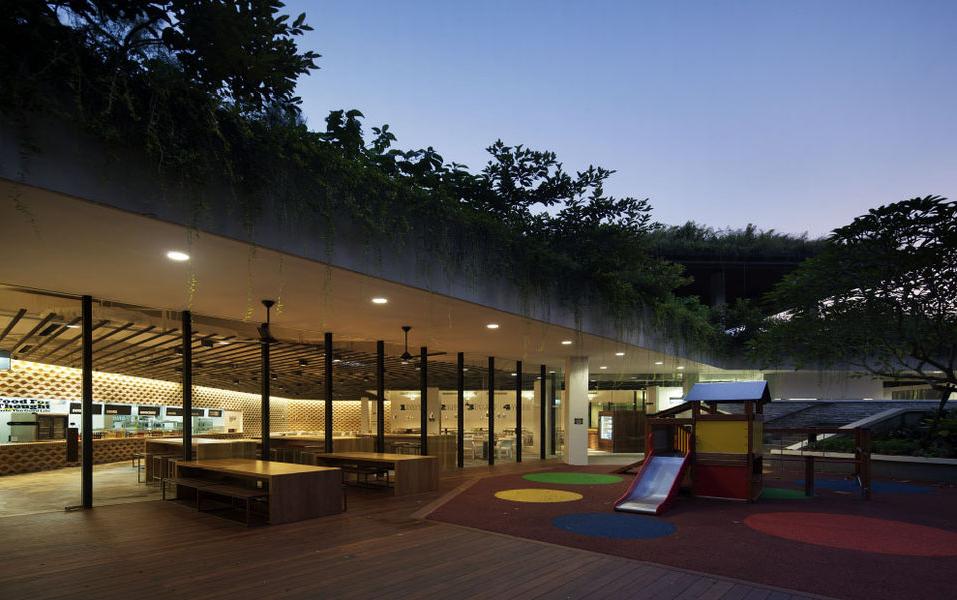 Previously featured in our list of  Top 10 21st Birthday Party Venues in Singapore, Food For Thought at Botanic Gardens is another popular brunch hangout? Indeed, there is no finer place to have the first meal of the day than in a garden or a park, or anywhere with lush greenery for that matter. If you're the type who likes to walk it off after a meal, a stroll in Botanic Gardens actually does sound pretty good too!
Food For Thought is a restaurant designed around sustainable living and care for the environment. If you are expecting children at your gathering or event, the branch at Botanic Gardens can't be any more ideal for it has an outdoor playground.
Contemplating the idea of a brunch event? Well, the good news is that all the above venues are available for bookings! Simply click on the quick links in this blog post to be directed to the venue's page so you can access more information, photographs, or enquire with them. If you haven't taken a fancy to any of them, that's fine too! Feel free to browse more cafes and restaurants alike at We Are Spaces.
Featured Image Credit: http://andmorefood.wordpress.com/
Next Step: Find awesome event venues and spaces to rent in Singapore 
We are Spaces is a venue discovery platform for event planners. Browse from over 300 curated venues available for rent, filter spaces based on your specific requirements, and get quotes from multiple venues all from a single enquiry. Visit We Are Spaces to find your perfect venue today!