At some point of our lives, we would have attended a little one's first-month party – more commonly known as 'Man Yue' (mandarin for full moon) or a baby shower party in Singapore. I recall attending a couple of such parties when I was a kid. And when I was NOT delighting in the glorious cakes and fruit tarts, it was often a wonder why red eggs and red hued glutinous peanut cakes (ang ku kueh!) were a common sight at these occasions.
Later on as I grew up, I found out that eggs are a representation of fertility and new life, and ang ku kuehs symbolic of good fortune and longevity. As for the color red, well as with most Chinese traditions, it is symbolic of luck and blessing.
If you find yourself reading this, there may be a chance that you're about to plan a baby shower for your very own newborn! Rest assured you have landed yourself at the right site because here are some awesome party ideas that will definitely give your baby shower that something extra.
1. Choose your baby shower party theme
Image Credit: www.thetomkatstudio.com
A party is always more interesting and engaging when it is themed.  And unlike adult birthday parties where themes can become quite tricky to handle, you will be able to get away with any (ridiculous or cheesy) theme under the sun simply because well…it is your little one's first party! Who can we fault right?
Image Credit: www.karaspartyideas.com
Previously we published the article Does a Baby Shower Need Water? (or, What is a Baby Shower) and shared that a Princess or a Gentleman-themed party are among some of the more classic themes. But a baby shower is also a great time to experiment with other themes, whether is it All-In-White, Flower-Power, Nautical Madness or Pixar Party, themes are lovely ways to involve the children of your guests too!
For ideas of baby shower themes, look here, here, and here.
2. Decide between traditional or modern themes
Image Credit: www.keropokman.com
It is pleasingly fascinating that our generation in the 21st century can put modern touches on traditional occasions. With our creativity leaving no stone unturned, baby showers are evolving into kitschy and colorful new-age affairs, shedding the predictability of tradition but retaining the important customs.
Now that is a decision you have to make for yourself – whether you'd like to go traditional classic or modern kitschy. This will greatly affect the party's program.
For example, according to Chinese Tradition, the day of the baby's full-month will be the day of his or her first haircut ever, after which the baby will take a bath in water with pomelo leaves to ward off bad luck. Here's a fun fact, some parents may even make a calligraphy brush from the baby's hair as a keepsake.
Image Credit: http://fernfuschia.blogspot.sg
Our suggestion? Strike a balance between both ends and your party would be real versatile. This is made far easier with confectioneries that marry 'Man Yue' staples with cutesy cupcake designs and dainty packaging.
3. Prepare cool party gifts for your guests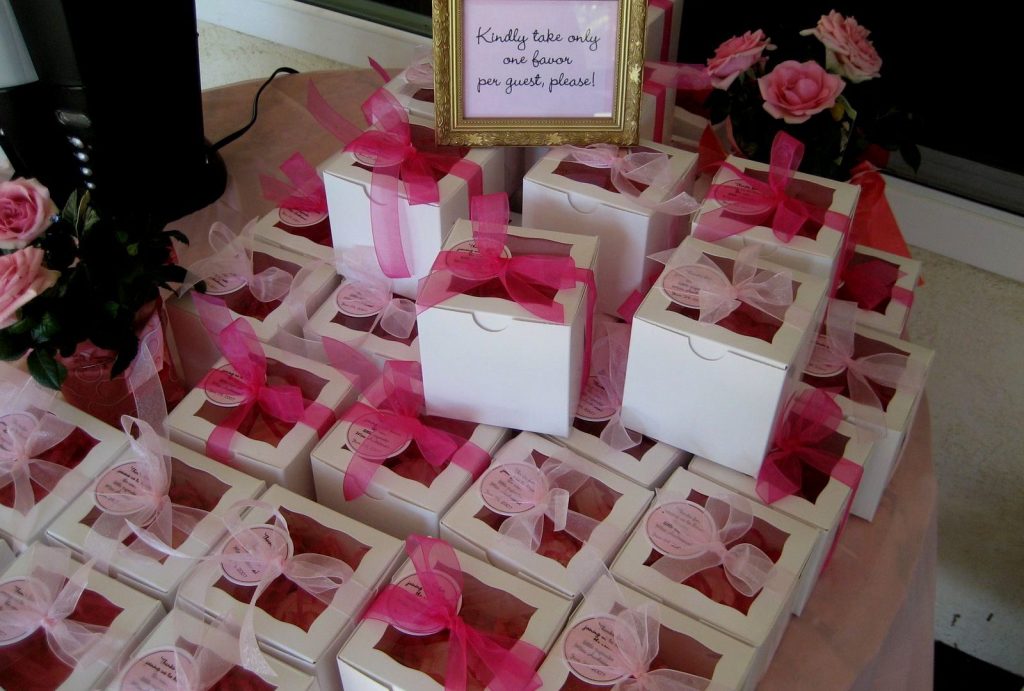 At a baby shower, your darling would be showered with loads of gifts. Expect baby products in the forms of onesies, strollers, toys and even hampers coming your way. Most relatives would also give him or her a red packet as a symbol of blessing. Well, we know just how you can express your gratitude in advance!
Preparing small gift packs is a great way of showing your appreciation for your guests' attendance. While it need not be anything extravagant, the gesture in itself has to be well-thought! It could be something as small as a tealight holder or a cookie cutter, but novelty packaging is the way to go.
4. Plan fun games for everyone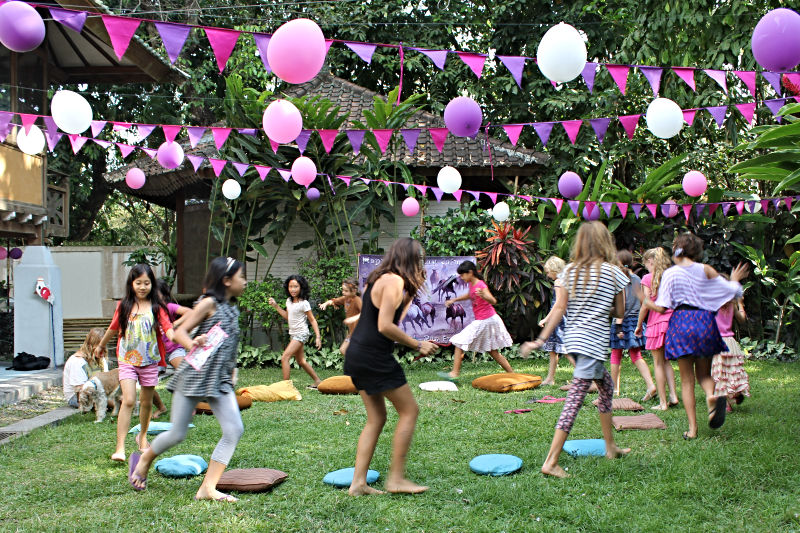 While it would seem like the primary program of a baby shower party is for everyone to crowd around the baby's crib swooning over his/her every pout and giggle, games are actually an excellent idea for your party especially if you are hosting a large family with children. I mean after all there's only one of your little bundle of joy to go around at any one point of time… right?
Having games at a party all boils down to one word – involvement. To engage your guests, you may even want to have them to bring a baby photograph of themselves for the "Guess The Baby" segment of the party. For more ideas on brightening up your party with interactive games, see here and here.
5. Find the right baby shower venue Singapore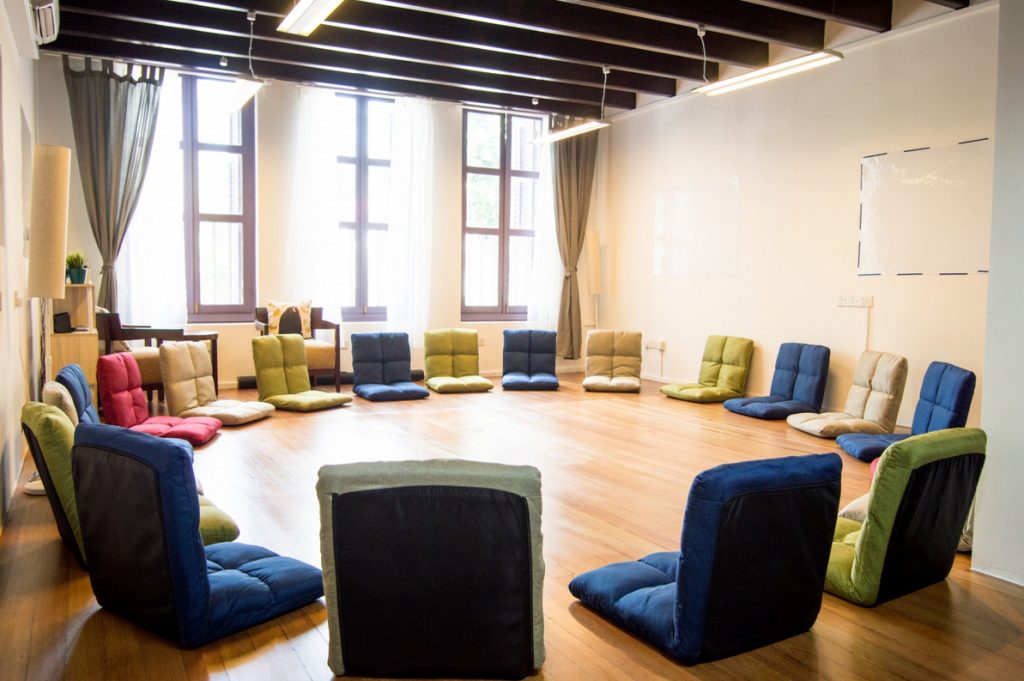 Most of us have grown up with the idea that a baby shower party venue is typically held at home. However, if a post-party clean up isn't exactly something you crave (especially with a baby in the house), you may want to consider holding your party at a restaurant, cafe, or even a gallery where catering services are available too. Not to mention, you would not have to worry about having many children running around your house and making a mess of the place.
You can check out awesome baby shower venues in Singapore for rent here.
Besides, once you have their premises booked, most of these baby shower party venues would be happy to have you put up some decor to spice up your party – so you need not worry about having a first month party that has zero personal touch.
Editor's Note: This post was originally published in Aug 2013 and has been updated for accuracy and comprehensiveness.
Next Step: Find awesome event venues and spaces to rent in Singapore 
We are Spaces is a venue discovery platform for event planners. Browse from over 300 curated venues available for rent, filter spaces based on your specific requirements, and get quotes from multiple venues all from a single enquiry. Visit We Are Spaces to find your perfect venue today!